This Passion Fruit Iced Tea is very tasty and refreshing with a relaxing sweet aroma from passion fruits. It is easy to make with 4 simple ingredients and no refined-sugar. A perfect drink to beat the heat in the summer!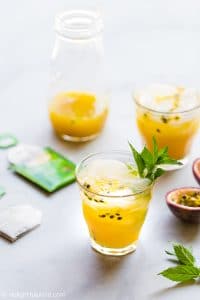 Passion Fruit makes perfect summer drinks
Some of my most favorite Vietnamese summer drinks are made with passion fruits. These small fruits are widely grown in tropical regions in the world. In Vietnam, we call them "chanh leo" or "chanh day". If you are looking for a thirst-quenching summer iced tea, definitely give this passion fruit iced tea a try. The sweet and relaxing aroma together with the slightly sour taste of this fruit cool me down quickly on hot summer days.
I admit that I'm not very good at choosing passion fruits :). I try to choose ones that are purple/red and heavier than their size with wrinkles which indicate they are ripe. However, I sometimes still run into some that don't have a lot of juice/pulps inside. My solution for that problem is to cut open more passion fruits until I have enough :).