This pulled pork banh mi features Vietnamese baguette (banh mi) filled with tender and flavorful pulled pork, pickled vegetables, and tasty sriracha mayo sauce. With a slow cooker to cook the pulled pork, this delicious banh mi recipe cannot be easier to make.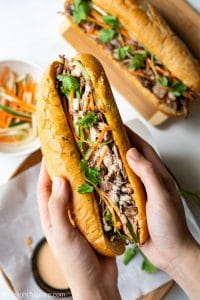 What Is Banh Mi (Vietnamese Baguette)
Banh mi simply means bread made from wheat in Vietnamese. I believe it was the French who introduced this bread to Vietnam. Though originated from the French baguettes, banh mi has distinguishing characteristics. The crust is usually thinner and crispier, and the white crumb is much lighter and airier than Western baguettes. In the US., you can buy plain banh mi from almost any shops selling banh mi sandwich. If it isn't an option, it is fine to use regular baguettes.
The correct spelling for this bread is "banh mi". A lot of places use "bahn mi" to refer to it, but it is incorrect.
Banh Mi Varieties
Vietnamese people often eat banh mi for breakfast or eat alongside with some saucy dishes such as beef stew. In the old days, many people even enjoyed dipping plain banh mi in sweetened condensed milk. For breakfast, Vietnamese banh mi is usually stuffed with fillings to make a sandwich. The traditional fillings for banh mi sandwich in the North are fried eggs, pate, pork floss, and Vietnamese ham. The Southern version can arguably be considered more exciting and flavorful with different types of grilled meat, pickled vegetables, and cilantro. I grew up with the Northern banh mi, and I only started to eat the Southern version more frequently when I moved to the US.