This Chocolate Walnut Banana Bread is so delicious, moist and tender with a chocolatey and nutty flavor and wonderful aroma. Either as breakfast, dessert or mid-day snack, it will make you feel cozy and heartwarming.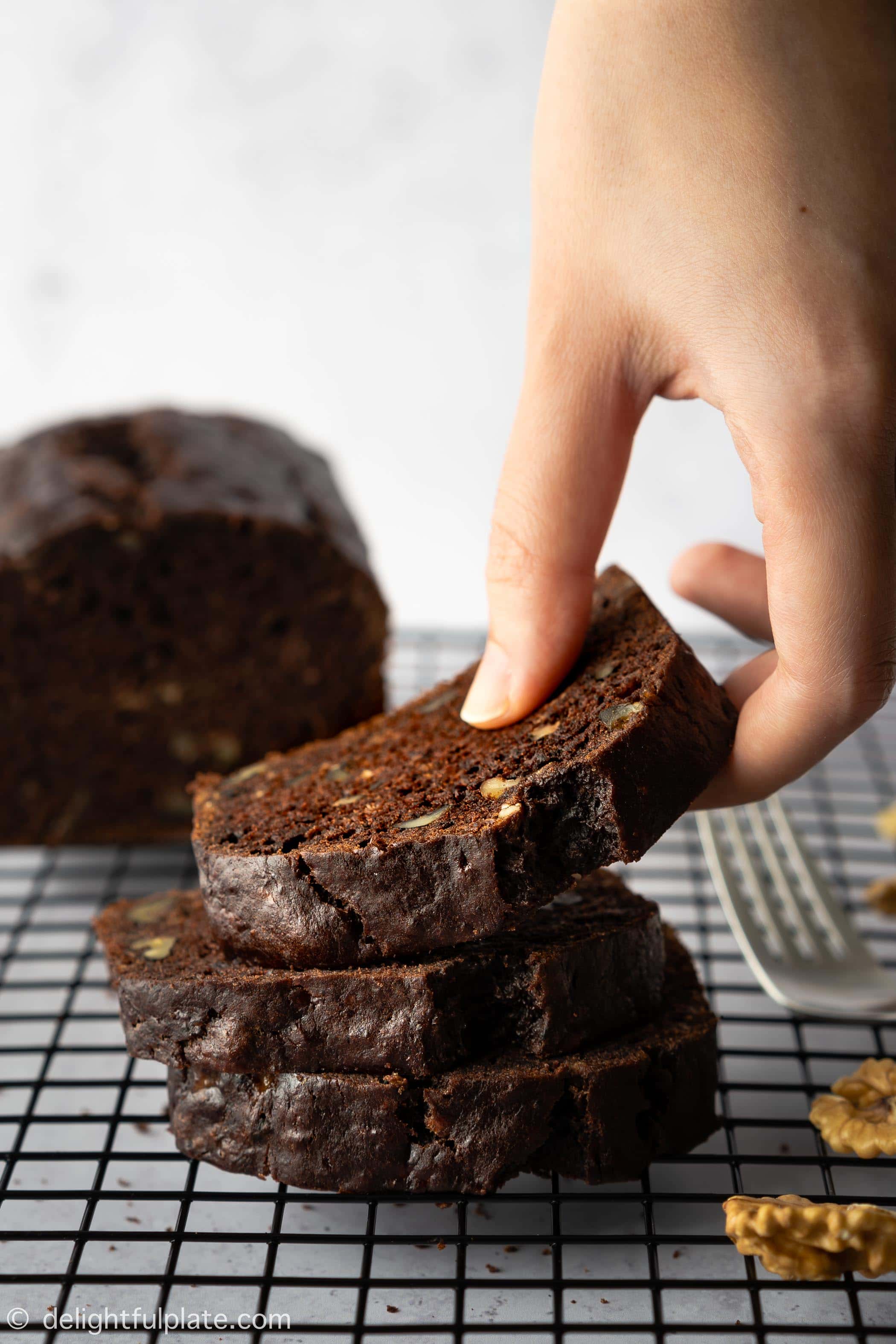 ---
🍫 A Spiced and Nutty Chocolate Banana Bread
We recently visited the National Gallery of Denmark in Copenhagen and had a delicious slice of chocolate banana bread at their coffee shop. Just one thin slice was full of crunchy nuts with a chocolatey flavor and an amazing aroma of winter spices. Totally hyggelig(t) (hygge-like)!
If you wonder what "hygge" means, let's talk a little bit about this concept. I usually don't talk about non-food stuff in the post like this, but this is a pretty interesting concept. Please feel free to scroll past to the next section about ingredients and methods if you already know about hygge.
Denmark is among the happiest countries in the world according to many rankings, and hygge is perhaps one of their secrets to happiness. There is no direct equivalent word in English, but some explanations include "social coziness" or "coziness of the soul".
Hygge is humble and slow. And if you could taste it, the taste of hygge would be almost always familiar, sweet and comforting (The Little Book of Hygge – The Danish Way to Live Well, Meik Wiking).
So in short, the chocolate banana bread we tried was so delicious that I wanted to make it at home. And baking is also a hyggelig activity itself :)! My version includes banana, chocolate, walnuts, cinnamon, and nutmeg – they make such a perfect flavor combination that it is so difficult to eat only one slice.
---
🎬 Recipe Video
The bread is very moist and tender, even on the next day. You can watch how quick and easy it is to make it in the video below.
---
🛒 Ingredients
I modified Simply Recipe's banana bread recipe to come up with this easy chocolate walnut banana bread. No electric mixer or fancy tools is needed.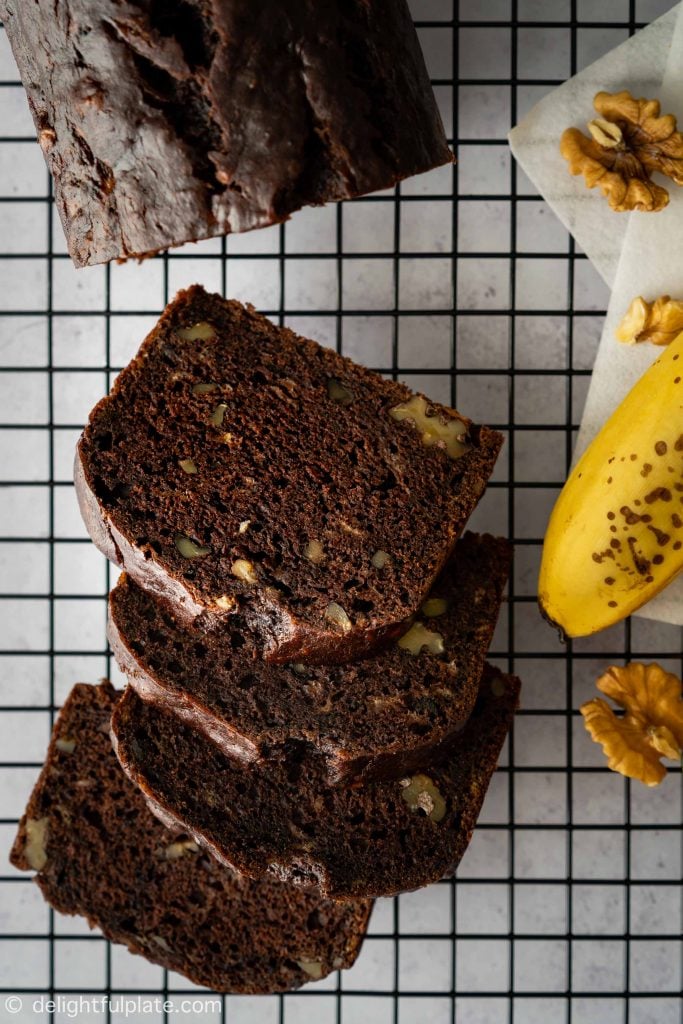 To make this banana bread, you will need the following ingredients (please note this is the summary, and detailed measurements are in the recipe card at the end of the post):
Ripe bananas: if possible, use those very ripe one with brown spots for a stronger banana flavor.
All-purpose flour: I use unbleached all-purpose flour.
Unsweetened cocoa powder
Sugar, baking soda, egg, walnuts
Cinnamon powder: you can easily find McCormick ground cinnamon, which is affordable and works great, at any grocery stores. I also like Simply Organic Ceylon ground cinnamon a lot, love its sweet and floral notes.
Nutmeg powder: I often buy ground nutmeg from McCormick (organic version), Simply Organic and Frontier Co-op.
Butter or oil: I have tried making the bread with both butter and oil and it turns out delicious either way.
We like the banana bread made with butter slightly more than the one with oil because it seems to have lighter crumbs and more richness. If you don't eat dairy, it is still very yummy with oil and I include both options in the recipe card.
I think the nuts and spices are essential ingredients you should not omit. The walnuts add a crunchy texture and the spices add a warming and sweet aroma. They give the bread more soul, characteristics and it is way more fun to eat.
---
🍳 How to Make Chocolate Walnut Banana Bread
1️⃣ It cannot be easier to make this chocolate banana bread. You combine all dry ingredients in one bowl and set aside. Then mash the bananas and mix in all remaining wet ingredients. After that, mix to combine wet and dry ingredients (be careful not to over-mix).
2️⃣ Next, pour the batter into a loaf pan and bake until a toothpick inserted in the bread comes out clean. I use a 4"x8" loaf pan for this recipe.
Quick tip: you can quickly combine the bananas, eggs and melted butter in a blender for a few seconds.
I think you will also like this Steamed Vietnamese Banana Cake.
I'd love to hear what you think about this dish, so please feel free to leave a comment. New recipes are added every week so let's connect on Facebook, Youtube, Pinterest and Instagram for the latest updates. You can find my collection of Vietnamese recipes here.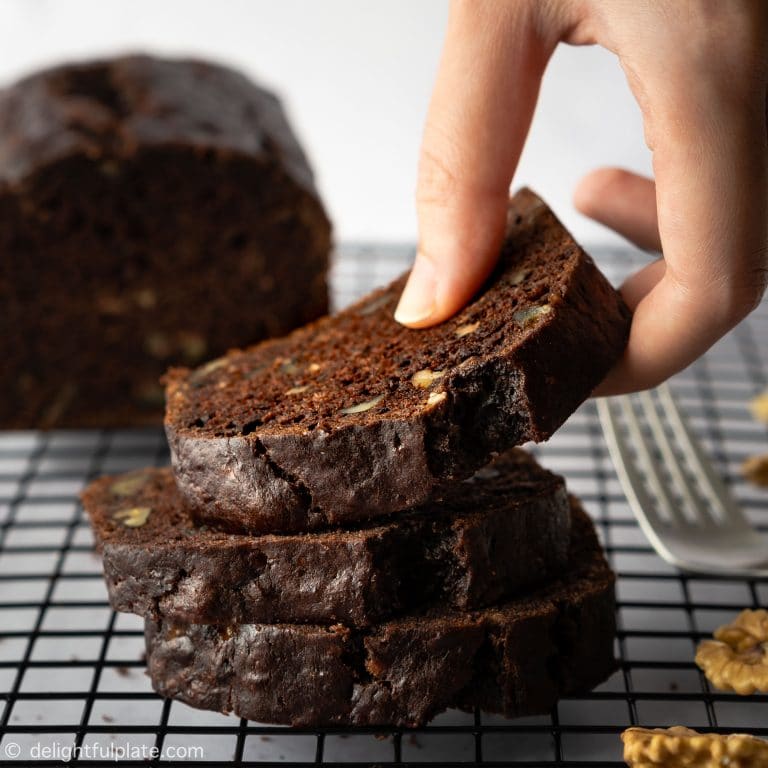 Easy Chocolate Walnut Banana Bread
This Chocolate Walnut Banana Bread is so delicious, moist and tender with a chocolatey flavor, crunchy nuts and wonderful aroma. Either as breakfast or dessert, it will make you feel cozy and heartwarming.
Print
Pin
Rate
Instructions
Preheat the oven to 350F (175C) and butter a loaf pan.

Gather dry ingredients. Sift cocoa powder into the all-purpose flour, then add baking soda, cinnamon powder, nutmeg powder and salt to that same bowl. Mix to combine them evenly.

In a mixing bowl, mash bananas until there's no big lumps. Add the melted butter and stir well to combine. Then stir in the egg and sugar.

Add the flour mixture and chopped walnuts to the wet ingredients. With a wooden spoon or spatula, gently mix to combine. Do not over-mix.

Pour the batter into the loaf pan. Bake for 50-60 minutes, or until a toothpick inserted into the center comes out clean.

Remove from the oven and let the bread cool in the pan for 5-10 minutes. After that, remove the bread from the pan and let it cool completely on a cooling rack.
Video
Notes
For dairy-free option, you can use 1/4 cup of oil instead of melted butter.
I use a 4"x8" loaf pan.
I personally think half a cup of sugar provides enough sweetness for the bread. Consuming less sugar will make our body happier :).
If you want more or less spice aroma, you can increase or reduce cinnamon powder and nutmeg powder by 1/4 teaspoon each.
Nutrition
Calories:
335
kcal
|
Carbohydrates:
40
g
|
Protein:
5
g
|
Fat:
18
g
|
Saturated Fat:
7
g
|
Cholesterol:
54
mg
|
Sodium:
284
mg
|
Potassium:
135
mg
|
Fiber:
2
g
|
Sugar:
17
g
|
Vitamin A:
355
IU
|
Calcium:
33
mg
|
Iron:
2.2
mg