Vietnamese Beef Stew with Green Peppercorns ("Bo Ham Tieu Xanh") features tender beef cubes in a flavorful sauce with mild heat and zestiness from fresh green peppercorns. It also often includes potatoes and carrots, and is served with crusty bread to soak up the yummy sauce.
There are quite a lot of ways to make beef stew in Vietnam. If you are somewhat serious about Vietnamese cuisine, you probably have heard of "bo kho", a Southern Vietnamese beef stew dish. "Bo Ham Tieu Xanh" is a different Southern Vietnamese beef stew dish, which I sometimes enjoy even more than "bo kho". 
What is Green Peppercorn ("tieu xanh")
Green peppercorns are unripe peppercorns. Though they are milder than black peppercorns, the green counterparts are more flavorful and fresher with fruitiness and zestiness.
Fresh green peppercorns can be kept in the refrigerator for several weeks. They will slowly get darker, losing the beautiful green color.
As far as I know, it is not very common to see green peppercorns in Northern cuisine. They are usually used in Southern dishes both for their flavors as well as their aesthetic appeal.
How to Cook Vietnamese Beef Stew with Green Peppercorns
To make "Bo Ham Tieu Xanh", the main ingredients you will need are:
cubed beef: my favorite cut of beef for stew is beef shank. If you cannot find this cut, beef chuck also works.
fresh green peppercorns
potatoes and carrots
aromatics and seasonings you may already have such as garlic, shallots, bay leaves, onion and salt.
Savory Southern Vietnamese dishes often have some sweetness, the level of which is sometimes pretty pronounced. For Bo Ham Tieu Xanh, I braise the beef in coconut juice to add natural sweetness to the dish, and avoid the need to use refined sugar.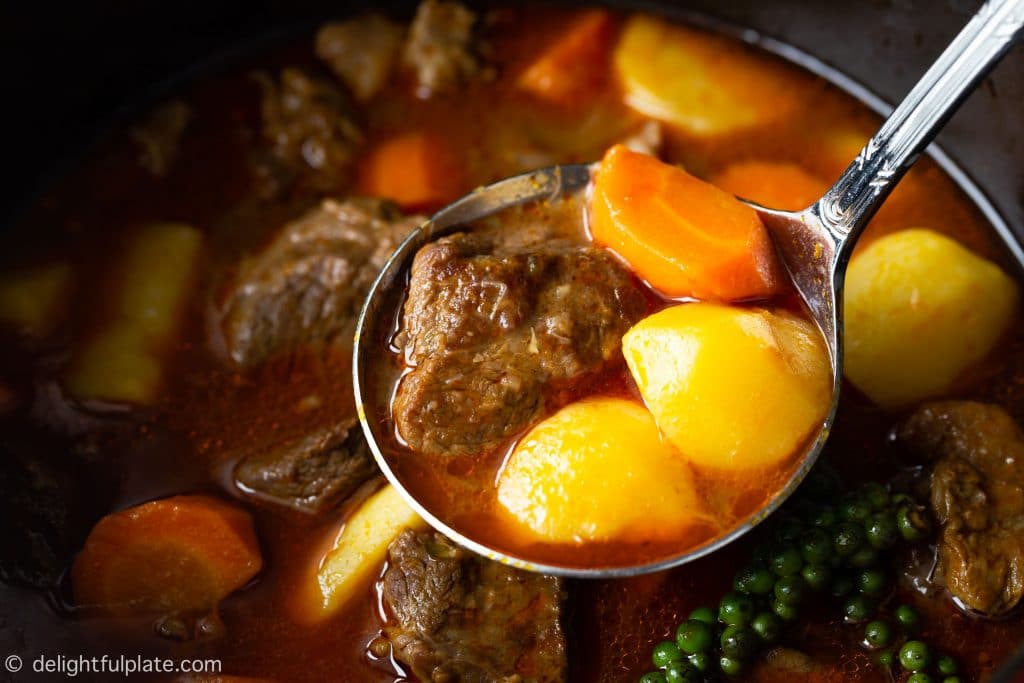 Cooking Notes for Green Peppercorns Beef Stew
This dish is very easy to make at home, and you can cook a large batch to enjoy over a couple days. I cook mine on the stovetop in a Staub cocotte. An enameled Dutch oven is also excellent.
The cooking steps are quite straightforward. Make sure you sear the beef cubes first until brown. Then sauté the aromatics, add the beef back along with green peppercorns and other ingredients. Simmer until the beef is tender to your liking.
After being simmered, the fresh peppercorns will burst and lose their green color. You can add some uncooked green peppercorns to serving bowls for garnishing. It's best to serve this Vietnamese beef stew with banh mi (or baguettes and other crusty bread) to soak up the flavorful sauce.
I'm quite sure you can also cook this dish in a slow cooker or pressure cooker (such as an Instant Pot) though I haven't tried it out for myself yet. My guess is it may take 3-4 hours on High in a slow cooker or 30 minutes in a pressure cooker. If you try these two methods, I'd love to hear how it works for you.
Related Recipes
⭐️ I'd love to hear what you think about the dish, so please feel free to leave a comment and a rating if you have tried it. New recipes are added every week so let's connect on Facebook, Youtube, Pinterest and Instagram for the latest updates. You can find my collection of Vietnamese recipes here.
Vietnamese Beef Stew with Green Peppercorns (Bo Ham Tieu Xanh)
Vietnamese beef stew with green peppercorns ("Bo Ham Tieu Xanh") features tender beef cubes, potatoes and carrots in a flavorful sauce with mild heat and zestiness from fresh green peppercorns. Serve it with crusty bread for a comforting meal.
Print
Pin
Rate
Ingredients
Other ingredients
1

small onion, cut into wedges

(about 1/2-2/3 cup)

3

shallots, thinly sliced

3

garlic cloves, minced

1

oz

green peppercorns

2

teaspoons

all-purpose flour

3/4

teaspoon

tomato paste

2

cups

fresh coconut juice

1

cup

water

1/2

teaspoon

salt

(or more to taste)

1

lb

potatoes, peeled and cubed

2

carrots, peeled and rolled-cut
Instructions
Cut beef into 1.5-inch thick cubes and mix with 1/2 teaspoon salt, 1 teaspoon soy sauce, 1 teaspoon olive oil and black pepper. Set aside. If you have time, you can marinate for 1-2 hours for tastier results.

Cut onion into wedges, slice shallots and mince garlic. Also use a pestle and mortar to slighly crack 1 teaspoon of green peppercorns (or roughly chop with a knife).

In a heavy-bottomed pot over medium to medium-high heat, add olive oil. Once the oil is hot, add beef cubes and sear until brown. Transfer to a bowl.

Lower heat to medium. Add onion wedges to the pot and sauté until onion is fragrant. Add shallots, garlic and cracked green peppercorns and sauté briefly until fragrant.

Add beef cubes back together with 2 teaspoons of flour, stir well. Then add tomato paste and also stir well.

Add coconut juice and water and once it starts to boil, reduce heat to a gentle simmer. Add 1/2 teaspoon of salt and bay leaves. With the lid slightly askew (to leave a small space between the lid and the rim of the pot), gently simmer until beef is almost tender to your liking. I simmer mine for about 70-80 minutes.

Add carrots and potatoes to the pot and cook until beef, potatoes and carrots are tender to your liking (which is about 20 minutes for me).

Taste and adjust seasoning to your taste. You may also adjust the consistency of the sauce with additional water (to thin it out) or flour (to thicken it).

Transfer to serving bowls and garnish with some fresh uncooked green peppercorns (optional). Serve hot with banh mi or your favorite crusty bread.
Notes
My favorite cut to make beef stew is beef shank. If you cannot find it, you can use beef chuck.
If you want the sauce to look slightly red as in my photos, you will need a teaspoon of annatto seeds. Heat oil over medium heat and sauté the annatto seeds in oil briefly until the oil looks red. Discard the seeds and then use the oil to sear the beef cubes. This step is optional and purely for aesthetic look. It has no impact on the flavor of the dish. Annatto seeds can be found at Asian grocery stores or on Amazon.
At the end, if you like the sauce to be thicker, dissolve some flour (or cornstarch) in water and use it to thicken the sauce.
Nutrition
Calories:
384
kcal
|
Carbohydrates:
30
g
|
Protein:
43
g
|
Fat:
10
g
|
Saturated Fat:
3
g
|
Cholesterol:
105
mg
|
Sodium:
1115
mg
|
Potassium:
1569
mg
|
Fiber:
6
g
|
Sugar:
7
g
|
Vitamin A:
5112
IU
|
Vitamin C:
22
mg
|
Calcium:
123
mg
|
Iron:
8
mg