Traditional Vietnamese fresh spring rolls (goi cuon) consist of pork, shrimp, lettuce and herbs wrapped in soft chewy rice paper. They are beautiful to look at and great as a refreshing appetizer or even a light meal. Your guests will be impressed!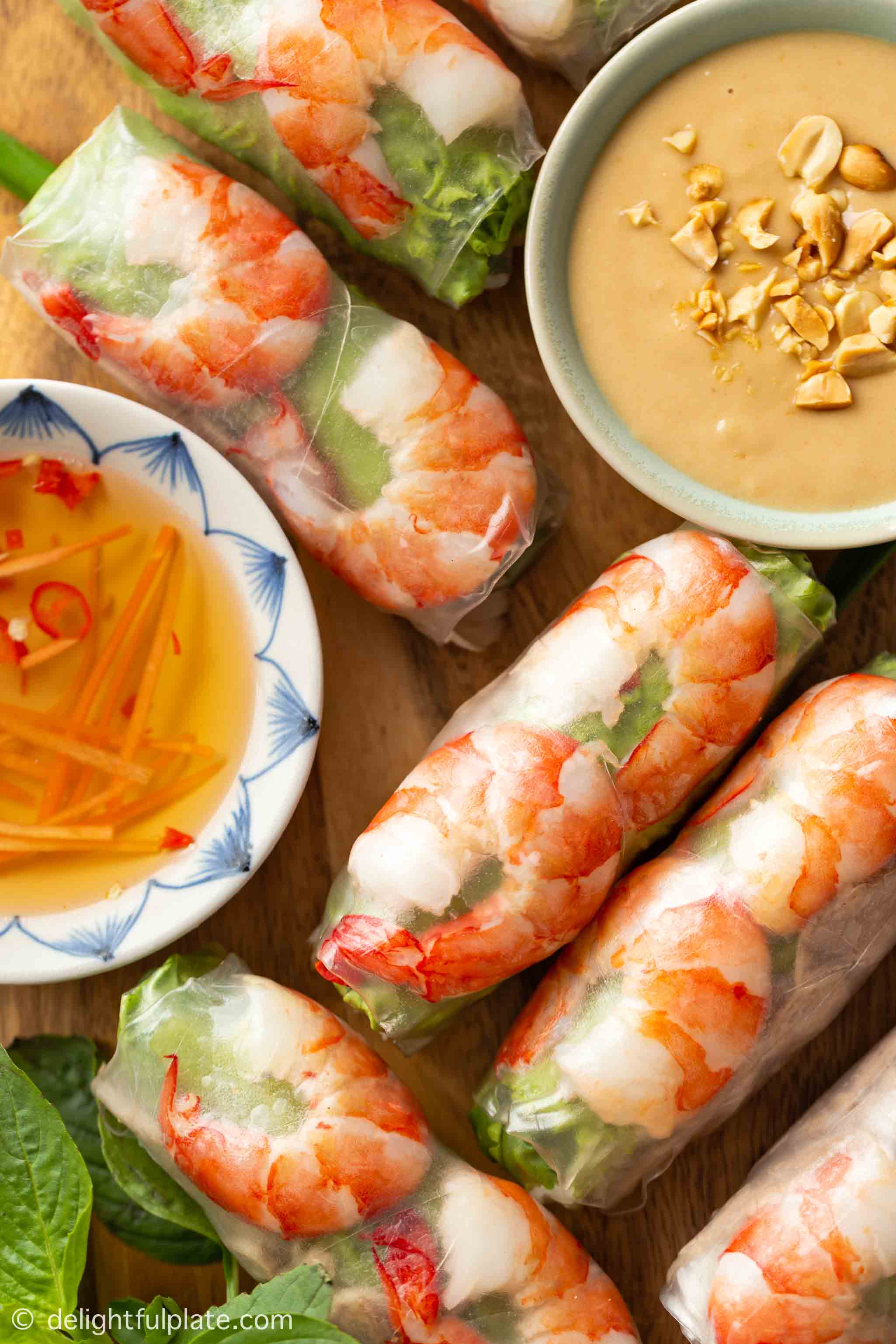 What Goes in a Vietnamese Spring Roll
There are two main categories of Vietnamese spring rolls: the fresh ones and the fried rolls. Fresh spring rolls (or summer rolls, rice paper rolls) are called gỏi cuốn in Vietnam. Different types of fillings are wrapped in a rice paper, bringing all kinds of textures and flavors to diners.
Each region has their own version of goi cuon. The most traditional version in the Southern part of the country has pork, shrimp, rice vermicelli noodles, lettuce and fresh herbs. These are called goi cuon tom thit (meaning pork and shrimp spring rolls), and I'm sharing the authentic recipe for it today.
Other types of fresh spring rolls can contain grilled fish, grilled pork, pieces of sizzling crepes (banh xeo), pig's ears for example. In the past, I posted a recipe for bo bia spring rolls which contain jicama, shrimp, egg and lap cheong.
Watch the Video
Subscribe to our Youtube channel for more easy-to-follow cooking videos!
What You'll Need for this Recipe
To make goi cuon tom thit, you will need:
rice paper wrappers (bánh tráng): they come in different size and shape. I often use the round ones with a diameter of 8.5" – 9". You will sometimes see the square ones which can also be used. Brown rice paper wrappers are also sold at many stores these days, and I use them too.
shrimps: the shrimps provide sweetness to the rolls. Drop them in boiling water for a couple of minutes so they are just cooked through. It's important not to overcook or they'll be rubbery and dry.
pork: you can choose from pork shoulder, tenderloin or pork belly. I like to use fairly lean pork. The pork shouldn't be overcooked or they'll be so dry and tasteless. 
lettuce: use soft lettuce to avoid tearing the wrappers.
fresh herbs: typically, chives and Thai basil (hung que) are used in these Southern Vietnamese spring rolls. You can also use cilantro, spearmint or even peppermint, depending on what you can find.
rice vermicelli noodles (bún): they add softness as well as give structure to the rolls. But I myself have made spring rolls without noodles so many times, so don't stress if you don't have them.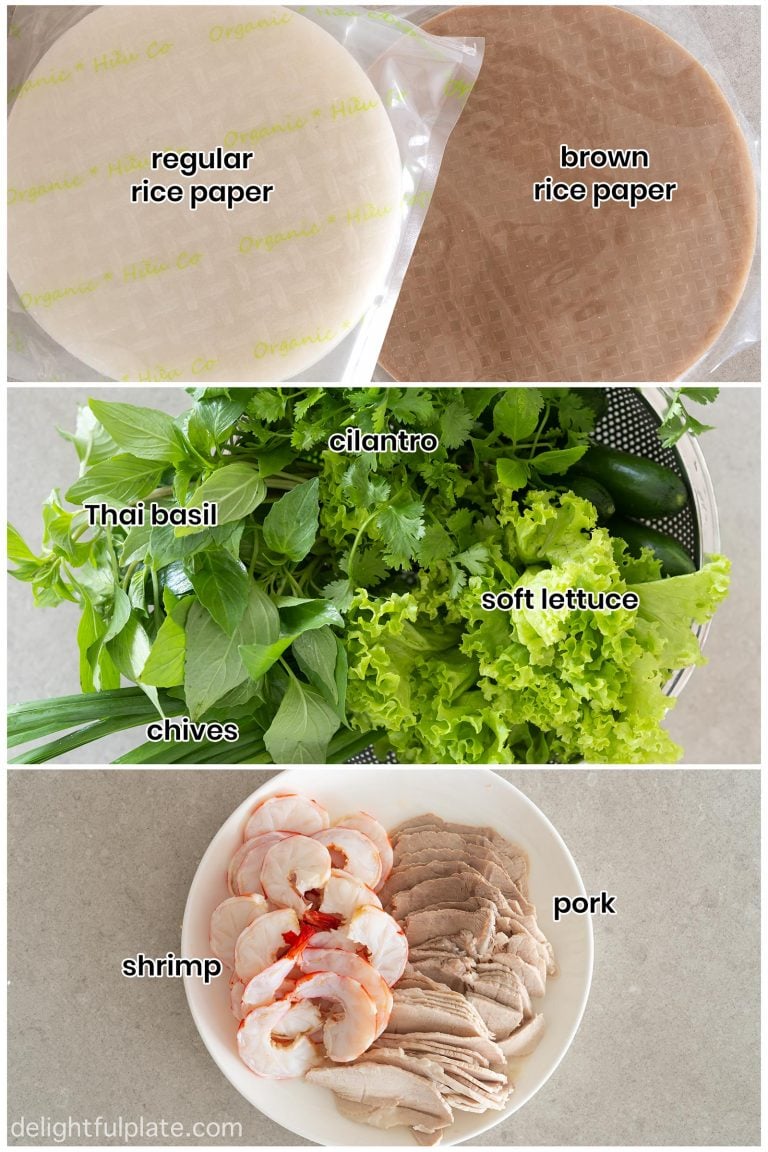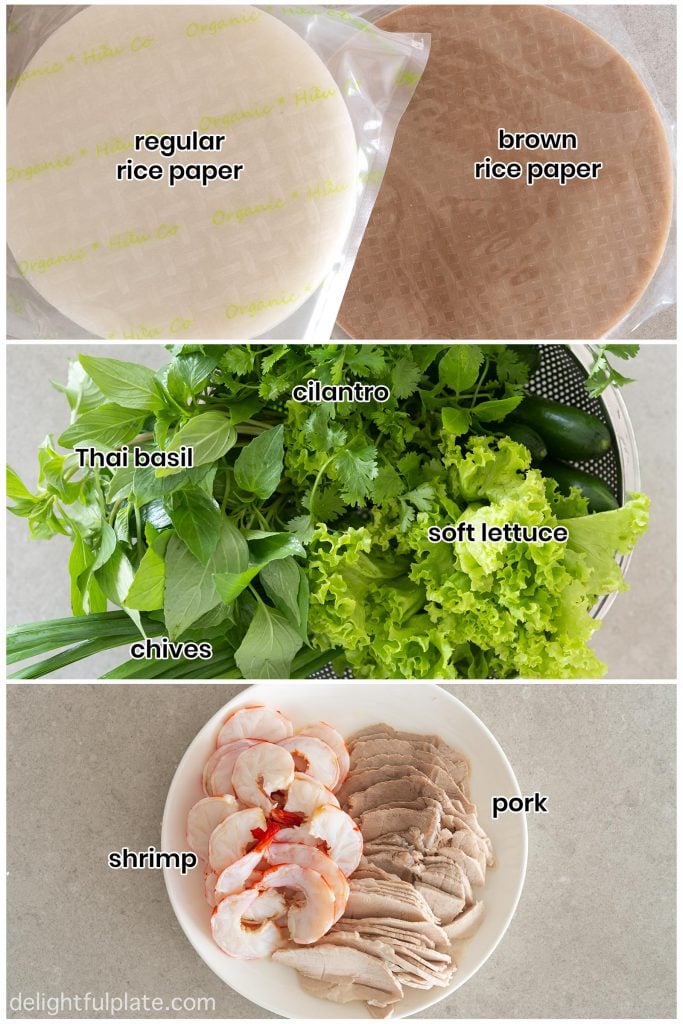 I personally like my rolls to have some crunchiness and juiciness, so I sometimes add julienned cucumber too. I think spring rolls are really a very personal thing, so just customize it to your liking :).
How to Wrap Vietnamese Spring Rolls
Before the wrapping step, make sure you have prepped all other ingredients, including:
cook and slice pork thinly
poach and slice shrimps in half lengthwise
cut lettuce into smaller pieces or strips so it'll be easy to roll
remove tough stems from the herbs
prepare vermicelli noodles if using
prepare other fillings you want to add
It's really easy to wrap the rolls. Here are some photos to help you with the process if you are not familiar with wrapping spring rolls.
Just a few things to note here:
avoid soaking the wrappers in too much water since they can be torn
don't soak the wrappers in too little water either, or they may crack
don't overstuff the wrappers which can also break the rolls
How to Serve and Store Spring Rolls
It's best to serve goi cuon with a dipping sauce on the side as an appetizer or a healthy and light meal. Here are my two favorite dipping sauces for spring rolls:
Peanut sauce: visit this page to get my recipe which has the right balance of sweet and savory. Restaurant versions are often heavy-handed with hoisin sauce, so they are sweeter and darker than my liking.
Nuoc cham: this is a Vietnamese traditional dipping sauce which contains fish sauce, lime juice and sugar. Restaurant versions often use vinegar because they can be stored for longer than with lime juice. However, the sauce is best made with lime juice, which gives it not just acidity but also freshness and a subtle scent. I include the recipe for it in the recipe card.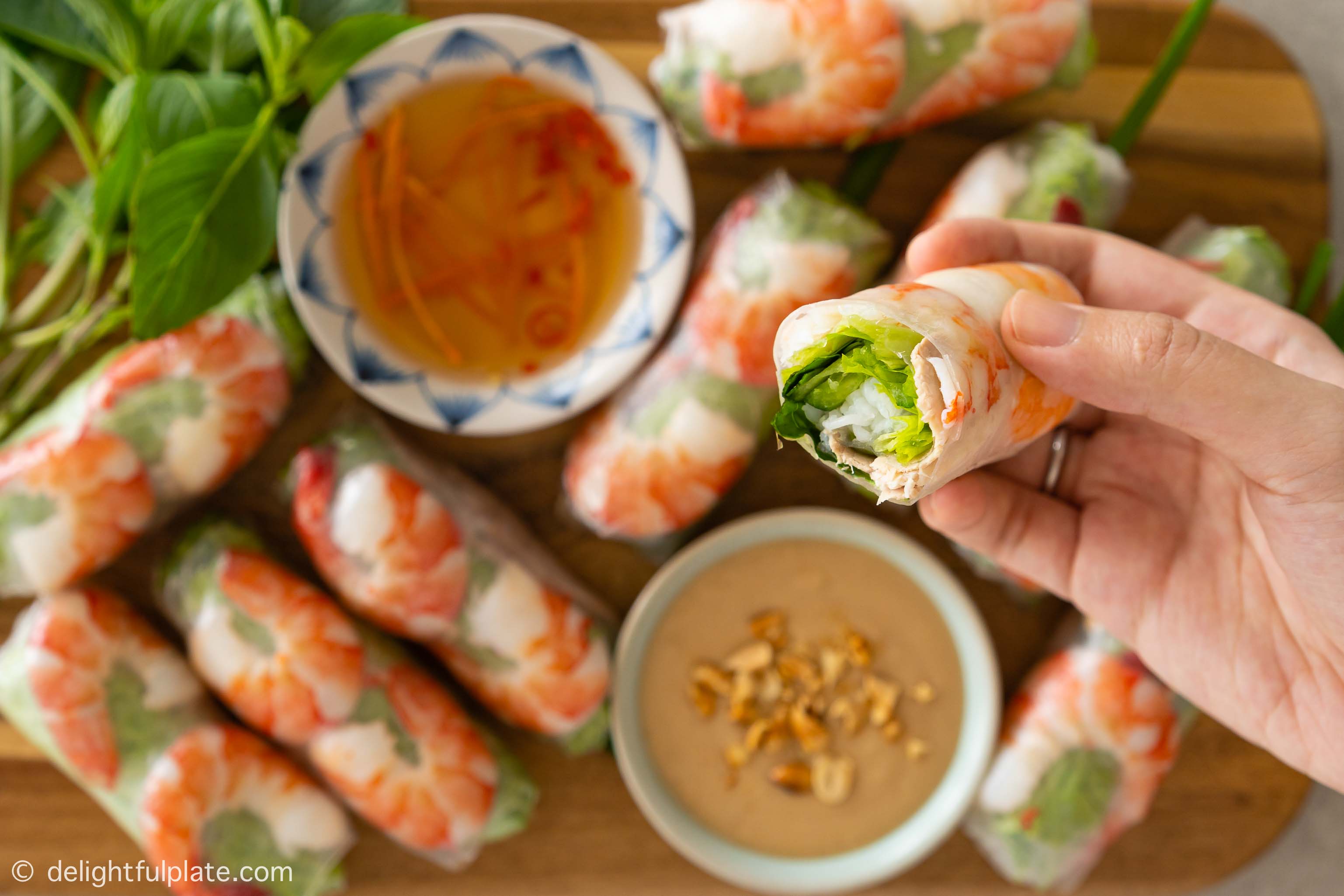 Many Vietnamese families actually let each member roll their own goi cuon at the table, so they can pick and choose which filling and how much they want to put in their rolls.
It is quite tricky to store rice paper rolls since the wrappers will get dry over time, especially if they are put in the refrigerator. So it is best to eat them freshly made. If you want to make ahead, cover them very tightly with plastic wrap and eat within 2-4 hours. Please find detailed measurements and instructions in the recipe card below.
Related Recipes
I'd love to hear what you think about the dish, so please feel free to leave a comment and a rating if you have tried it. New recipes are added every week so let's connect on Facebook, Youtube, Pinterest and Instagram for the latest updates. You can find my collection of Vietnamese recipes here.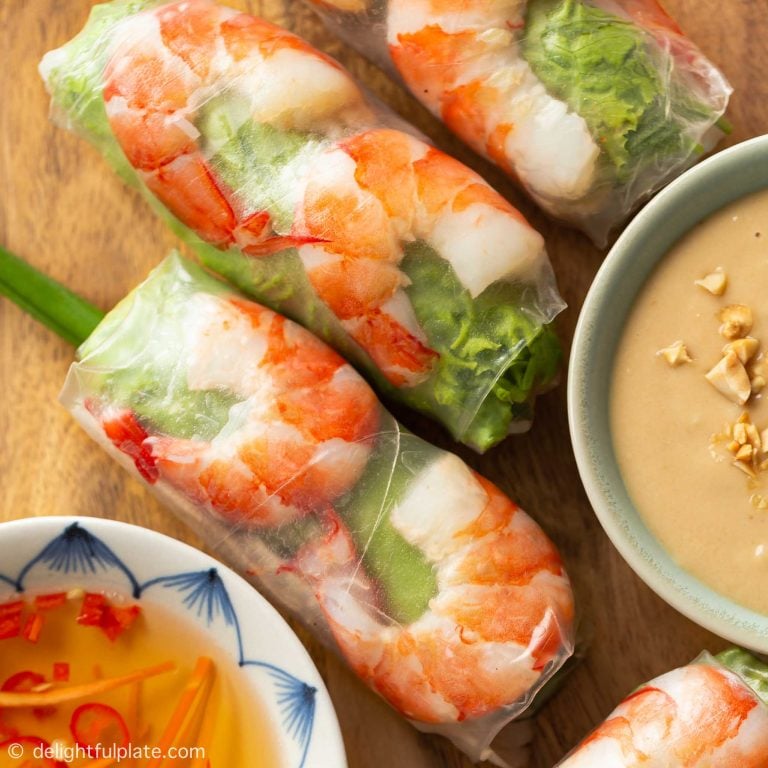 Vietnamese Fresh Spring Rolls (Goi Cuon)
Traditional Vietnamese fresh spring rolls (goi cuon) consist of pork, shrimp, lettuce and herbs wrapped in soft chewy rice paper wrappers. Serve them as a refreshing and tasty appetizer and impress your guests.
Print
Pin
Rate
Ingredients
10

oz

pork

(choose among pork shoulder, tenderloin or pork belly)

1

thumb-sized piece of ginger

1/2

teaspoon

salt

1

lb

raw shrimp

(I use peel-on shrimp. We need 16 of them)

16

rice paper wrappers

(8.5''-9'' in diameter)

2

cups

soft lettuce, cut into smaller pieces or strips

Thai basil, tough stems removed

chives, cut into 3''-4'' long pieces

other fresh herbs of your choice such as cilantro, mint

8

oz

cooked rice vermicelli noodles
Instructions
Parboil the pork for a minute, discard the liquid. After that, bring water to a boil in a clean pot, add ginger, salt and the pork. Skim off any foam. Lower the heat to maintain a simmer and place the lid slightly askew. Cook for 25-30 minutes or until the pork is just cooked through. Transfer to a bowl with iced water to stop the cooking.

Bring plenty of water to a boil and add the shrimp. Poach for about 2 minutes until they are just cooked through. Put them in a bowl with iced water immediately.

Slice the pork as thinly as you can. Peel off the shrimp shells and slice the shrimp in half lengthwise (remove the veins if needed).

Set up a work station with all ingredients to make the spring rolls and a plate/bowl with clean water. Briefly dip one rice paper wrapper into the plate with water to wet it just enough to make it pliable and then lay flat.

Add a layer of lettuce, fresh herbs and vermicelli noodles. Fold left and right corners of the rice paper over the filling.

Place a couple of pork slices right above the veggies and noodles (about the middle of the rice paper) and place two of the shrimp halves above the pork slices (about the top part of the rice paper). Then roll it up away from you. Place on a serving plate with the shrimp side up.

Repeat with remaining filling and wrappers. Serve immediately with a dipping sauce. Recipes for two types of dipping sauce are in the Notes below.
Notes
The ingredients in this recipe are for the authentic traditional Vietnamese fresh spring rolls with pork and shrimp. Please feel free to add or remove the filling you like or don't like since I think spring rolls are a very personal thing. You should customize it to your liking. For example, it's fine to not use chives or I like to add julienned cucumber to my spring rolls.
I use 1 lb of raw shrimp (16 shrimp in total) with shells and heads. You can use shrimp of smaller size.
There are two types of dipping sauce often served with these:
Peanut sauce: get the recipe here.
Nuoc cham: make it by combining 1 tablespoon of fish sauce, 5 tablespoons of warm water, 2 teaspoons of sugar and 2 teaspoons of lime juice. Taste and adjust to taste.
Nutrition
Calories:
183
kcal
|
Carbohydrates:
23
g
|
Protein:
11
g
|
Fat:
5
g
|
Saturated Fat:
2
g
|
Cholesterol:
86
mg
|
Sodium:
438
mg
|
Potassium:
106
mg
|
Fiber:
1
g
|
Sugar:
1
g
|
Vitamin A:
45
IU
|
Vitamin C:
2
mg
|
Calcium:
57
mg
|
Iron:
2
mg