Bún Măng Vịt (Vietnamese Duck Vermicelli Noodle Soup) is one of the classics of Vietnamese cuisine. It is savory, flavorful, and delicious either with or without bamboo shoots.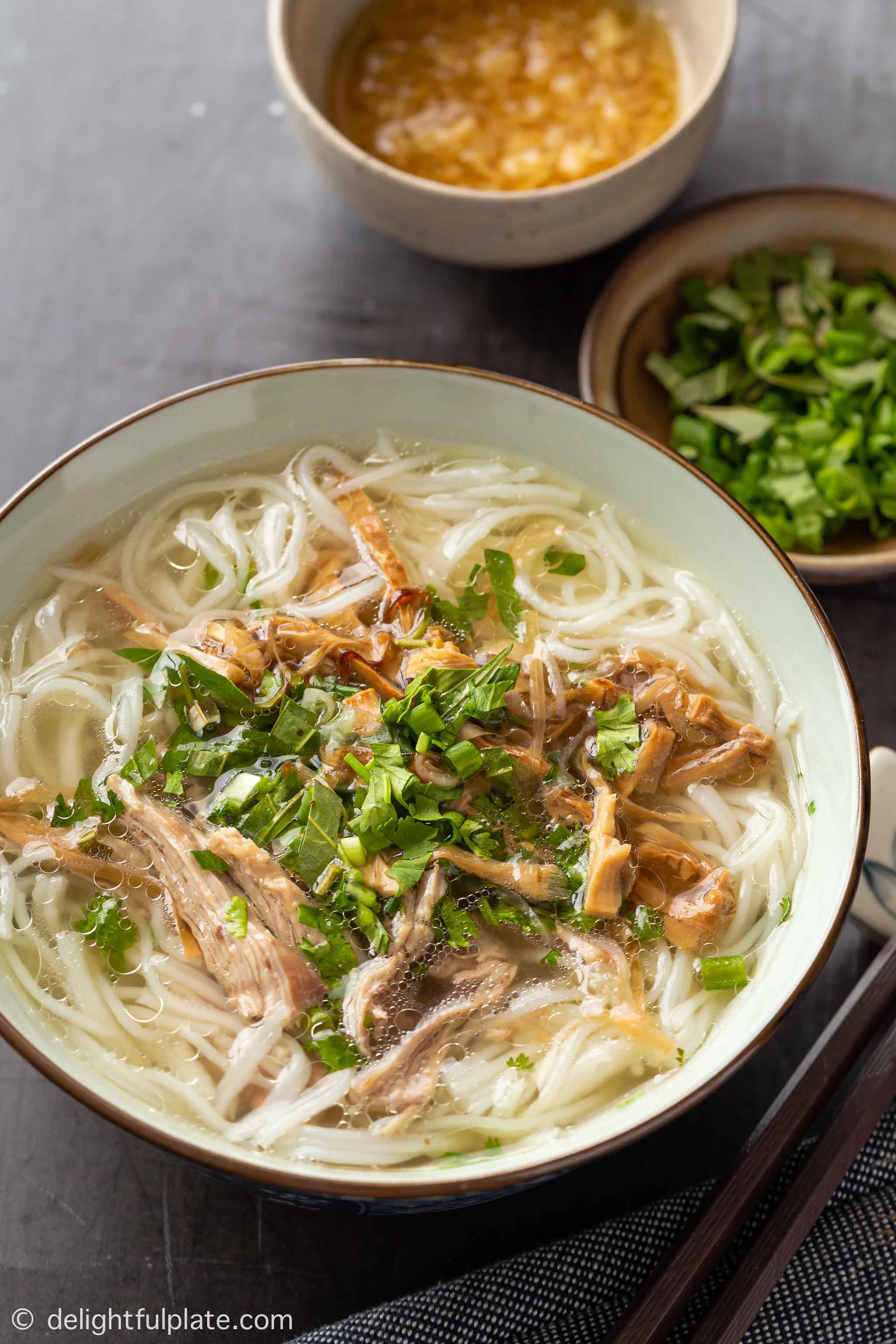 What is Bun Mang Vit
Originating from Northern Vietnam, this duck noodle soup features shredded duck meat, (usually) bamboo shoots, and soft rice vermicelli noodles in a clear broth. The broth is savory with a hint of sourness. While Vietnamese chicken vermicelli noodle soup is light, this noodle soup has a stronger flavor.
The Vietnamese name of the dish is bún măng vịt (or bún vịt if you want to omit the bamboo shoots). It is especially popular in Hanoi, and is also well received in the Southern part of the country. Earlier this year, I shared a Vietnamese herbal duck noodle soup (mi vit tiem) recipe, which originated from Saigon. Today, I will share the recipe for the duck and bamboo shoot noodle soup of Northern Vietnam where we grew up.
Watch How to Cook Bun Mang Vit
Choosing Duck
Let's start with the main ingredient: duck. If you are asking yourself: "Do I need to buy a whole duck to cook this noodle soup?", no need to worry because you don't.
We usually use duck legs and find that the broth is just flavorful and umami enough. Besides, with the cooking method in this recipe, duck legs turn out with better texture than duck breasts. Last but not least, if you use a whole duck, you will end up with a lot of fat to skim off.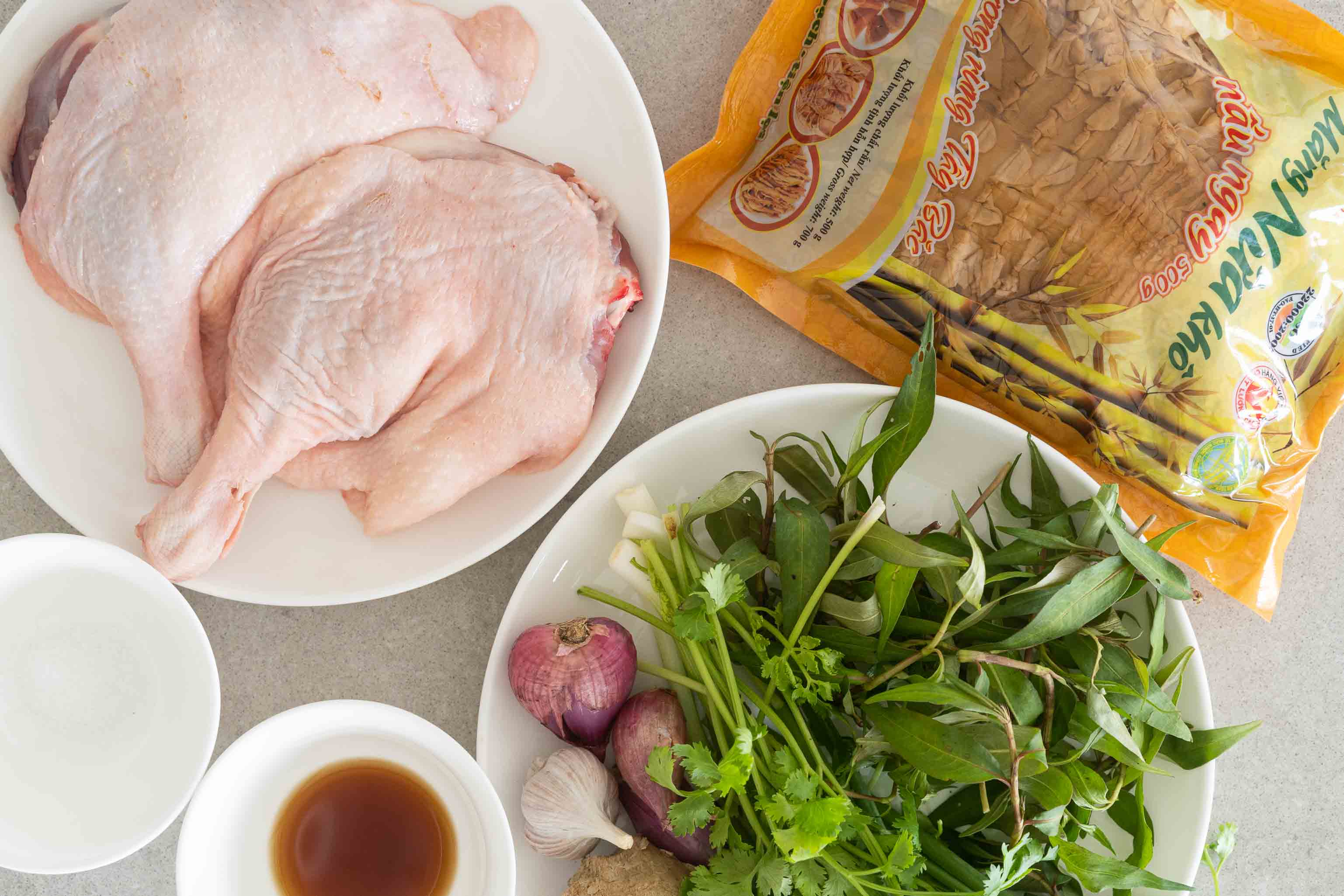 So, I recommend using duck legs, and the general rule is one leg per person (or more if you have big eaters). If you choose to use a whole duck, that's totally fine.
How to Make the Duck Broth
The duck broth is made by simmering duck legs gently. However, an important step before simmering is prepping the duck to get rid of strong gamy odors. There are two ways to prep the duck:
parboil in boiling water briefly
rub the duck with salt, crushed ginger and a bit of rice wine (or sake, white wine), then rinse
If you don't want a lot of fat in the broth, you can either remove some of the skin before simmering or skim off excess fat at the end of cooking.
Choosing Bamboo Shoots
So what are bamboo shoots? Bamboo shoots are the edible shoots of bamboo plant. In Vietnam, there are different types of bamboo shoots (we call them "măng"), and they are available in fresh or dried forms. The dried one can come packaged in liquid and this is what we usually use.
Each type or form of bamboo shoots tastes a little different with different texture. There are Vietnamese dishes that specifically call for fresh ones while there are also dishes that are better with dried ones. So, if someone says fresh bamboo shoots are always better than dried ones, it isn't accurate.
For this bun mang vit recipe, I recommend dried bamboo shoots (măng khô) over fresh ones (măng tươi) because fresh ones are more sour and don't have a subtle sweet note like dried ones. And as I have said at the beginning, I find the noodle soup absolutely delicious without bamboo shoots. So you can omit it if you cannot find it or don't enjoy eating it.
How to Prepare Dried Bamboo Shoots
We use dried bamboo shoots that are packed in liquid, so we just need to take them out and boil for about half an hour to remove strong odor and taste. If you use dried sheets of bamboo shoots, you will need to soak them in water for a few days before boiling. And they may even need to be boiled a few times, according to my mom.
After boiling and washing the bamboo shoots, we will tear/shred them into strips and sauté with aromatics and seasonings. Finally, we will drop them into the duck broth and simmer briefly. We often leave some of the cooked bamboo shoots to top the bowls as well. It's just a matter of preference. The one that is simmered in the stock will be soft and juicy while the one that is sautéed only will have a slight chew and more flavors.
Ginger Dipping Sauce
In Vietnam, this duck and bamboo shoot noodle soup is usually served with a ginger dipping sauce. The main ingredients for the sauce are crushed ginger, fish sauce, and rice vinegar.
Other Ingredients
You will also need rice vermicelli noodles and fresh herbs for the dish. We usually use scallion, cilantro, Vietnamese coriander and/or sawtooth leaves. Vietnamese coriander (rau răm) and sawtooth leaves (ngò gai) are the herbs that pair particularly well with duck in Vietnamese cuisine.
Please find detailed instructions in the recipe card below. This recipe actually has a fairly short list of ingredients, compared to some other Vietnamese noodle soups such as beef pho, chicken pho or bun thang.
More Vietnamese Classic Noodle Soups
I'd love to hear what you think about the dish, so please feel free to leave a comment and a rating if you have tried it. New recipes are added every week so let's connect on Facebook, Youtube, Pinterest and Instagram for the latest updates. You can find my collection of Vietnamese recipes here.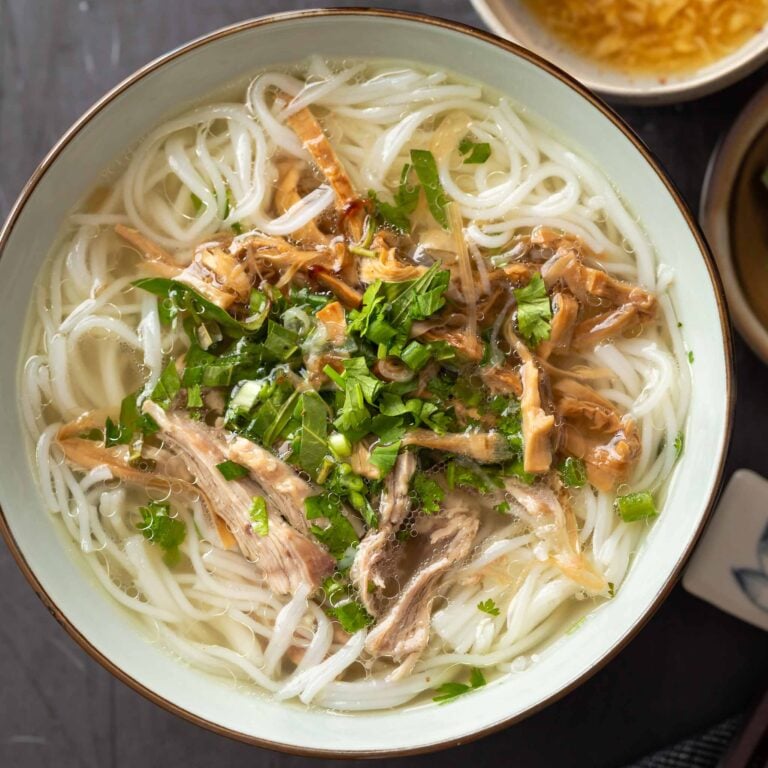 Bun Mang Vit (Vietnamese Duck Noodle Soup)
Bún Măng Vịt (Vietnamese Duck Vermicelli Noodle Soup) is one of the classics of Vietnamese cuisine. It is savory, flavorful, and delicious either with or without bamboo shoots.
Print
Pin
Rate
Ingredients
For the Duck
2

duck legs

4 1/2

cups

water

(plus more for blanching)

1/2

teaspoon

salt

1

thumb-sized piece of ginger
For the Bamboo Shoots (if using)
4-5

oz

soaked dried bamboo shoots

(see Notes for more details)

olive oil

3

shallots, thinly sliced

1

teaspoon

fish sauce

(to taste)

black pepper
For the Ginger Dipping Sauce
1

tablespoon

crushed or finely minced ginger

1-1 1/2

teaspoons

crushed garlic

1

tablespoon

fish sauce

1

teaspoon

rice vinegar

1 1/2

tablespoon

water
To Serve
vermicelli noodles

(2 servings)

thinly sliced scallion

thinly sliced cilantro

thinly sliced Vietnamese coriander

(or sawtooth leaves)
Instructions
Parboil duck legs in boiling water for a minute. Alternatively, rub duck legs with a lot of salt, crushed ginger and a little of rice wine (or sake, white wine) to remove gamy odors, then rinse.

Add 5 cups of water to a clean pot, then add 1/2 teaspoon of salt, ginger and duck legs. Let it come to a boil and then lower to a gentle simmer. Skim off any foam. Simmer gently for about 30 minutes with the lid slightly askew.

While cooking the duck legs, prepare the bamboo shoots (if using). Boil them in a lot of boiling water for 25-30 minutes to remove strong smell and taste. Then discard the liquid and rinse the bamboo shoots. Tear them into strips.

After 30 minutes of simmering, remove duck legs from the broth. Separate the bones from the meat and add the bones back to the broth, continue to simmer for another 20-30 minutes or until flavor is strong to your liking. Shred the meat.

Place a pan over medium heat. Add some olive oil and once the oil is hot, add shallots. Sauté until shallot is fragrant and starts to have some colors.

Add shredded bamboo shoots to the pan, give it a quick stir. Add fish sauce and stir and cook for several minutes. Sprinkle some black pepper on top. Transfer to a clean plate.

Add half (or all) of the sautéed bamboo shoots to the duck broth and simmer for 10 more minutes to let the flavors meld together. Skim off excess fat (but do leave some of the fat in broth for flavors).

Prepare the dipping sauce by combining crushed ginger, garlic, fish sauce, rice vinegar and water in a small bowl. Adjust to your liking. You may even add a pinch of sugar if you want.

Place vermicelli noodles in serving bowls. Top with shredded duck meat, remaining sautéed bamboo shoots, thinly sliced fresh herbs and some black pepper. Ladle hot broth into serving bowls and serve immediately with the dipping sauce on the side.

When eating, add a small amount (more or less to taste) of dipping sauce to your bowl (or dip the shredded meat into the sauce). If you don't like the dipping sauce, you can just add plain fish sauce to season the broth to taste.
Notes
We use "soaked dried bamboo shoots" which are dried bamboo shoots that are packed in liquid. If you only have dried sheets of bamboo shoots, you will need to soak them in water for a few days (and change the water a few times) before boiling them.
We think this duck noodle soup is more delicious with dried bamboo shoots than with fresh ones. Fresh ones have a different taste and texture and they are more sour. It tastes okay with fresh bamboo shoots though, in my opinion. Some people do use them for this dish in Vietnam.
Nutrition
Calories:
426
kcal
|
Carbohydrates:
11
g
|
Protein:
49
g
|
Fat:
20
g
|
Saturated Fat:
5
g
|
Cholesterol:
197
mg
|
Sodium:
1753
mg
|
Potassium:
197
mg
|
Fiber:
2
g
|
Sugar:
5
g
|
Vitamin C:
7
mg
|
Calcium:
49
mg
|
Iron:
4
mg