Japanese Hamburg Steak is moist, juicy and served with a sweet tangy ketchup-based sauce. It is perfect for dinner, lunch box and also child-friendly.
What is Japanese Hamburg Steak?
I like Japanese food as much as I like Vietnamese food. One of my favorite Japanese dishes to cook at home is Hamburg steak/hamburger steak (hambagu).
It is a patty of ground meat which is tender and juicy, served with a tangy ketchup-based sauce. I read that this dish became popular in Japan in the 1960s. My guess is it was inspired by Western hamburgers.
This hamburg steak goes very well with white rice and steamed/boiled vegetables (or a refreshing green salad with sesame dressing). The sweet and tangy sauce balances the meatiness of the patty, and it is incredibly easy to make. I sometimes make hamburg steak for dinner and then have the leftover for lunch the next day.
How to cook Japanese Hamburg Steak
So my recipe is based on the hamburg steak recipe in the Japanese Soul Cooking
cookbook. It is a great recipe, but I modified it to suit my taste better.
I reduced the amount of liquid because the patties were too moist for me. I used quite a bit of garlic although Japanese cooking doesn't use it very much. To us Vietnamese, if there's beef, there should be a lot of garlic too :).
I also added more herbs and seasonings to make it more flavorful. Lastly, I tweaked the amount of ingredients for the sauce because it was sweeter than what I like.
Ingredients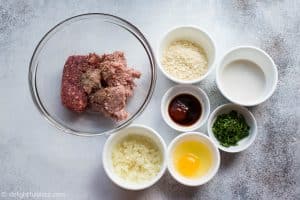 The main ingredients for the hamburg patty are ground beef and pork, onions, eggs, panko breadcrumbs, milk, and seasonings.
The onions add sweetness and texture to the patty while the milk and panko help keep the hamburg steak tender and juicy. Please use Japanese panko breadcrumbs
for best results. You can find it at Asian grocery stores.
I use almond milk because of my preference to use dairy alternatives. You can use regular dairy milk if you want.
For the sauce, you will need sake, ketchup and worcestershire sauce. If you don't have sake, either white wine or red wine will work.
Cooking steps
The first step to make Japanese hamburg steak is to sauté the onions until translucent to let them develop sweetness. After that, all ingredients for the patty are mixed together for a couple of minutes until they are sticky and well combined. 
You can form the patties as big or as small as you want. For 1 pound of ground meat, I like to form 8 patties. Too big and too thick, they will take longer to cook.
After pan-frying the patties, we'll deglaze the frying pan with wine and then mix in other ingredients to make the sauce. Sounds easy right :)? All the detailed cooking steps are in the recipe card below.
Another easy recipe with Japanese flavors you may like is this Oyster Donburi (Rice Bowl). If you are looking for more ideas for cooking ground meat, here are some dishes I like:
I'd love to hear what you think about the dish, so please feel free to leave a comment. New recipes are added every week so let's connect on Facebook, Pinterest and Instagram for the latest updates.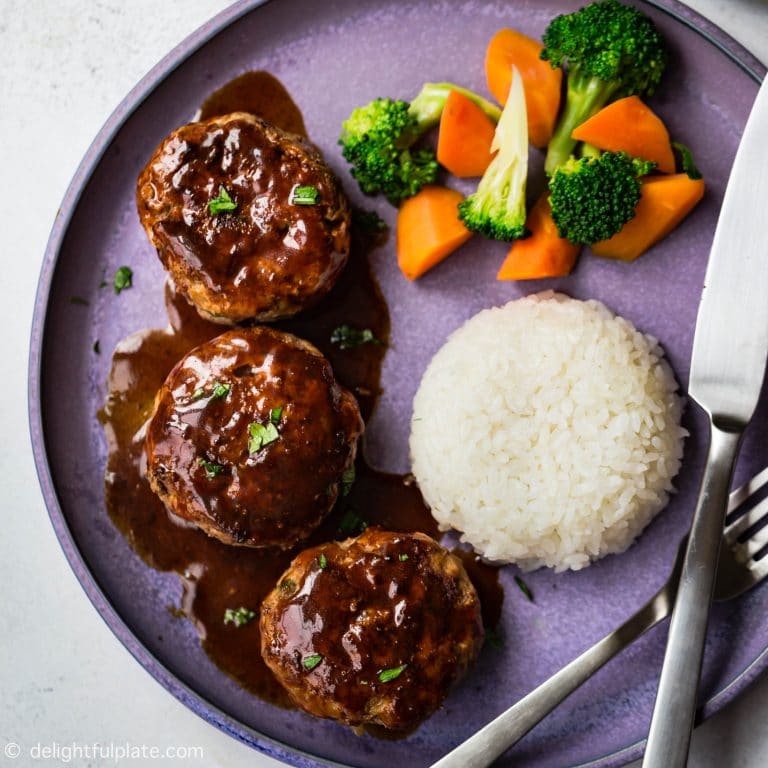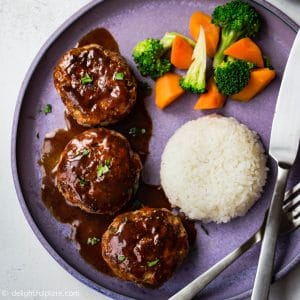 Japanese Hamburg Steak
Japanese Hamburg Steak is moist, juicy and served with a sweet tangy ketchup-based sauce. It is perfect for dinner, lunch box and also child-friendly.
Print
Pin
Rate
Ingredients
For the meat patties
1/2

lb

ground beef

1/2

lb

ground pork

1

small onion, finely diced

(or half of a large onion)

3

garlic cloves, minced

1/2

cup

panko breadcrumbs

1/3

cup plus 1 tablespoon

milk

(dairy milk or almond milk is fine)

1

egg

2

tablespoons

finely chopped parsley

(and more for garnishing)

3/4

teaspoon

salt

2

teaspoons

soy sauce

1

tablespoon

ketchup

black pepper

olive oil
For the sauce
1/4

cup

sake

(or white or red wine)

1/4

cup

Worcestershire sauce

1/4

cup

ketchup

3-4

tablespoons

water
Instructions
Place a pan over medium heat. Add olive oil, and then add garlic and onion. Sauté for about 4-5 minutes until translucent to develop sweetness. Do not let them burn. Set aside to cool down. We need about 1/2 cup of cooked onions.

In a mixing bowl, add ground beef and pork, cooked onions and all other ingredients to make the patties. Mix thoroughly for 2-3 minutes until the mixture is well combined and sticky.

Divide the meat mixture into 6 or 8 equal parts, and form into patties. Slightly press down to create an indentation in the center, because the center will rise up slightly when we cook them.

Heat a heavy bottom frying pan over medium heat. Add olive oil, and add the patties to the pan. Cook for about 8-12 minutes depending on how big and thick they are, flip once until they are all cooked through. If they are brown but not cooked through, you can cover the pan for 1-2 minutes to cook the inside thoroughly. Transfer them to serving plates.

To the same pan, immediately add sake and stir and deglaze the pan for 10-15 seconds. Then add the remaining ingredients for the sauce. Stir to combine, simmer to desire thickness, a minute or less. Taste and adjust to your liking.

Spoon sauce over the meatballs. Serve hot with rice and steamed/boiled vegetables.
Nutrition
Calories:
562
kcal
|
Carbohydrates:
25
g
|
Protein:
31
g
|
Fat:
34
g
|
Saturated Fat:
13
g
|
Cholesterol:
165
mg
|
Sodium:
1458
mg
|
Potassium:
824
mg
|
Fiber:
1
g
|
Sugar:
11
g
|
Vitamin A:
269
IU
|
Vitamin C:
8
mg
|
Calcium:
120
mg
|
Iron:
4
mg