Vietnamese New Year, called Tết Nguyên Đán or just Tết in Vietnamese, is the most important holiday in Vietnamese culture to celebrate the arrival of spring. It is also a big holiday in a lot of other Asian countries. Below is the list of our most favorite dishes to celebrate Vietnamese New Year.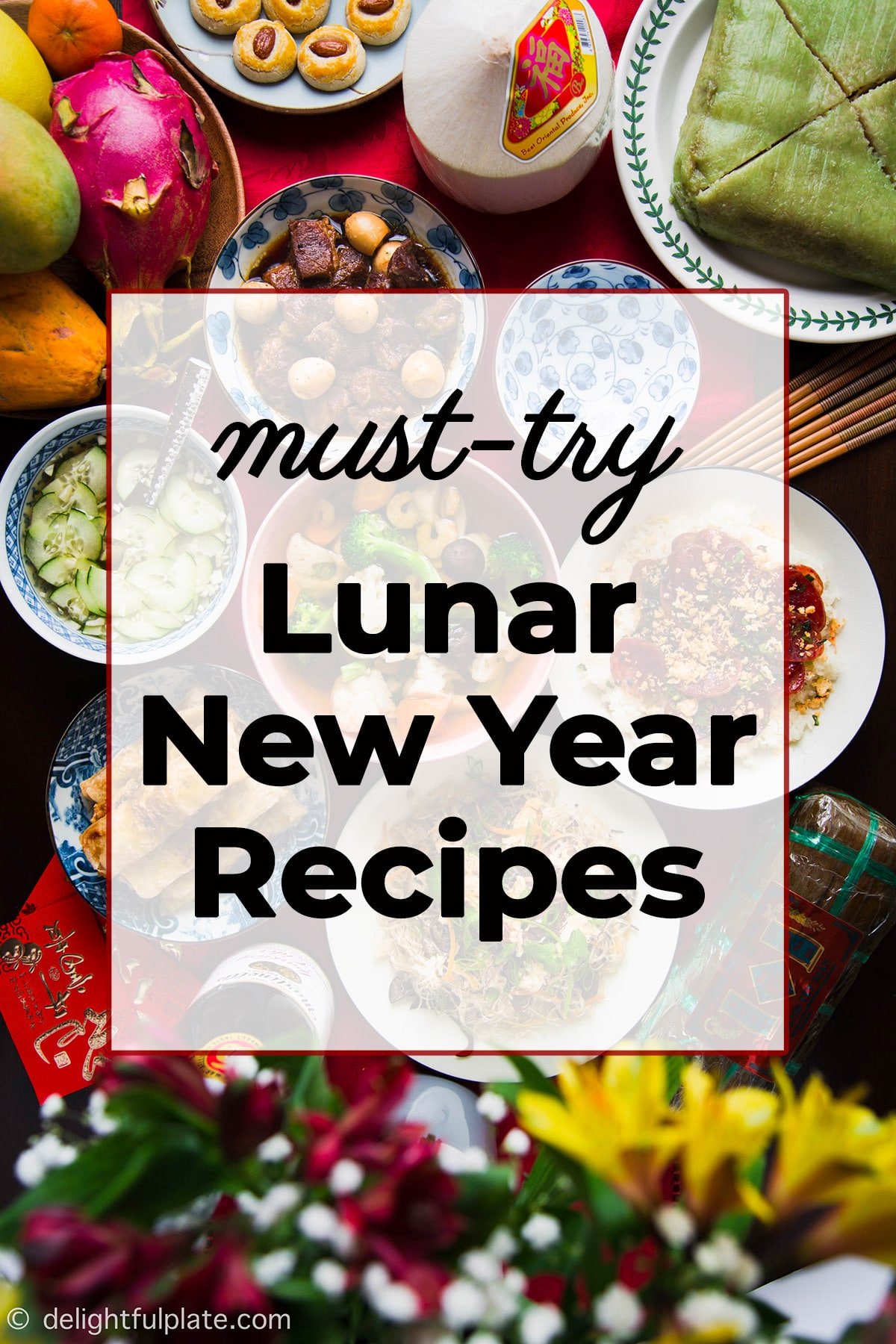 Vietnamese Tet Holiday
Tet is an occasion for family reunion to forget about the difficulties in the past year and hope for a more prosperous and lucky new year. It is also the time for social gathering when people visit temples, pagodas and festivals.
Tet takes place in the one week around the first day of the year in lunar calendar. The calendar was used by Viet people for a very long time to guide agricultural activities including predicting temperature and precipitation. It does not strictly corresponds to the regular Gregorian calendar, so Tet falls on different days every year, but usually in January or February.
Food in Tet Holiday
Food plays a central role in all the three periods of Tet: the preparation before Tet (tất niên), the New Year's Eve (giao thừa), and the new year celebration (tân niên). In fact, Viet people call the activities of celebrating Tet as "ăn Tết", which means "eat Tet". In Tet holidays, there is usually a lot of food to symbolize the hope for a more prosperous new year, to serve ancestors in the family altar, and to feed a big family reunion.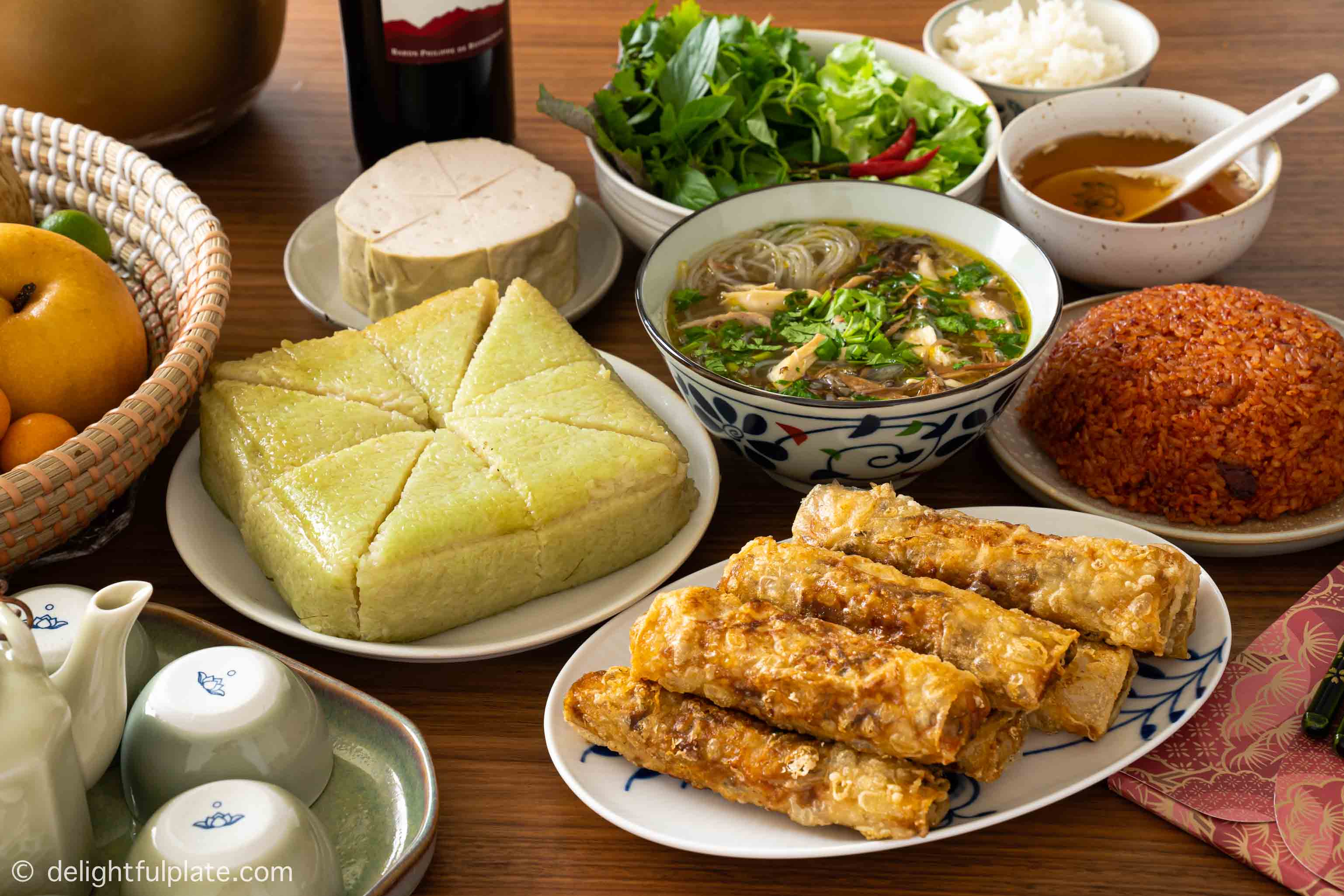 Some Tet food is eaten all year around, but many of them are eaten specifically during this holiday. For example, xôi gấc with its vibrant red color is very popular in Lunar New Year to symbolize a good luck wish. Chưng cakes (in Northern Vietnam) or tét cakes (in Southern Vietnam) are essential in any Viet family during Tet.
One of my best childhood memories of Tet was the day when everyone in my 3-generation family gathered to wrap chung cakes, and then cooked them in a big pot on a temporarily-made wood-fire stove on a cold winter night.
Tet Holiday Recipes
Below is the list of my most favorite recipes for Lunar New Year celebration. Many of them are classic Tet food and some are more modern dishes served on special occasions.
This is the most essential savory dish for traditional Tet celebration. There are two versions of this green rice cake, both of which are made from similar ingredients but have different shape. In the North, the cake has a square shape, representing the Earth, while it has a cylindrical shape in the South. We call the Northern cake bánh chưng and the Southern one bánh tét. The cake is good for a week at room temperature, and it can be eaten warm or fried.
This is a popular dish in the Lunar New Year feasts in the North. In my family, it is almost always the first thing to be eaten in the feast because it tastes best when still crispy and hot.
Southern people love to cook this dish for Tet. A big batch can be prepared and preserved for several days even in hot weather in the South. Some families like to make the dish with duck eggs instead of chicken eggs.
This dish has a vibrant red color which symbolizes good luck in Vietnamese tradition. It is also delicious and a great alternative when people want to have a break from banh chung during Tet holiday.
Xôi vò is soft-chewy golden sticky rice which is coated with mung bean that has been steamed and processed into meal. Traditional Vietnamese banquets usually have a sticky rice dish and this dish is one of those that are often prepared for special occasions.
In the Southern part of the country, this stuffed bitter melon soup is a must in the Vietnamese New Year feast. Bitter melon is called "khổ qua" in Vietnamese, which means bitter living condition has gone away. I think by eating this dish for Tet, people wish all hardships in life will go away and the new year will be full of happiness.
Every Tet feast has a poached chicken dish. If you want something different this year, roast the chicken in your oven instead.
Traditionally, when Viet cooks poach a chicken, the poaching liquid will often be utilized to make this dish. It is delicious with complex savory broth and slippery glass noodles.
This dish is popular in seaside cities like my hometown. It has been in my family's banquets for years, and has always been my favorite.
Abalone is considered a premium ingredient in Vietnam and many other Asian countries. This braised abalone in oyster sauce is an excellent dish for Lunar New Year celebration. We call it "bào ngư sốt dầu hào".
This dish is a popular item in Chinese New Year dinner, because its name is similar to abundance in Chinese. It is however not as common in Vietnamese New Year, perhaps because the fresh fish supplies are limited when most restaurants and markets are close in Tet holidays. Nevertheless, steamed fish is always a well-loved dish in Vietnamese banquets.
Not exactly a traditional dish for Tet celebration, but this delicious beef in black pepper sauce is often served in wedding banquets or special occasions. This quick and easy dish will certainly impress your family and guests.
This dish is a popular appetizer in Vietnamese banquets. Not a traditional choice, but I don't see why we can't include it in our modern Vietnamese New Year feast. Here's a fun fact though: some people in Southern Vietnam avoid eating shrimp during Tet because shrimp swim backward, so eating them may not bring good luck for the new year. We don't have this belief in the North.
These rolls are beautiful to look at and great as refreshing appetizers. They will be a nice change after your family is tired of other heavy dishes in the New Year feast.
This dish was invented by Viet families a long time ago as a way to turn left-over food in Tet holidays into a delicious bowl of noodle soup. Ingredients are julienned thinly, which makes the bowl not only beautiful but also less heavy than other dishes in Tet feasts.
This mung bean sweet soup has a light flavor to counterbalance the heaviness of many savory dishes in the Vietnamese New Year feast.
New recipes are added every week so let's connect on Facebook, Youtube, Pinterest and Instagram for the latest updates. You can find my collection of Vietnamese recipes here.
This post first appeared on Delightful Plate in February 2021. It has been updated with additional recipes.