It may not come as a surprise that Hanoi has a street in the Old Quarter named after a dish, given the kind of obsession Hanoians have with good food. However, as far as I know, there has been only one such case, which is Cha Ca Street.
The dish that gave its name to the street originated in Hanoi over a hundred years ago. Even until today, after several efforts to bring cha ca to other regions, the capital city is still the place with the most authentic taste of this Vietnamese delicacy.
Note: this article is about the origin of Cha Ca Hanoi and where to eat Cha Ca Hanoi. If you are looking for a recipe to make it at home, here is the link to my cha ca recipe.
What is Cha Ca and its origin
The word "ca" in cha ca means fish in Vietnamese and "cha" is a general word for certain grilled or fried dishes that take meat or seafood as the main ingredient. While the origin of pho, Vietnam's national dish is still shrouded in confusion, how and when cha ca was born is no mystery.
About a century ago, in the French colonial era, there was a middle-class family in Hanoi called the Đoàn who were well-connected with the upper classes, including mandarins, writers, and poets. Stemming from Hanoians' innate hospitality, the family's daughter-in-law came up with cha ca as a sophisticated dish to treat their high-profile guests.
Cha ca consists of chunks of grilled fish rendered in oil, and served with vermicelli noodle, spring onion, dill, peanut, and shrimp paste. And as a true Hanoi connoisseur would know, cha ca is best eaten on a chill rainy day with some Vietnamese rice liquor.
How Cha Ca Hanoi Is Made
The original cha ca was made from ca lang (hemibagrus) only, as they have very few bones. As ca lang is getting harder to come by these days, cooks often replace them with carps, snakeheads, or pimelode.
What makes cha ca Hanoi different from other Vietnamese "cha" dishes is its unique two-part cooking process. In this dish, the fish chunks are cooked twice, initially on a bed of hot coals by the cook and again by the diners themselves at the table.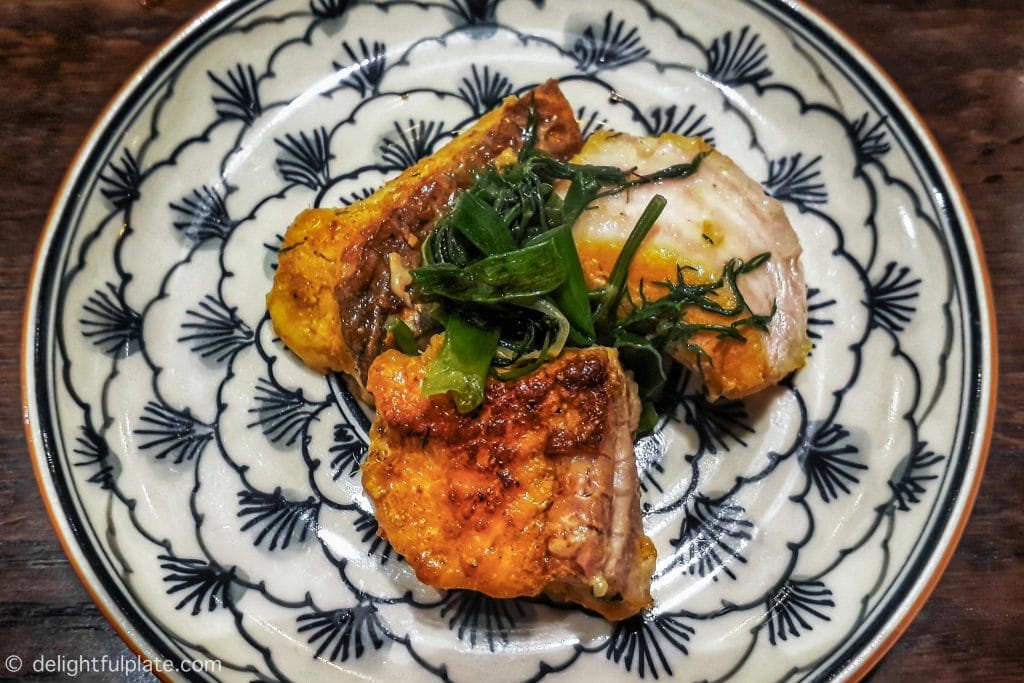 First, the fish is filleted and then cut into bite-sized chunks. Next, fish chunks are marinated with galangal, turmeric, mẻ (fermented rice paste), and some other spices. The exact ratio and the full list of seasoning are kept secret as a way to make sure that the culinary knowledge stays strictly in the family.
The turmeric gives the fish chunks a beautiful yellow color; the galangal removes the fishy smell while mẻ adds a subtle sourness and softens the fish's texture. Without the right techniques and ingredients for the turmeric marinade, the unique flavor of cha ca will be lost.
After marinating, the cook grips the fish chunks between two bamboo sticks and grills them on a bed of red hot coals to provide sufficient heat intensity to cook the fish without leaving a smoky smell or burning marks, which are the results of a roaring fire. What we have now are cooked fish chunks with most of their natural juices trapped inside.
A Fancy DIY Dining Experience
While Hanoi's cuisine is all about a casual feeling, cha ca is quite the opposite. It is the city's most fancy dining experience that involves a wide range of herbs and accompaniments.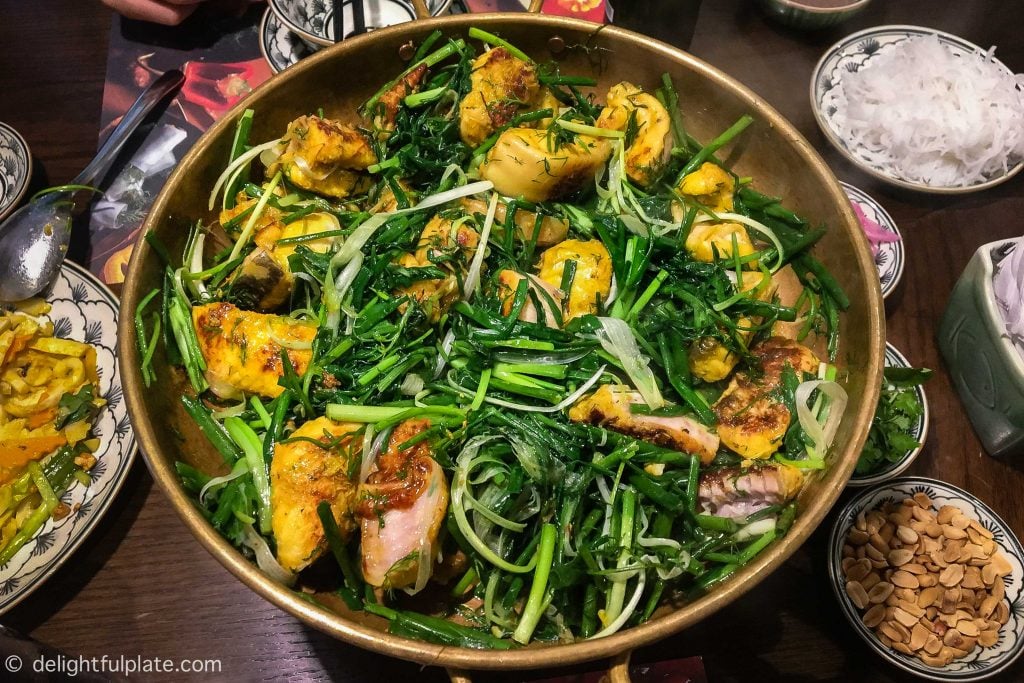 When diners have taken their places around the table, dill, spring onion, lime, shrimp paste, and roasted peanut are brought out. Finally, a portable burner is deposited on the table with a large frying pan on top housing the fish chunks.
There is one more step before diners can indulge in this belly-warming dish. Fat or oil is poured into the pan and then diners will fry their own grilled fish with dill and spring onion.
Cha ca takes only mam tom (shrimp paste) as the dipping sauce. Each diner has their own small bowl of this pungent paste with a few drops of lime juice. They will whip the mixture until fine foams start to form on the surface. The sourness of lime will balance out the saltiness of mam tom.
In their serving bowls, diners will take a fish chunk, some cooked dill, spring onion from the pan, and add some vermicelli noodles and roasted peanuts. Then they will mix everything up with a teaspoon of pre-blended mam tom dipping sauce.
Enjoy Cha Ca Like A True Hanoian
Hanoians are pretty specific in terms of when and where to have cha ca so that they have the same familiar feeling every time they crave for the dish. There are always crowds in cha ca eateries when the temperature goes down and drizzle takes over the city. Isn't this a perfect time to gather around a sizzling pan of fried goodies? And in this kind of weather, the burner for frying cha ca will also double as a means to keep warm.
Eateries in Hanoi have long been an extension of society where diners discuss life, work, and everything going on within the country – and cha ca restaurants are no exception. While eagerly waiting for the fish and herbs to be cooked, diners take the chance to have a drink, snack on roasted peanut and chat with their friends and family. This is a pleasant part of the whole dining experience.
Many Hanoians describe the sizzling of cha ca in oil as the sound of true happiness. When the aromas start to spread out in the dining area, you can feel the sense of anticipation filling the people huddling around the table.
In a bowl of cha ca, one can recognize contrasting textures delivered by different ingredients. Roasted peanut contributes the crunchiness while fish chunks make for the melt-in-the-mouth feeling. Chewiness is from cooked spring onion, and softness comes from cold rice vermicelli noodles. The whole thing is complemented by the savory taste of mam tom dipping sauce.
To finish the experience like a true Hanoi connoisseur, wash the food down with a few shots of liquor, which is best suited for cold weather.
Best Cha Ca Eateries In Hanoi
I'm sure you already have a long list of things to eat when visiting Hanoi such as bun cha, bun thang and pho. Please make sure cha ca is also on the list. Below are the best places to eat cha ca in Hanoi.
Cha Ca La Vong
Address: 14 Cha Ca
There is nothing fancy in this tiny eatery except for the fact that it is owned by the Đoàn family, thus having the most authentic cha ca in Hanoi. Almost everything here is kept intact for decades so if you venture to this address, it will be like stepping back in time. However, this place receives quite a lot of negative reviews about service, food hygiene and quality, especially about how overly greasy their cha ca is.
Cha Ka
Address: 13-15 Ngo Thi Nham
Website: https://chakahanoi.com
This eatery offers more than just a spin on the original cha ca. Located in a pretty old French colonial building; the surrounding contributes equally to the overall dining experience. In addition to serving traditional cha ca with fish chunks rendered in oil, Cha Ka extents its menu to a wider range of dishes also made from fish. This eatery has the edge when it comes to location and diverse menu.
Cha Ca Thang Long
Address: 19-21-31 Duong Thanh
Website: http://www.chacathanglong.com
Rumor has it that this eatery is also owned by the Đoàn family who bring their secret recipe to a more spacious and hygienic place to cater to modern and Western palette and standards. Cha Ca Thang Long is regarded as the best place to eat cha ca in Hanoi by many people. Besides the original location on Duong Thanh street, Cha Ca Thang Long has a more spacious location at Times City Complex. My partner's family often eat there and he said the food is pretty good.
Cha Ca Anh Vu
Address: 120 K1 Giang Vo
This eatery is also popular with the locals. My colleagues loved this place and took me here. I remember their cha ca was pretty tasty and flavorful, but that was almost 8 years ago and I haven't been back since then. Recent reviews for Cha Ca Anh Vu still look positive.
Vua Cha Ca
Website: http://vuachaca.vn
This is a restaurant chain that has branches all over Hanoi. The food is of average quality but the staff is attentive.
Outside of Vietnam, it can be difficult to find this dish. I saw it at some Vietnamese restaurants in London but I haven't seen it in the US. so far. The closest thing to cha ca I have come across in the US. is an elegant turmeric fish dish at Joël Robuchon, one of the best French restaurants in Las Vegas. The dish was different but the first bite immediately reminded us of cha ca.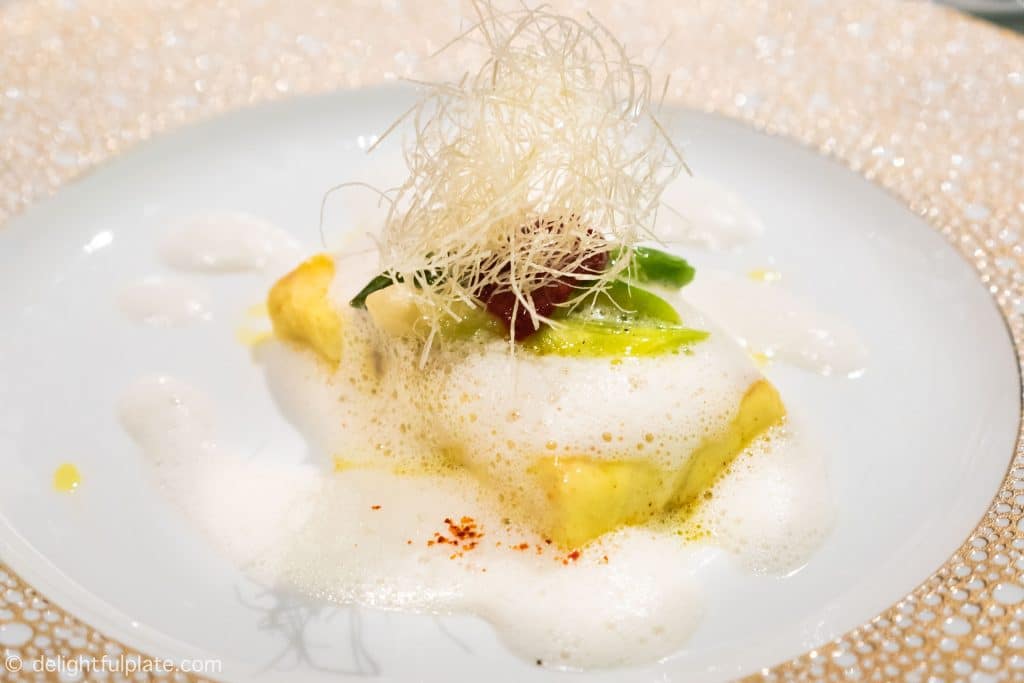 If you cannot travel to Vietnam to taste cha ca, don't forget that you can make it in your own kitchen with my cha ca Hanoi recipe.