Update: 2019 US Open tickets will go on sale on Monday, June 3rd. Amex Presale will begin on Tuesday, May 28th.
Update 6/3/19: I have added a table with prices of standard tickets I was able to see to the post. You can keep reading or jump directly to the table by clicking here.
The 2018 US Open tennis tournament was our first trip to a Grand Slam tournament. During the last summer, we spent time gathering information about the tournament, especially about seating and tickets. We realized shopping for US open tennis tickets often means a lot of questions and probably frustration. In this post, we want to share what we observed so far through tracking ticket prices. We hope you can find useful information in our post for your ticket hunting experience. We will update this post as we learn new information.
The main questions we want to address are:
What are US Open standard ticket prices?
What are the best times to buy US Open tennis tickets?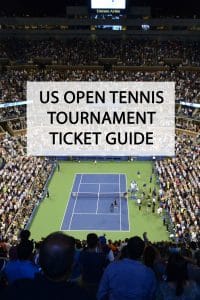 Overview of US Open tennis ticket types
The center court at the US Open is the Arthur Ashe Stadium which has a capacity of over 22,000. The next two large show courts are the Louis Armstrong Stadium and Grandstand Stadium. In addition, there are also a number of smaller field courts. Here are the main types of tickets at this event: ground pass, Grandstand ticket, Louis Armstrong ticket and Arthur Ashe ticket. The information in the table below is compiled from the US Open website.
There are four seating levels at the Arthur Ashe: courtside, luxury suite, loge and promenade.
Ways to purchase US Open tennis tickets (for the general public)
Below are the main ways to purchase US Open tennis tickets for most of the public.
Individual standard tickets sold on Ticketmaster
In 2019, standard tickets will go on sale on Monday, June 3rd. Amex presale for fans with an Amex credit card will begin on Tuesday, May 28th. I have added a table with prices of Amex presale tickets on 5/28/19 in the next section.
One thing to note about Amex presale is there are standard seating tickets and preferred seating tickets. Amex standard seating is for everyone who has an Amex credit card.
The Amex presale 2019 looks better than in 2018. During the presale in 2018, we could see that most of these tickets are in the Upper Promenade section, but this year quite a lot of Lower Promenade tickets are offered too. We did see a few courtside and loge presale preferred tickets offered to more premium cardholders such as the Amex Centurion cardholders.
Standard tickets are released in batches throughout the summer, so don't panic if you don't see anything you like during presale.. Read more about individual standard tickets in the next sections.
US Open Ticket Plans
You can read more about ticket plans here. The problem with ticket plans is if you purchase them for the first time, you will only get upper promenade tickets. It probably takes years of repurchase to be upgraded to lower levels.
Ticket packages and hospitality
You can find more information here. They come with a higher price tag and include added benefits such as food and beverage, transfer to and from tournament, or accommodation. In 2018, we purchased a package with Steve Furgal's International Tennis Tours, US Open official travel partner, in addition to purchasing several additional tickets ourselves on Ticketmaster. All communications with them prior to the tournament were great and they were always available for help during the tournament.
The package we purchased includes 6 nights at the Intercontinental Barclays hotel, 4 loge tickets for the Round of 16 (R16) day sessions, 4 courtside tickets for the R16 night sessions and 4 loge tickets for the QF night sessions and daily round-trip transfers between the hotel and the event. In total, we paid a little over $7,800 for both of us. Below is a short review of our experience with Steve Furgal's US Open tour.
Pros
Steve Furgal team will reserve tickets early for you, so you don't need to keep checking Ticketmaster for tickets throughout the summer. You can customize your package with them however you want.
The package includes transfers between the hotel and the tennis center. You will also be able to use the USTA buses which run every 30 minutes. I really enjoyed taking the buses they organized instead of having to take the subway, taxi or Uber. It was super convenient and hassle-free especially when we left the Arthur Ashe stadium at 2 or 3 am.
Cons
It is more expensive than buying tickets on Ticketmaster, and you cannot choose your seats. You can only choose the seating level you want. Then you can give Steve Furgal team your preferences for specific sections or specific rows but there is no guarantee you will get what you request.
I would say I wasn't super impressed with the seats they gave us and I could find better seats on Ticketmaster myself. However, I was still very happy with the whole experience because of other benefits of the package.
US Open Verified Resale Tickets
Though there are different sites with resale tickets, Ticketmaster is the official resale partner. You can check the resale inventory on US Open Ticket Exchange by Ticketmaster or on Ticketmaster. Some resale tickets on Ticket Exchange site aren't on Ticketmaster, so it's best to check both sites.
Many of these tickets, usually lower promenade, loge and courtside, are priced at a premium. They can be irrationally high, which is one of the main reasons why we want to write this post. I can imagine how frustrated genuine fans feel when trying to find tickets with a limited budget. The general advice here is you should not buy any resale tickets before official standard tickets go on sale. More on this later :).
Verified resale tickets also carry a high service fee. Looks like it's about 16.5% of selling price.
Update: I just spent some time browsing resale tickets today (May 15th, 2019), and many are outrageously expensive. If you are shopping for single session tickets, please avoid overpriced tickets. I did spot some resale tickets with prices on par with standard tickets of 2018.
2019 US Open ticket analysis and tips
Face value of 2018 US Open tennis ticket
So just a quick recap of when standard tickets first went on sale in 2018. They said tickets would go on sale at 9 EDT but I started seeing tickets a little after 9. Some sessions didn't show seat map and forced us to let the system pick best seats available for us. Most of the sessions still showed seat map to me right from the beginning. After a few hours, seat maps were back for all sessions.
For most sessions, there were a lot of upper promenade tickets, some lower promenade tickets and a few loge and courtside tickets on sale on Monday. All loge tickets offered on 6/11/18 were in row N with majority of them in the corner sections. Courtside tickets were scattered here and there.
Tips for purchasing standard tickets on release day next year: be ready at 9 and open Ticketmaster on several devices. It's also worth trying different browsers to see which one works best for you. In my case, Chrome worked much better than Safari. I would say in general, official loge and courtside tickets got bought pretty fast. Tickets during the Labor Day Weekend were among those that went the fastest, even quicker than quarter-final (QF) tickets.
If you can't get tickets the day they go on sale, don't panic. More standard tickets will be added later throughout summer. A lot of those tickets even offer better seats than those on sale the first day.
Below is face value of some tickets (not including fees but fees on standard tickets are pretty low) we were able to observe so far:
The face value of an actual ticket can be higher or lower than above depending on its row and section. All the prices in the Loge column are standard prices of row M & N (unless stated otherwise). Note that I'm just talking about standard courtside tickets, not courtside ticket with hospitality packages.
Face value of 2019 US Open tennis ticket
The table below lists the prices of some standard tickets I was able to observe on 5/28/19 and 6/3/2019. Most loge and courtside tickets I saw are in the last few rows of the sections.
Note: D means "day session", N means "night session", WM means "women" and M means "men".
The prices in the table above don't include any fees yet. Blank cells mean I wasn't able to check prices of tickets in those sections. Overall, it seems prices are about the same as 2018 tickets for the most part so you can use 2018 prices as a guideline. You can scroll up to view the table with prices of US Open 2018 tickets.
Which US Open Tickets to Buy
Which tickets to buy depends on your budget. Generally, tickets for earlier rounds are cheaper than latter rounds. The men's SF and final tickets are always the most expensive. Loge and promenade tickets for day sessions are usually more expensive than night sessions, except in the last few rounds. On the contrary, courtside tickets for night sessions are always more expensive than day sessions.
Which US Open Seating Levels to Buy
In terms of views, among the 3 seating levels, courtside will give you the best view of the match. I would personally avoid the lowest 6-7 rows or so of the courtside sections along the court because they are so low and you will mostly see the heads of people sitting in front of you.
Courtside night tickets are more expensive than day tickets but the atmosphere at night is much more special and exciting, especially when matches get longer and go past midnight. They also tend to schedule bigger stars to play at night. What I like about courtside day tickets is it's pretty easy to get players' autographs.
When you buy courtside tickets, you will also have access to the Aces restaurant, Champions Grill and Bar and other indoor food stalls with better and healthier choices than those at the Food Village on the ground or those on the promenade level.
Loge levels offer decent view of the court and they are way less expensive than courtside seats. However, Arthur Ashe is a really big stadium so you will still feel somewhat far from the action when sitting here. They are still worth the money though.
The most affordable seats are at promenade levels. I didn't sit there but here's what I observed. Promenade seats are very high and far from the action and the noise level may prevent you from enjoying the match. Yes, it can be very loud up there.
I think sections with end-court views or corner views are better for viewing tennis than sections along the court. So try to get seats with end-court views or corner views. If you can't find anything like that, it's still great to sit along the court. And if your budget only allows for promenade seats, it's more important to buy seats that are within the lowest 5-10 rows of promenade level.
Which US Open Sessions to Buy
Which sessions to buy also depends on your budget, your time and probably who you want to see. We were pretty ambitious and bought tickets for 6 days of tennis. However, after 4 full days watching R16 and QF's, we were so tired and sold our SF's tickets. So watching tennis may consume more energy than you think ;).
Generally, I like night sessions more than day sessions. There's just something very different about the night sessions. The excitement, the tension and the crowd create an incredible atmosphere at night.
If you want to see all players, the safest way is to watch the earlier rounds. During earlier rounds, there are also plenty of matches going on to watch during the day. I totally enjoyed R16 and QF's matches, most of which were competitive and exciting. We watched the SF's matches on TV and thought they weren't as exciting as the previous rounds and the players looked exhausted.
Another thing to consider when choosing sessions is the Labor Day weekend is a very busy time at the US Open. That means long lines everywhere you go at the event.
If you are going to attend the US Open for the first time, I understand you will want to go to as many sessions as you can. For me, after having been to the US Open, my strategy would be going to fewer sessions and buying the best tickets I could afford.
Louis Armstrong vs Arthur Ashe tickets
Both Arthur Ashe and Louis Armstrong ticket holders don't have to worry about rain since both stadiums have roofs. Arthur Ashe tickets will give you assigned seats at Arthur Ashe and access to unreserved seating at Louis Armstrong. Louis Armstrong ticket holders will have assigned seats at Louis Armstrong but no access to Arthur Ashe.
I personally dislike the unreserved seating at Louis Armstrong quite a lot. It is so stuffy and poorly ventilated up there. People just go up and down, in and out all the time which makes the experience less enjoyable.
I didn't buy any Louis Armstrong reserved tickets but I spoke to one lady and she said the assigned seats at Louis Armstrong were pretty good. Louis Armstrong reserved tickets seem to cost around $225-$250.
If you think you want to spend a lot of time at Louis Armstrong stadium, better buy tickets for a reserved seat there. During the Labor Day weekend, unreserved seating at Louis Armstrong can fill up fast so get there early to find a decent seat if you are not a Louis Armstrong ticket holder.
Best Time to Purchase US Open Tennis Tickets
Shopping for US Open tickets requires a bit of patience and luck. Like I have said above, do not buy any verified resale tickets before official standard tickets go on sale, unless you find a very good deal. Even a few weeks after that, try to be patient and stay away from overpriced resale tickets. More tickets are released throughout the summer and in 2018, there were plenty of tickets on sale in all sections a few weeks and even a few days before the event day.
The Amex Presale isn't very good so don't have high hopes for it. However during the presale, they will offer a "buy 1 get 1 free" deal for promenade tickets of some sessions. Those are probably the cheapest tickets you can get.
When general standard tickets go on sale, it's good to be there and browse to see if there's something you like. The number of tickets they release on the first day is quite limited and any courtside or loge tickets offered on the first day will go very fast. Don't worry if you can't make it or don't see what you want. The next couple of weeks after the release day in 2018 didn't see many new tickets added, however in July and August many more standard tickets were added. Therefore, please don't be desperate and buy overpriced resale tickets early on.
If you want to gamble, you can even wait until 1-2 days before the event day and prices of resale tickets may drop massively, even below standard ticket prices. Of course, it can go the other way if they speculate Federer will make it to the next round. That's why I say it's a bit of a gamble. In 2018, the standard price of loge tickets for the SF's was around $700. When it was within a day before the men's SF round, I could find quite a lot of resale loge tickets at 75% or even 50% of the standard price. And the SF's had Djokovic vs Nishikori and Nadal vs Del Potro.
If you have to resort to purchasing resale tickets, always check Ticket Exchange by Ticketmaster and Ticketmaster first.
Other Tips for the US Open
Before You Go (What to bring and not to bring)
Before you go, please check the list of prohibited items on the US Open website. Also download the US Open app to your phone.
Bring your Chase and Amex credit cards.
Bring your camera to take a lot of photos. We were able to bring our DSLR's camera and several lenses with no issues.
It can be very hot and humid in New York when the US Open takes place. I remember the day when Federer was beaten by Millman at the US Open 2018, the weather was unbearable even at midnight. I strongly recommend bringing a mini handheld fan. It was my life saver 🙂 (and many people were jealous when they saw my mini fan :D).
While at the US Open
When leaving the ground with an intention to come back during the same session, you will need a stamp from the security people at the gate. Otherwise, you won't be able to get back in.
If you have a Chase credit card, you can reserve a spot in the air-conditioned Chase lounge to cool down and get some refreshments. Reservations begin in late August and try to reserve as early as you can. You can get more information about the Chase Lounge here. You can also visit the American Express Fan Experience to cool down in the air-conditioning.
When it gets late at night, usually from 9.30 or 10pm, some people start to leave and others start moving down to better seats that are empty. You can try to nicely ask people who are leaving whether they are coming back and they may give you their loge/courtside tickets for free.
Getting autographs at the US Open
I don't really have tips for getting autographs. You can try waiting at the practice courts to get autographs or even take photos with your favorite players. I imagine you will have better chances to get autographs at smaller show courts than at big ones.
For top stars, they usually play at Arthur Ashe stadium. Your best bet would be to sit at courtside level and move to the sections near the player's entrance before the match ends and wait. It's much easier to get autographs in day sessions because there are fewer people (especially fewer kids) to compete with you. We were able to get Osaka and Nishikori's autographs after their day matches. Kei spent a lot of time taking photos and signing for fans after the match. I think he signed for everyone.
What to Eat and Drink at the US Open
Don't forget to try the honey deuce cocktail, the signature drink of the US Open. It was $17 for a glass of honey deuce in 2018, not cheap but we quite like it :D.
If you have courtside tickets, you will have access to the Aces restaurant and Champions Grill & Bar. Try to make reservations at least one day in advance if you want to eat there because both restaurants are usually full around dinner hours (5-7pm). The food at Aces is pretty decent and healthy. The Champions Grill & Bar is very noisy and I wasn't impressed with the food at all. The quality of their steaks was mediocre.
There's also stadium food at Arthur Ashe and Louis Armstrong, mostly fast food like fries, fried chicken and ice cream. You can also get food from stalls at the Food Village or some restaurants on the ground. We ate at Cafe Spiaggia once and thought the food was okay.
Please feel free to comment and let us know what you think about our post as well as what else you want to know. I strongly recommend you to read this blog post "A Serious Tennis Fan's Top 10 Tips for the 2018 US Open (Tickets & More)" by P.J. Simmons. He has been to the Open many times and shared a lot of insightful tips.
If the US Open is out of your budget, consider going to the Western & Southern Open in Mason, Ohio. It is also a fun tennis event, one of the nine Masters 1000 tournaments. Tickets are very affordable and you can watch all tennis stars in a more intimate atmosphere. Read about my experience and tips for the Western & Southern Open.