The 2018 US Open tennis tournament will be our first trip to a Grand Slam tournament. During the last few weeks, we have been gathering information about the tournament, especially about seating and tickets. We realized shopping for US open tennis tickets often means a lot of questions and probably frustration. In this post, we want to share what we have observed so far through tracking ticket prices. We hope you can find useful information in our post for your ticket hunting experience. We will update this post as we learn new information.
The main questions we want to address are:
– What are standard ticket prices?
– If no standard tickets are available, what would be considered "a good deal" to buy?
– What are the best times to buy tickets?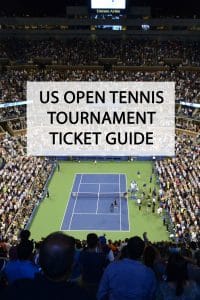 Overview of US Open tennis ticket types
The center court at the US Open is the Arthur Ashe Stadium which has a capacity of over 22,000. The next two large show courts are the Louis Armstrong Stadium and Grandstand Stadium. In addition, there are also a number of smaller field courts. Here are the main types of tickets at this event: ground pass, Grandstand ticket, Louis Armstrong ticket and Arthur Ashe ticket. The information in the table below is compiled from the US Open website.
There are four seating levels at the Arthur Ashe: courtside, luxury suite, loge and promenade.
Ways to purchase US Open tennis tickets (for the general public)
Below are the main ways to purchase US Open tennis tickets for most of the public.
Individual standard tickets sold through Ticketmaster
This year, fans can buy Amex presale tickets with an Amex credit card from June 4th. Standard tickets go on sale for all fans on Ticketmaster from June 11th.
One thing to note about Amex presale tickets is there are standard seating tickets and preferred seating tickets. Amex standard seating is for everyone who has an Amex credit card. During the presale, we could see that most of these tickets are in the Upper Promenade section with some in row N and O. We did see a few courtside and loge presale preferred tickets offered to more premium cardholders such as the Amex Centurion. If you don't have those premium cards, don't expect too much from the presale I think.
Read more about individual standard tickets in the next sections.
US Open Ticket Plans
You can read more about ticket plans here. The problem with ticket plans is if you purchase them for the first time, you will only get upper promenade tickets. It probably takes years of repurchase to be upgraded to lower levels.
Ticket packages and hospitality
You can find more information here. They come with a higher price tag and include added benefits such as food and beverage, transfer to and from tournament, or accommodation. This year, we purchase a package with Steve Furgal's International Tennis Tours, US Open official travel partner. All communications with them have been great so far and we will try to write a trip report after our trip. We also purchased several additional standard tickets ourselves through Ticketmaster.
Verified Resale Tickets
Though there are different sites with resale tickets, Ticketmaster is the official resale partner. You can check the resale inventory on US Open Ticket Exchange by Ticketmaster or on Ticketmaster. Some resale tickets on Ticket Exchange site aren't on Ticketmaster, so it's best to check both sites.
Many of these tickets, usually lower promenade, loge and courtside, are priced at a premium. They can be irrationally high, which is one of the main reasons why we want to write this post. I can imagine how frustrated genuine fans feel when trying to find tickets with a limited budget. Therefore we decided to observe ticket prices from now through the end of the tournament, hoping to find a trend or at least help you have an idea of ticket face value and average resale price. Then you can determine how overpriced resale tickets are and if you are willing to pay for the markup.
Verified resale tickets also carry a high service fee. Looks like it's about 16.5% of selling price.
2018 US Open ticket analysis and tips
Face value of 2018 US Open tennis ticket
So just a quick recap of Monday morning this week when standard tickets went on sale. They said tickets would go on sale at 9 EDT but it seemed not everyone could get in at the same time. My husband started seeing some standard tickets probably 5 or 10 minutes after 9. It took me a little longer than that to start seeing tickets even though we sat right next to each other. Some sessions didn't show seat map and forced us to let the system pick best seats available for us. Most of the sessions still showed seat map to me right from the beginning. After a few hours, seat maps were back for all sessions.
For most sessions, there were a lot of upper promenade tickets, some lower promenade tickets and a few loge and courtside tickets on sale on Monday. All loge tickets offered on 6/11 were in row N with majority of them in the corner sections. Courtside tickets were scattered here and there.
Update 6/22: so this week (6/18-6/22), more promenade standard tickets have been released for the SF session. Earlier this week, they released more upper promenade tickets. Yesterday, there were some new L-N promenade seats with several J and K seats. Today, they added some F and G promenade seats for a couple of sections. In all three cases, I saw new tickets popping up around noon. So keep checking back and you may find something you like.
Update 6/26: today I saw more lower promenade standard tickets added to almost all sessions and loge tickets added to some sessions, including one QF session.
Update 7/2: I saw a number of standard courtside tickets for the Third Round and Round of 16 on Ticketmaster today. Prices of those courtside tickets in the same session can vary depending on their rows and sections.
Update 8/10: I have been behind on checking ticket price. I could see more standard tickets on sale today, however their prices seem to be higher than similar tickets released earlier in June and July. For example, on 6/22 I bought promenade tickets in row F for the men's SF and the price was $280 each ticket, excluding tax and fee. Similar promenade standard tickets in row F are now $350 each. This seems to be the case for tickets in other sections and other sessions.
Tips for next year: I think it's worth it to be ready at 9 and open Ticketmaster on several devices. It's also worth trying in different browsers to see which one works best for you. In my case, Chrome worked much better than Safari. I would say in general, official loge and courtside tickets got bought pretty fast. Tickets during the Labor Day Weekend were among those that went the fastest, even quicker than quarter-final (QF) tickets. I did not see any standard loge or courtside tickets for semi-final (SF) or final (F) on Monday (or maybe I didn't get there fast enough?).
If you can't get tickets the day they go on sale, don't panic. More standard tickets will be added later throughout summer. Those tickets may even offer better seats than those on sale the first day.
Below is face value of some tickets (not including fees but fees on standard tickets are pretty low) we have been able to observe so far:
The face value of an actual ticket can be higher or lower than above depending on its row and section. All the prices in the Loge column are standard prices of row M & N (unless stated otherwise). Note that I'm just talking about standard courtside tickets, not courtside ticket with hospitality packages.
Analysis of US Open tennis ticket price on Ticketmaster
Methodology: Since beginning of June, we start checking Ticketmaster almost every day to have an idea of average ticket prices (including both standard and resale tickets). Obviously, some tickets are way overpriced. Moreover, when looking for tickets, I think most people tend to find a combination of low price and good location. Therefore we focus on the lower end of the spectrum to derive trends and estimate average prices and ignore the outrageously priced ones. We already adjusted resale ticket prices to factor in the high service fee.
Men's semi-finals and finals are the most expensive tickets
The graph above shows the average ticket price (inclusive of fees) of each session for each seating level tracked from June 8th-15th. You can see how much more expensive men's SF and F are than other sessions. On the contrary, the women's SF and F are more affordable and not much more expensive than QF tickets. QF day sessions are even less expensive than those in the Labor Day weekend (courtside is an exception).
I feel like the QF is a pretty sweet spot since price is lower than Labor Day Weekend and SF and the matches are still competitive. In most cases, day sessions are more expensive than evening sessions. The exceptions of this rule are QF tickets and courtside tickets.
Current resale prices are much higher than standard prices
If you compare prices in Graph 1 with Table 1, you can see how overpriced resale tickets currently are. I have seen more standard tickets being released randomly, so there's still hope if you keep looking. Below is the chart of the lower end of current Loge M & N resale ticket prices (inclusive of fees) on Ticketmaster, observed from June 8th-15th.
After watching ticket prices for two weeks, I haven't seen a clear sign of resale ticket prices going down significantly after standard tickets are released. I will keep watching and update. Hopefully, resellers will lower prices over time when it is closer to the tournament. The tournament is still two months away, so for now I think we can wait for more standard tickets or lower prices from resellers. When browsing resale tickets on Ticketmaster, don't forget to add approximately 16.5% service fee.
Please feel free to comment and let us know what you think about our post as well as what else you want to know. I strongly recommend you to read this blog post "A Serious Tennis Fan's Top 10 Tips for the 2018 US Open (Tickets & More)" by P.J. Simmons. He has been to the Open many times and shared a lot of insightful tips.
If the US Open is out of your budget, consider going to the Western & Southern Open in Mason, Ohio. It is also a fun tennis event, one of the nine Masters 1000 tournaments. Tickets are very affordable and you can watch all tennis stars in a more intimate atmosphere. Read about my experience and tips for the Western & Southern Open.