Situated along the Mississippi River, St. Louis has tons of things to see and do for first-time visitors. We just had a short weekend getaway there with many fun moments as well as some unexpected ones. So we want to share our experience for an enjoyable 24-hour trip to St. Louis with everyone, especially first-time visitors.
Our St. Louis Itinerary
We didn't see everything, but we ate and did a lot of things that St. Louis is famous for. In summer, many attractions operate with extended hours, making it possible for us to include a good amount of activities in our itinerary. You can see what we did during our trip in the image below. This itinerary still allowed for hotel rest or coffee break and plenty of time to take photos.
Overall, we had a great time. We enjoyed driving through charming and rustic neighborhoods with beautiful brick houses. It's also great that there are different types of recreational activities, fun foods and plenty of parking spaces. We will review all the activities, restaurants and accommodation we tried in St. Louis in chronological order. You can click on the circles in the image above to jump directly to the corresponding section.
What To Do in St. Louis
Missouri Botanical Gardens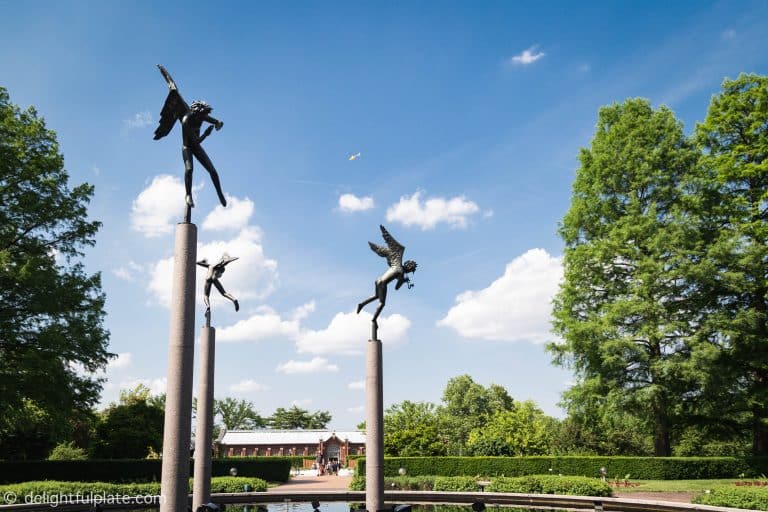 The Missouri Botanical Gardens was definitely one of the highlights of our St. Louis trip. It was hot and humid, but there are many big trees providing shades in the gardens. It wasn't crowded at all on Saturday afternoon (it could be because of the heat!) and we didn't have any difficulty taking photos with no one in the frame. One of the things we like the most about this place is it has various interesting fountains and sculptures throughout the gardens.
We spent time walking through the Climatron greenhouse which has a tropical rainforest theme inside. The Japanese garden is also a beautiful and relaxing area. There are also other nice areas with flowers in the gardens. If you want to explore everything, a couple of hours isn't enough. We would have stayed longer if it hadn't been for the heat and humidity.
More photos of the Missouri Botanical Gardens:
Gateway Arch
The Gateway Arch is an iconic monument in St. Louis as well as the centerpiece of the Gateway Arch National Park (can someone let me know if they really get the national park designation??). You can take beautiful photos with both the Arch and the Old Courthouse from afar, or you can take more dramatic photos by standing right at the feet of the Arch. We thoroughly enjoy it and the surrounding area.
It's possible to take a tram ride to the observation area at the top of the Arch, but we didn't do it after reading comments on TripAdvisor. Some people said the ride is not very comfortable, the viewing area is not large and waiting time can be long. There's also a museum there but it's currently closed until July.
City Museum
Now, we went to the City Museum because on TripAdvisor, a lot of people said it's a hidden gem of St. Louis. It is not really a museum, we consider it more like a playground with holes, caves, slides and other weird things. I'm not sure what to think of this place. Though I didn't hate it, I didn't like it either. Inside the museum, kids and adults are running and crawling everywhere, quite chaotic. The museum doesn't provide visitors with any maps. It has only a few floors, but we were never able to tell what floor we were on. I feel like it's super easy for kids to get lost in here, so it's probably not suitable for very small kids.
We certainly would not revisit if we happen to be in the area again. I did read a lot of 5-star reviews on TripAdvisor, so all I can say is it is not for everyone. Try to read the 1-3 star reviews before deciding whether to go or skip it. Those reviews made a lot of good points.
The final thing about the City Museum is it seems to be in a sketchy neighborhood. If you decide to visit, especially at night, do your best to park in their parking lot (which is cash only). There are some other parking lots outside of the museum, but they are several minutes walking away, which isn't a big deal in safe places. However, we didn't feel comfortable leaving our car in those parking lots at all.
St. Louis Zoo
After the Arch, the Zoo is another attraction that St. Louis is most famous for.
The Good
We really like the penguin and puffin walkway. You get to see them very closeup so don't miss it. Some animals have spacious living areas with trees, water and rock cliffs. That means they have places to hide from zoo visitors if they want to, and we actually like that :). Who wants to be stared at all day long?
The Bad
There are also animals that have small habitats. For example, the Bird House seems nice at first, but all the birds inside have small and confined living space. Many of them look sad and inactive.
There are not enough signs in the Zoo and there doesn't seem to be enough staff providing assistance either. We became quite frustrated after entering River's Edge area because of the lack of signs. The walk at River's Edge is quite long and you have to walk all the way until the end to get out of it. There's no shortcut to its exit, and I wish we had been made aware of this although this section is quite interesting.
The tram is advertised to start running at 9 a.m., but we found out that it didn't start until 11 a.m. on the day we were there. No one told us that when we purchased the Adventure Pass.
Tips
During summer, I think it's best to visit early for easy parking, less crowds as well as more pleasant temperature. We came at 8:45 a.m. on Sunday and there was plenty of parking available at the Zoo parking lot and the crowd inside the Zoo wasn't bad. At 10:00 a.m., it started to feel really crowded. Combining with the heat and humidity, things could become unpleasant quite quickly.
River's Edge is like an enclosed area with a rainforest theme. It is a long walk with no shortcut to exit. So make sure you like to see the animals there before entering the area.
The Zoo is advertised as free. Well, I wouldn't call it free since it is supported by property tax paid by people living in St. Louis and the County of St. Louis. There are also paid activities, but I still prefer to see them collect a general admission fee on people who don't live in St. Louis and the County. That revenue can be used to improve the signage situation, improve the living conditions of the animals and hire more staff to provide assistance throughout the Zoo.
St. Louis Art Museum
The St. Louis Art Museum is in a beautiful area of Forest Park, overlooking a big lake. The building itself is also nice. We had a pleasant time there and appreciated every minute of it since it was over 90F outside.
One of the things we enjoy the most at art museums is viewing paintings and discussing the composition techniques and how it's similar to those used in photography. For its size, I think the St. Louis Art Museum has a decent amount of paintings though not all of them are impressive. They have several paintings by Picasso and Van Gogh.
There are three floors in total with about 20 different collections. However, some of them have only a few pieces on display, such as the Asian Art Collection. I feel like they try to have a little bit of everything. Overall, don't set your expectation too high, it's not the MET or Louvre. I think you will enjoy your time here. Two to three hours will be enough to see everything.
The Museum is also supported by property tax and doesn't charge general admission fees. So if possible, purchase tickets to paid exhibits, park in their paid underground lot or buy something in their gift shop to support them.
Where to stay in St. Louis
There are many hotels in downtown St. Louis and some of them are within walking distance to the Arch. We stayed at the Ritz-Carlton in Clayton since we like the brand and have gold status at Marriott. After the trip, we were very happy we chose the Ritz-Carlton and did not stay in downtown.
Is it safe to stay in downtown St. Louis?
Many people in St. Louis forum on TripAdvisor said it's safe in downtown. So we didn't think much and reserved a 7:30 p.m. dinner on Washington Avenue in downtown. We left the restaurant at 9:00 p.m. and walked to a parking garage on 7th street. I was astonished that the downtown was pretty much dead at that time, and the astonishment quickly turned to scare even though I was walking with my husband. We have lived in big cities before and we have walked at 10 p.m., 11 p.m. in downtown Chicago before and always feel safe. Downtown St. Louis at night just gave me an uncomfortable and unsafe feeling. I respect other people's opinions, but I would not choose a hotel in downtown in St. Louis. There are hotels in safer neighborhoods not far away from all the attractions.
The Ritz-Carlton St. Louis
The Ritz-Carlton St. Louis is in Clayton and we feel that the nearby neighborhood is nice and safe. I always enjoyed the drive back to the hotel because it passed several parks and charming neighborhoods with brick houses.
The standard bedroom in this Ritz-Carlton is larger than the one in other Ritz-Carlton city hotels we've been to. The rooms were renovated last year and look good. Bathroom is smaller than at some other Ritz, and I did feel like they didn't renovate it. The water pressure was quite weak during our stay.
The service at the hotel is efficient. The buffet breakfast is pretty standard with hot egg dishes, sausages, bacon, potatoes, a made-to-order omelet and waffle station, oatmeal, yogurt and fresh fruits. We didn't have any issues requesting a 4 p.m. checkout with our gold status. The parking garage is right next to the hotel building with indoor access from the lobby so we self-parked there. From the hotel, it took us only 10-15 minutes to drive to everywhere else. Therefore, we would not hesitate to stay here if we visit St. Louis again.
Where to eat in St. Louis
The Hill and Anthonino's Taverna
The Hill is St. Louis' Italian-American neighborhood and home to dozens of Italian restaurants. So I think food lovers should definitely check this place out while in St. Louis. It looks like a number of restaurants on the Hill close on Sunday and some are open for dinners only. We were able to find Anthonino's Taverna with lunch service and 4.5-star rating on Yelp.
Many comments say Anthonino's makes the best toasted ravioli which is a signature dish of St. Louis. So of course, we had to try it and it really lives up to the hype. The meat and cheese filling is piping hot and the ravioli shell is crispy.
I then had meatball pasta as my main dish. The pasta was homemade with a slight chew, just as how I like it to be. The meatball is overall okay, a little dense. My husband had a Sicilian pizza and I could see that the pizza had very thick crust and a lot of sauce and cheese. He said the first bite was delicious but it became overload pretty quickly.
Pizza and pasta at Anthonino's Taverna:
For desserts, we tried cannoli and baklava. We thought the cannoli was delicious. The shell was crispy and the ricotta filling was not too sweet. On the contrary, the baklava was disappointing and I don't recommend it.
In general, we had a great meal with good service at Anthonino's. We ordered a lot and the total bill was just $50. I just wished they offered smaller portions for pasta and pizzas. My pasta was big enough for two people and the pizza could feed three people. I could go back just for their toasted ravioli and cannoli.
Mango Restaurant
This Peruvian restaurant is located in downtown St. Louis. My colleagues just went to St. Louis recently and recommended it to me. We tried their grilled appetizers and loved it. I had grilled chicken with rice as my main dish, and it was pretty tasty. We also ordered a salad, but it was forgettable. Overall, a solid restaurant but I can't speak to how authentic the food is.
Mai Lee Restaurant
Mai Lee is a Vietnamese restaurant not too far from St. Louis Zoo. The menu is quite extensive but I'm sad to say the food is quite disappointing. Food is bland and their pho is a big disappointment. Any Vietnamese home cooks can make pho broth that is more flavorful than theirs. I do not recommend this restaurant. We should have tried the Panorama restaurant at the Art Museum instead of Mai Lee.
Final Thoughts
So after about 2,000 words, I hope you are still with me and have been able to find some useful information for your trip to St. Louis. As I said at the beginning, we didn't see everything but we were happy with what we were able to do during our weekend getaway there. Some other attractions we didn't do are Missouri History Museum, St. Louis Science Center, Old Courthouse tour, CityGarden and Cathedral Basilica of St. Louis. The heat and humidity can be unbearable sometimes, but I wouldn't let it deter you from going. Start the day early, drink a lot of water, head back to your hotel to rest or move to indoor attractions when it gets too uncomfortable. You'll have a great time!
A number of attractions in St. Louis are advertised as free, including the Zoo and some museums. However, they aren't truly free since they are supported by property tax paid by St. Louis City and County residents. For example, the Zoo received $21.7 million in property tax revenues during fiscal year 2016. You can find the financial statements of those attractions here.
As an accountant for a local government, I understand some of the difficulties taxing districts may encounter when operating with property tax. As a property tax payer myself, I also understand the burden one may feel when paying property tax to indirectly subsidize someone else's benefits. In this case, if I go to the Zoo or the Art Museum without buying anything, the tax payers in the City and County of St. Louis have to subsidize my visit. So if you don't live in the City and County of St. Louis, I hope you will consider buying tickets to paid exhibits, parking in their paid parking lots or buying something from their gift shops to support those attractions.