Shrimp paste (mam tom) is a fermented condiment widely used in Vietnamese cuisine and Southeast Asian cooking in general. It is made from fermenting crushed shrimps with salt. Shrimp paste is thick and has a purple color. It is famous for its pungent and stinky smell.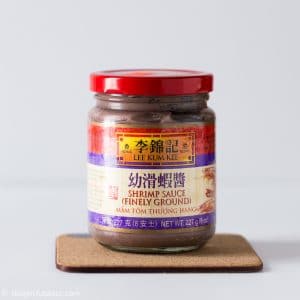 How to use
Shrimp paste can be used in marinade or added to many cooked dishes such as noodle soups or stir-fries. In Vietnam, it can also be used to make dipping sauce. After opening a shrimp paste jar, you should refrigerate it.
Where to buy
You can easily find shrimp paste (mam tom) at Asian grocery stores. It can sometimes be labeled as shrimp sauce. Make sure you check the Vietnamese translation on the label because another Vietnamese fermented condiment, mam ruoc, is also labeled as shrimp paste/sauce. They are two different things with different smell and taste, thus used in different recipes.
Recipes that use shrimp paste