A farmstay may not be the easiest of vacations. But if you take into account the fact that you will live under the same roof with a Tày tribe family in Yen Bai, making for the perfect mix of cultural exchange and a chilled-out stay, the idea begins to sound more appealing.
Yen Bai is not exactly an under-the-radar destination. Both local and overseas tourists flock here each year to get a slice of the stunning cascading rice fields in Mu Cang Chai, one of its seven districts. However, Tong Pang hamlet in Lam Thuong valley, Yen Bai, still conveniently lacks tourists.
That was why we chose a farmstay in this small hamlet as the destination for our two-day vacation, a short break from the pressures of life in Hanoi. Our mini adventure here has inspiring stories and memories we will reminisce over for years.
With the overwhelming friendliness of the locals, coupled with the picture-perfect surrounding, you will feel that spending five hours on a sleeping bus from Hanoi to the farmstay is worth your while.
Xoi Farmstay – A Slice Of Northern Vietnamese Mountain Life
Xoi farmstay is in Tong Pang, a small hamlet in Yen Bai, and belongs to a local farmer of Tày ethnic minority group. The host family stayed in a traditional home on stilts (nhà sàn). Since we traveled as a couple, we got a room in the extended part of the house, a new brick-and-concrete compartment. Those who travel alone or with friends may have separate mattresses on the floor of the wooden house, a more authentic experience, in my opinion.
Surrounded by corns, vegetables, orchards, ponds, and flowers, the house was basic but clean and comfy. There were paddy fields and mountains extending as far as the eye could see. I think this place is a perfect alternative to Sapa, dubbed the trekking base of the North. Compared to Sapa, tourism here in Tong Pang is non-existent, which makes it even better.
In some other parts of Vietnam, you might find that the term 'homestay' is used to loosely refer to a room or house with local look and feel, but the host is nowhere to be found. Here at Xoi farmstay, you get to spend time with a real Tày family. Since they can speak Vietnamese well (Tày people have their own language), we had the chance to satisfy our curiosity about their lifestyle, mindset, and customs.
That noon after reaching the farmstay and checking in to our room, we got to hear our hosts talking about how proud they were of their children, the struggle they had been through to put them through school, all while feeling sincerity in their voice and sparks of joy in their eyes. You will be hard pressed to find this kind of intimacy in a more established facility catering for tourists.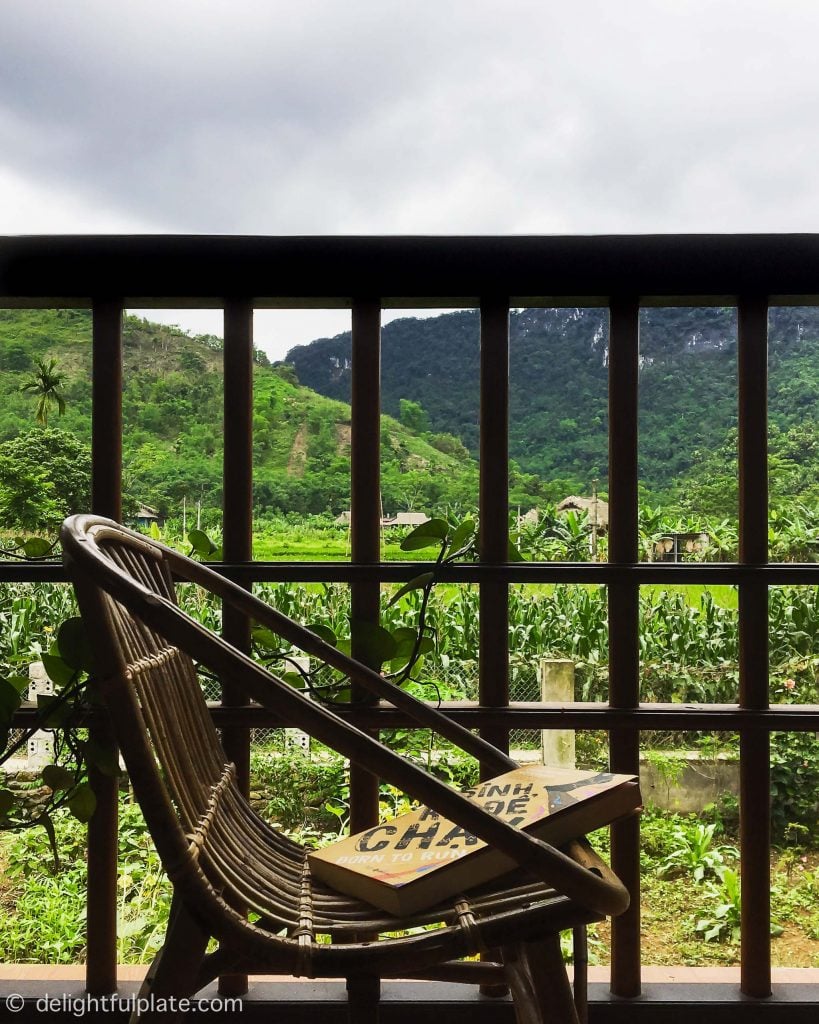 Getting to Xoi Farmstay, Yen Bai
To reach Xoi farmstay, catch a bus from Hanoi to Huyen Doi intersection, Luc Yen Town. Private bus operators and their departure time are:
– Du Tuyet (departing from My Dinh bus station): 7:30, 12:00, 18:30, and 20:15.
– Hung Hung (departing from Gia Lam bus station): 6:20, and 16:20.
The bus fare is 180,000 VND, water included.
The final 18 km to our final destination is traveled by motorbike taxis or taxis, depending on the number of people you travel with. If you are doing a solo trip, the best option is to hire a motorbike taxi with a fare of about 120,000 VND. A four-seater taxi comes at 200,000 VND while a seven-seater one's fare is 250,000 VND. Tell the driver that you need to go to Tong Pang hamlet and they will know where to take you.
The last 18 km is a small journey in its own right. It is not the smoothest or easiest road, but the view will definitely charm you. Small bungalows were strung out along the way, framed in verdant patches of corn and vegetables. After spending months in the hustle and bustle of Hanoi, that was the first time we could listen to the birds and felt at peace.
You can visit the farmstay's website or their Facebook page for more information and photos. You may also make reservations through booking.com.
Things To Do Near Xoi Farmstay
Biking Through The Paddy Fields
We spent the first afternoon biking around the paddy fields and from house to house to peek at local life. Photo opportunities were abundant. Everywhere we looked, something was growing or blooming.
Since Tong Pang hamlet is still fairly new to tourism, people here are overwhelmingly friendly. There is plenty of room for interacting with locals. Even when they understand nothing of your language, you will probably get a sincere invitation for dinner.
We biked along the maze of back roads until we ended up at a dead end and encountered an old Tày woman. We said hi and introduced ourselves, and she immediately opened up to us.
The conversation started with her family, and then it escalated quickly to the controversial quarry project we had heard so much of ever since we set foot in this hamlet. There was no holding back. She answered all of our questions without even considering if she could trust us, a kind of attitude city dwellers like us had not experienced for a very long time.
The conversation ended with an invitation for a meal which we had to decline as we had told our hosts that we would come home for dinner.
At one end of the spectrum, there are hotels, restaurants, and resorts. At the other end of the spectrum are places like Xoi farmstay and Tong Pang hamlet, where the infectious warmth and hospitality can rival the stunning scenery.
Visiting Luc Yen Gemstone Market
Luc Yen gemstone market has been around for over 25 years. Markets are not a new concept, but when it is where people come to sell and buy gemstones, the idea of visiting it becomes an intriguing prospect.
From Xoi farmstay, you will have to ride a motorbike on a distance of nearly 20 km through more paddy fields, streams, and residential areas to reach the market. The trip to the market is a mini adventure itself.
The road was uneven and often concealed potholes filled with water from the previous night's rain, so it was hard keeping our balance. But that was exactly the charm of a journey like this. We were exposed to the elements, the rain, the wind, and the sound of life. Our senses were heightened, and our heart beat faster every time smooth concrete road turned into muddy and slippery ones.
Luc Yen gemstone market had a colorful display of emerald, tourmaline, aquamarine, and many more that were beyond our knowledge. Sellers, mostly women, sat behind desks inviting potential buyers to take a look at their merchandises with their hands gripping the bags on their laps firmly.
The gemstones on the tables were only items of low value; the most precious ones were kept securely in those bags. When someone asked specifically for a type of gemstone, the seller would first look at the potential buyer's face to assess their understanding of these stones and then decided whether to pull their most treasured possession out of the bags.
Almost anyone could find what they liked or could afford here. The gemstones' price ranged from a few dollars to a few thousand dollars.
Apart from the fact that this is the place for selling gemstones, everything else about it might feel familiar. Sellers swore on the quality of their goods, buyers went around looking for an item that caught their eyes, and those who had purchased talked to their friends about what they wanted to do with the stone, making a nice necklace out of it for example.
Sitting Down For A Meal With A Tày Family
The food here was homely and more rustic than exquisite. Everything was locally-sourced with ingredients either grown in the family garden or picked in the forest.
Our hosts told us that this place was famous for a breed of duck that fed on snails and moss, so their meat was especially tasty. Since there were streams and paddy fields all over the area, the ducks had an unlimited supply of food readily available everywhere.
The second suggestion our hosts gave us was Bong fish. It takes them two years to fully grow, and they only feed on leaves and rice. Every year people who know the value of Bong fish travel all the way to Yen Bai to buy some of these local specialties. While the demand for the fish is high, visitors often find them in short supply.
Anthony Bourdain said in Eating Vietnam: Dispatches from a Blue Plastic Table that our eyes could not help but opened when we traveled. I think this statement is perfect to describe our experience with Xoi farmstay in Yen Bai.
In just two days, we got a chance to escape the stressful life in Hanoi and got a glimpse of a life so simple and different from ours, all while experiencing the great outdoors of the mountainous North.