Vietnamese Grilled Beef in Piper Lolot Leaves (Bo Cuon La Lot or Bo La Lot) is a popular Southern Vietnamese dish. Flavorful rolls of beef wrapped in lolot leaves are grilled until fragrant.
When wrapped in la lot leaves, the beef filling will be lightly infused with a mild peppery fragrance. Bo La Lot can be enjoyed as an appetizer or a main dish.
What Are Piper Lolot Leaves (La Lot)?
Some of you may be wondering what are piper lolot leaves? Shouldn't they be called betel leaves? Actually, they are not the same thing. Betel leaves (or piper betle) are la trau in Vietnamese. The correct translation for la lot is piper lolot, piper sarmentosum, lolot pepper. I have also seen some sources use wild betel leaves to refer to la lot.
Many restaurants outside of Vietnam translate la lot as betel leaves and call the dish grilled beef in betel leaves, thus get people confused. At this point, I guess the name grilled beef in betel leaves has become so popular that probably nobody cares to correct it :).
At Vietnamese grocery stores, la lot is sold in a bunch with the stalks still attached. It has a mild peppery taste and a very unique smell once cooked.
The most common way to use piper lolot leaves in Vietnam is to wrap meat rolls. In the North, the rolls are filled with just pork and then fried. We call it cha la lot. In the South, the rolls, which are called bo cuon la lot, bo nuong la lot, or simply bo la lot, contain mainly beef and are grilled. The recipe today is for the Southern Vietnamese grilled beef rolls.
Ingredients
The two main ingredients in this bo la lot recipe are ground beef and piper lolot leaves. To make the beef rolls juicier, I also add some fatty ground pork. Some restaurants even add pork fat for more juiciness.
Though la lot leaves already have a distinct fragrance, the beef filling should also be flavorful. So I also add minced lemongrass, shallots, garlic and a touch of five-spice powder to the meat filling.
How to Make Vietnamese Grilled Beef in Piper Lolot Leaves
The first step would be shaping the beef rolls. Most people lay the la lot leaf with glossy side down, add about a tablespoon of filling and then roll into a log. If the leaf is on the small side, you may need to use two of them to make one roll.
You may find it difficult to keep the rolls in place since the leaves tend to unroll themselves. An easy way to solve this issue is to thread 2-3 (or even more) rolls onto a toothpick or skewer. You can see in the photo below how nicely they stay in place that way.
Once you finish rolling, time to grill them. You can use an outdoor grill or a grill pan to cook them. I use my favorite Staub grill pan (I got mine at Sur La Table), which I also use to make a lot of Vietnamese grilled dishes such as Hanoi grilled pork meatballs with noodles (bun cha) and Vietnamese grilled pork chops.
How to Serve Bo Cuon La Lot
My favorite way to serve these grilled beef rolls is with rice vermicelli noodles, lettuce, fresh herbs, roasted peanuts and a sweet and sour dressing. Some of the fresh herbs you can use are cilantro and mint. You can also add some pickled carrots and daikon or cucumber on the side.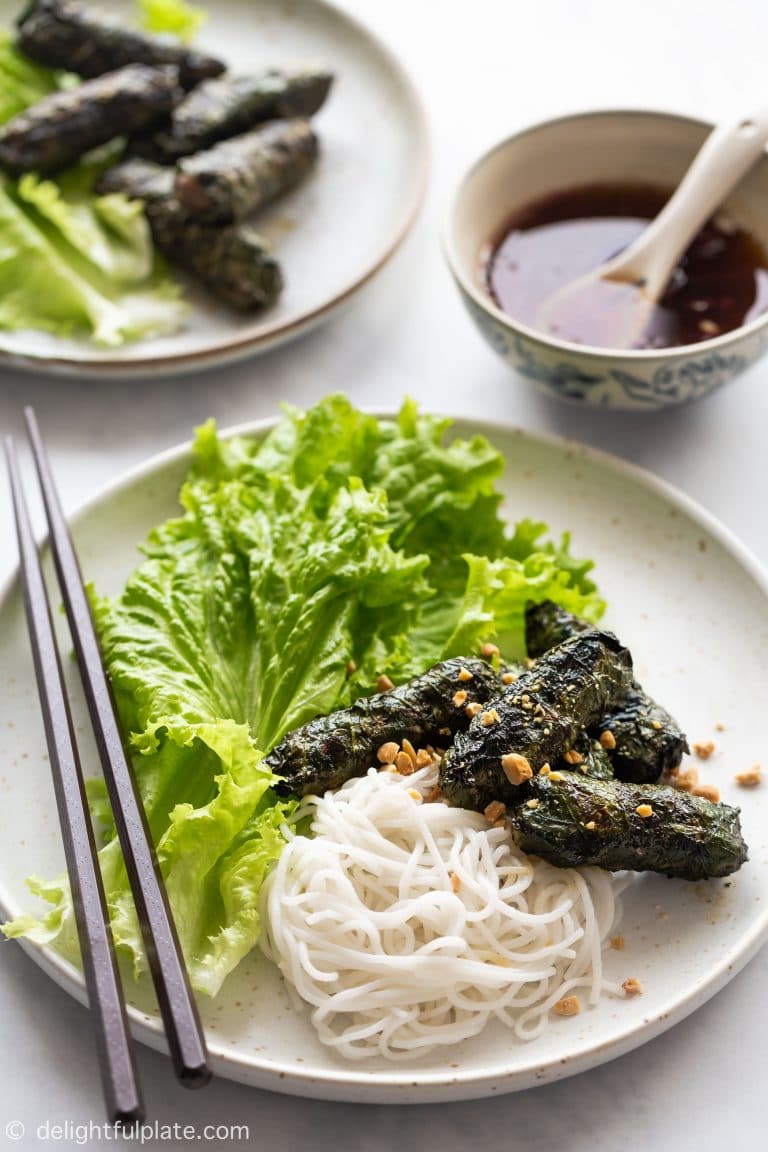 I'd love to hear what you think about the dish, so please feel free to leave a comment. New recipes are added every week so let's connect on Facebook, Pinterest and Instagram for the latest updates. You can find my collection of Vietnamese recipes here.
Vietnamese Grilled Beef in Piper Lolot Leaves (Bo Cuon La Lot)
Vietnamese Grilled Beef in Piper Lolot Leaves (Bo Cuon La Lot or Bo Nuong La Lot) is a popular Southern dish. Flavorful rolls of beef wrapped in lolot leaves are grilled until fragrant.
Print
Pin
Rate
Ingredients
To serve, choose some of the followings:
fresh lettuce

mint

roasted peanuts
Instructions
Pick the piper lolot leaves from the stalks. Discard the stalks, wash and pat dry the leaves.

In a mixing bowl, add ground beef, ground pork and all other ingredients for the beef rolls (minced lemongrass, shallots, garlic, salt, pepper, soy sauce, fish sauce and olive oil). Mix well to combine. You may want to cook a teaspoon of filling to see if it is seasoned to your liking.

Lay a piper lolot leaf (or two leaves if small) on a clean working surface. Place about a tablespoon of the meat filling on the leaf, form into a small log and then wrap with the leaf.

Thread 2-3 beef rolls onto a toothpick, or more onto a skewer to keep the leaves stay in place.

Place a grill pan over medium heat (or use an outdoor grill). Lightly brush the rolls with oil and once the grill pan is hot, add the beef rolls.

Cook for about a minute, or until the leaves are wilted on the bottom side. Flip and cook the other side. You can remove the toothpicks (or skewers) when the leaves are wilted on both sides.

Grill for several minutes until the filling is cooked through. Rotate the rolls and adjust the heat as needed to avoid charring the leaves too much.

While grilling the rolls, add water, rice vinegar, fish sauce and honey to a small sauce pan over medium heat to make the dipping sauce. Once the sauce starts to simmer, transfer to a bowl and add minced garlic and bird's eye chili. Taste and adjust to your liking.

Serve the beef rolls immediately with dipping sauce, vermicelli noodles, lettuce, herbs and roasted peanuts.
Notes
It is fine to use only ground beef to make this dish. However, adding ground pork (or pork fat) will make the rolls juicier.
If the bunch of la lot has way more leaves than needed, you can mince the extra leaves and mix with the meat filling.
People often place the leaf with glossy side down and then roll because the outer of the rolls will look greener. It is okay if you want to roll with the glossy side up.
If you are not sure how to mince lemongrass, read the instructions for preparing lemongrass here.
If you don't have a grill pan or an outdoor grill, you can pan fry the rolls.
Nutrition
Calories:
349
kcal
|
Carbohydrates:
6
g
|
Protein:
20
g
|
Fat:
26
g
|
Saturated Fat:
9
g
|
Cholesterol:
80
mg
|
Sodium:
1155
mg
|
Potassium:
348
mg
|
Fiber:
0
g
|
Sugar:
4
g
|
Vitamin C:
2.1
mg
|
Calcium:
25
mg
|
Iron:
2.3
mg