This Vietnamese Chicken Vermicelli Noodle Soup (Bun Ga) is light yet comforting and delicious. It is a perfect noodle soup for all year round, whether it's summer or winter.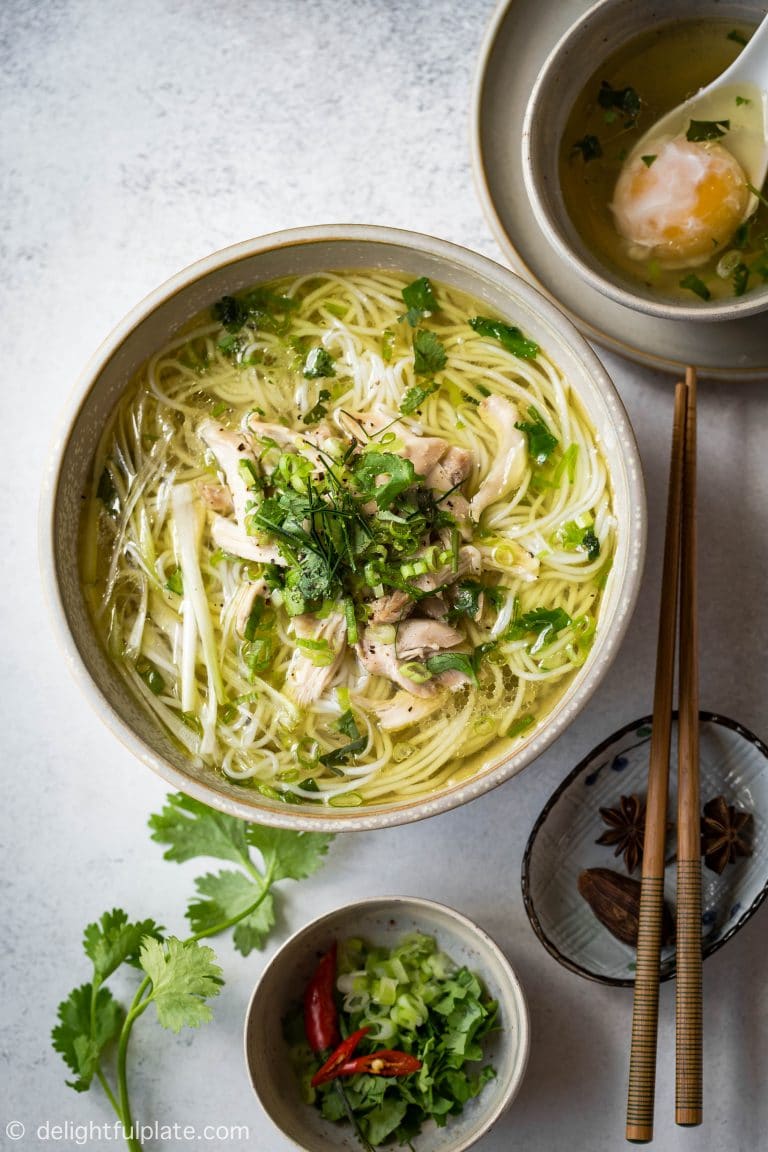 Vietnamese Chicken Vermicelli Noodle Soup is one of the dishes I grew up with
Yes, another noodle dish that I grew up with in my hometown in Northern Vietnam besides this fried fish noodle soup (bun ca). I bet more people know about (and have tried) Vietnamese chicken rice noodle soup (pho ga) than chicken vermicelli noodle soup (bun ga).
In my hometown, bun ga is actually a little more popular than pho ga. Since I was in elementary school, my family had chicken vermicelli noodle soup for breakfast every week.
So what's the difference between this chicken vermicelli noodle soup and chicken rice noodle soup?
There are actually not a lot of differences between the two noodle soups. The spice blend and aromatics are slightly different. The biggest difference is obviously the choice of noodles. I personally think the soft, smooth and round vermicelli noodles go with the chicken broth better than the flat and wide rice noodles. Think of it like how we match different pasta shapes to different pasta sauces.
How to cook Vietnamese Chicken Vermicelli Noodle Soup (Bun Ga)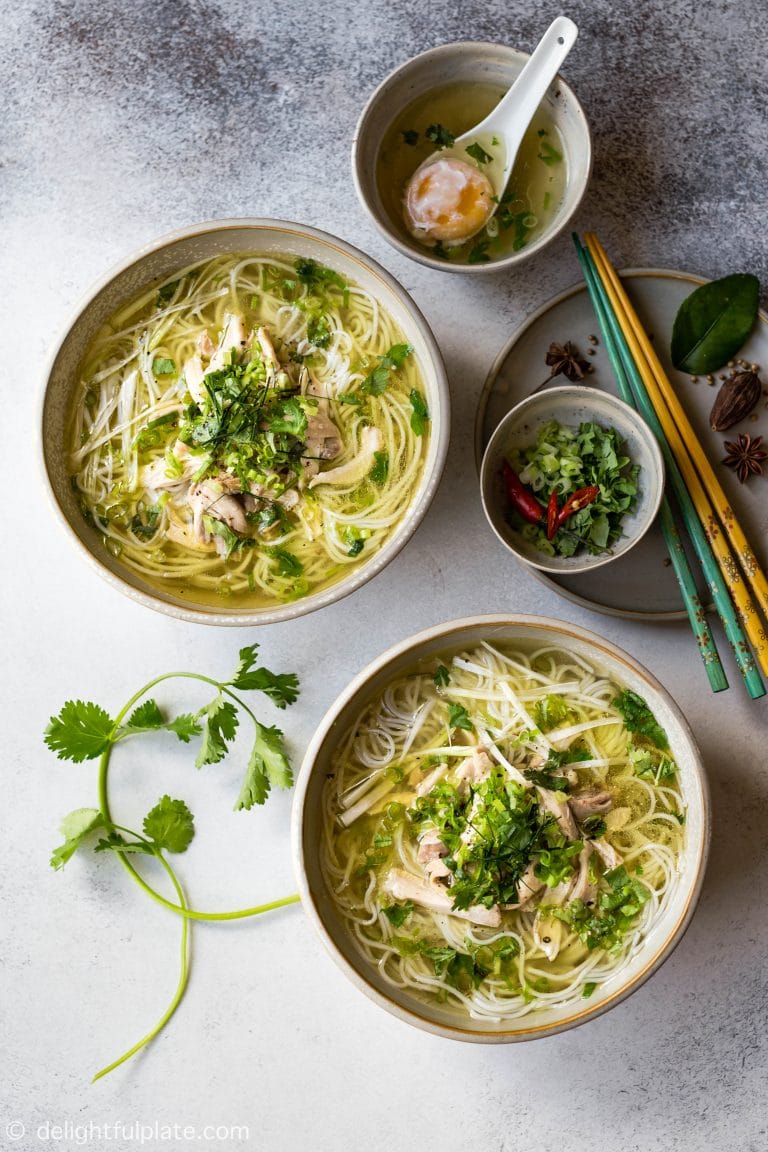 My recipe shows you how to cook this noodle soup from scratch without using any store-bought stock. For the broth, you will need chicken pieces such as backs and necks, aromatics and spices.
Parboiling for a clear soup
To have a clear broth, I often parboil the chicken parts with some salt and white wine (or rice vinegar) (1). Instead of doing this, you can also rub the chicken parts with salt and white wine, and then rinse under water (2).
If your chicken is from a high-quality source such as local farmers market, it may be fine to skip the parboiling/cleaning step. If not, I strongly recommend doing either (1) or (2). Gentle simmering and leaving the pot partially uncovered also help create a clear broth.
Spices and Aromatics
For aromatics, you will need ginger, shallots, and garlic. For spices, black cardamom pods, star anises, and coriander seeds will make the broth pleasantly fragrant. You can find all these spices at Asian grocery stores, on Amazon and sometimes at regular Western grocery stores. These spices will make the noodle soup more exotic, but if you don't have them, the dish will still be tasty.
An optional ingredient that will enhance the flavor of this noodle soup greatly is kaffir lime leaves. In Vietnamese cuisine, chicken and lime leaves are born for each other. Slice a few leaves as thinly as you can and sprinkle them on top of the noodle bowls, which will then smell amazing. Asian grocery stores usually have kaffir lime leaves, either in the fresh or frozen section. They freeze very well.
All the cooking steps are very straightforward and you can find them in the recipe card below. It takes only an hour to cook this delicious Vietnamese chicken vermicelli noodle soup. I hope you will give it a try and love it as much as my family and I do. It is definitely one of my most favorite Vietnamese noodle soups.
Another chicken noodle soup I love is this Vietnamese bun thang (Hanoi chicken noodle soup with eggs and pork sausage).
I'd love to hear what you think about the dish, so please feel free to leave a comment. New recipes are added every week so let's connect on Facebook, Pinterest and Instagram for the latest updates. You can find my collection of Vietnamese recipes here.
Vietnamese Chicken Vermicelli Noodle Soup (Bun Ga)
This Vietnamese Chicken Vermicelli Noodle Soup (Bun Ga) is light yet comforting and delicious. It is a perfect noodle soup for all year round, whether it's summer or winter.
Print
Pin
Rate
Ingredients
2.75

lbs

chicken parts (backs and necks)

2

lbs

bone-in chicken thighs or breasts

(or mix of both)

10 1/2

cups

water

2

teaspoons

salt

2

thumb-sized pieces of ginger, peeled

4

large cloves of garlic, peeled

2-3

large shallots, peeled

2

black cardamom pods, slightly crushed

4

star anises

1/2

tablespoon

coriander seeds

3

tablespoons

fish sauce

4

kaffir lime leaves, very thinly sliced

scallions, thinly sliced

Cilantro, roughly chopped

black pepper
For parboiling the chicken parts
boiling water

1

teaspoon

salt

2

tablespoons

white wine
Instructions
In a pot over high heat with boiling water, add chicken backs and necks, 1 teaspoon of salt and white wine. Parboil for 2-3 minutes, and then rinse the chicken parts under water. Set aside.

Prepare all aromatics (ginger, garlic and shallots). Put all the spices (black cardamom pods, star anises and coriander seeds) in a spice pouch.

In a clean pot, add chicken parts, chicken thighs and/or breasts and 10 1/2 cups of water. Bring it to a boil, skim off any foam or impurities. Reduce heat to a simmer. Add 2 teaspoons of salt, ginger, garlic, shallots and the spice pouch to the pot. Partially cover the pot and leave it to simmer very gently.

After about 15 minutes, when the chicken thighs are fully cooked, transfer them to an ice bath. Amount of time may differ if you use chicken breasts. Continue to simmer the broth for another 25-30 minutes.

While the broth is still simmering, prepare vermicelli noodles according to package instructions and garnishing herbs (kaffir lime leaves, scallions, cilantro). Also shred the chicken meat. Add noodles, chicken meat, herbs and black pepper to serving bowls.

After 25-30 minutes, add 3 tablespoons of fish sauce to the broth (more or less to taste). Bring the broth back to a boil, and then ladle broth into serving bowls. Serve immediately.
Notes
If the broth has more fat than you want, skim off some of the fat before adding broth to serving bowls. Don't remove all of the fat since that's where the flavor is.
You can poach some egg yolks and serve with the noodle soups. A lot of people in Vietnam like to eat noodle soups with poached eggs.