Beef in Black Pepper Sauce features juicy beef slices and crisp veggies in a savory and peppery sauce. This delicious beef stir-fry can be made quickly in just one pan.
In Vietnam, black pepper beef is a dish often served at local restaurants, in wedding banquets or special occasions. The Vietnamese name of the dish is "bò sốt tiêu đen". I like to eat it with rice, but I remember in wedding banquets, it can also be served with several slices of banh mi, plain steamed buns or fried buns. I think you may also see this dish in Chinese cuisine.
The dish is actually quite easy to make at home. I will share all the tips you need to know to make sure the beef will turn out juicy and flavorful with a pleasant texture. And if you like the sauce, you may want to try this roasted duck legs with black pepper sauce too.
---
🥩 Choosing Beef for Stir-Fry
Different types of beef cuts can be used in this black pepper beef recipe. Personally, I find that more expensive steak cuts such as New York strip or ribeye will yield the best results. You can also use more affordable cuts such as sirloin or flank.
Regardless of what types of cuts you use, here are important tips to get juicy tender beef:
Slice the beef against the grain. You can put it in the freezer for a couple hours to make it easier to slice.
When served in banquets in Vietnam, the beef in this dish isn't sliced so thinly. Instead, it is often sliced slightly thick, about 1/4 inch, and then lightly pounded with a meat tenderizer.
Marinate the beef slices with seasonings, some cornstarch, and water. The marinade will create a protecting shell which helps retaining the juice for the meat. This is a technique I learned from Fuchsia Dunlop's cookbooks, and the result is juicy beef with a velvety mouthfeel. I also use this technique in my beef noodle stir-fry recipe.
Make sure your pan is very hot before adding the beef. Don't overcrowd the pan, and don't overcook the beef.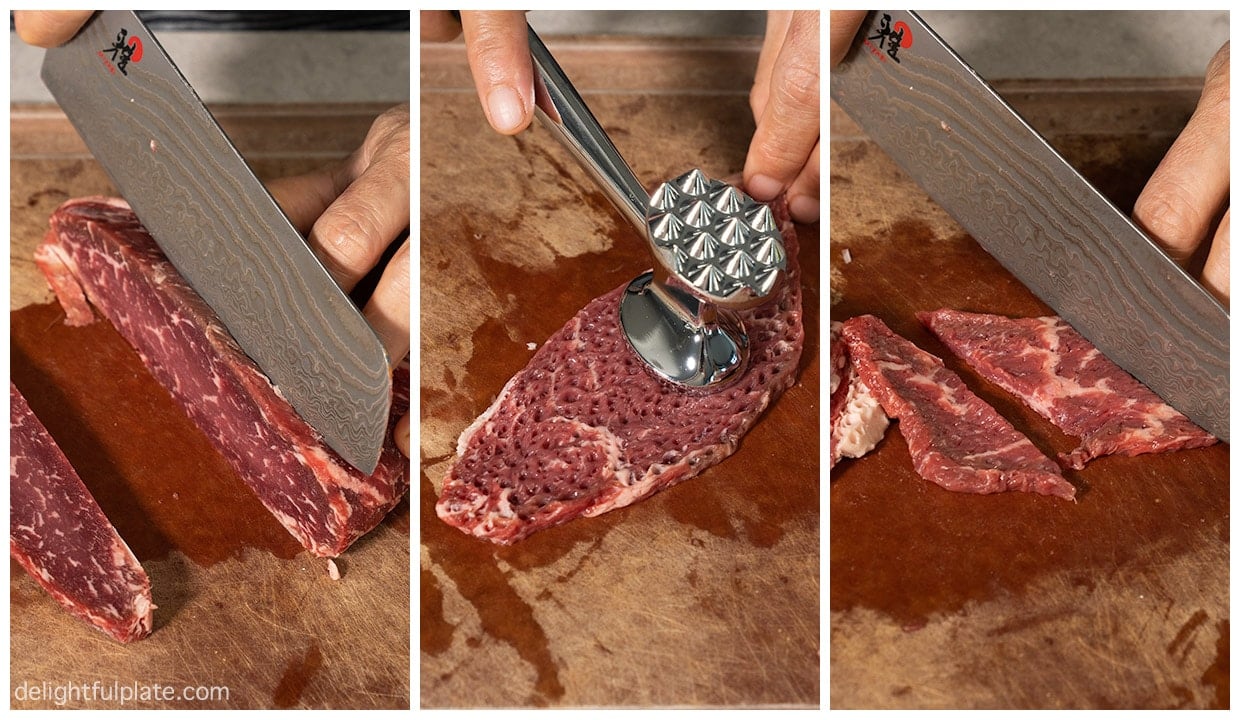 ---
🛒 Other Ingredients
To make the black pepper sauce, I recommend using whole black peppercorns. Then use a mortar and pestle to break them into smaller pieces. Don't break them too small as it will make the sauce pretty spicy. The amount of black pepper should be enough to create a peppery sauce with a mild heat. Other ingredients in the sauce include oyster sauce, soy sauce, Shaoxing cooking wine, and some cornstarch to thicken it.
Adding veggies to the stir-fry will give the dish more colors and add a crisp texture. I like to use onion and bell pepper. It is fine to use just one type of bell pepper, but the dish will look prettier if you use a mix of bell peppers with different colors.
---
🥘 How to Make Black Pepper Beef
When cooking beef stir-fries, it is best to use a heavy-bottomed pan and give it enough time to heat up until very hot. Here, I use a Lodge cast iron pan. Another thing is you will need to cook the beef and veggies separately before tossing everything together.
1️⃣ First, sear the beef quickly until it's 80-90% cooked. Then take the beef out of the pan and sauté the veggies and black pepper.
2️⃣ Pour the sauce into the pan and once it starts to bubble, add the beef back. Toss everything together quickly until beef is just cooked through.
All these steps don't take long at all, so try to have all ingredients prepared and measured before turning on your stove. Please find detailed instructions to make beef in black pepper sauce in the recipe card below.
The dish is best when served immediately, but I find that with the marinating method in the recipe, it still tastes pretty good after being reheated in the microwave the next day.
---
More Beef Recipes to Try
I'd love to hear what you think about the dish, so please feel free to leave a comment. New recipes are added every week so let's connect on Facebook, Youtube, Pinterest and Instagram for the latest updates. You can find my collection of Vietnamese recipes here.
Black Pepper Beef (Bo Sot Tieu Den)
Beef in Black Pepper Sauce features juicy beef slices and crisp veggies in a savory and peppery sauce. This delicious beef stir-fry can be made quickly in just one pan.
Print
Pin
Rate
Instructions
Use a mortar and pestle to break the peppercorns into smaller pieces. If you don't have a mortar and pestle, you can use coarsely cracked black pepper.

Slice the beef against the grain into ¼ inch thick slices. Lightly pound each slice with a meat tenderizer, then slice into bite-sized slices if needed.

Place the meat in a mixing bowl, then add 1 teaspoon of Shaoxing wine, ⅛ teaspoon of salt, ¼ teaspoon of cracked pepper, 1 teaspoon of cornstarch and 1 tablespoon of water. Mix well to combine. After that, drizzle ½ tablespoon of oil and toss to coat the beef. Set aside to marinate for about 15 minutes while you prepare other ingredients.

Cut the bell pepper into strips and then slice diagonally into diamond-shaped pieces (about ¾ – 1 cup sliced). Also slice onion into diamond-shaped pieces (about ½ cup sliced).

In a small bowl, add oyster sauce, soy sauce, dark soy sauce, sugar and the remaining Shaoxing wine, water and cornstarch. Stir well to combine.

Place a heavy-bottomed pan over medium heat and let it heat up until very hot. Increase the heat to medium-high and then add some oil to coat the pan. Add beef to the pan in a single layer and let it sear undisturbed for 20-30 seconds. Flip to cook the other side, or stir and cook for another 20-30 seconds until the beef is 80-90% cooked. Transfer to a plate.

Reduce heat to medium. Add a little more oil if needed, then add ginger and cook for 15-20 seconds until fragrant. Add garlic and sliced onions. Cook for about 10-15 seconds until fragrant, then add cracked peppercorns. Stir and cook for a minute. Add bell peppers and continue to stir and cook for about 30 seconds.

Increase the heat to medium-high. Give the sauce in Step 5 a quick stir, and then pour it into the pan. The sauce will start to bubble after a few seconds, then add the cooked beef back to the pan. Stir and toss quickly to coat everything with the sauce and just until beef is cooked through. Remove from the heat and serve hot right away.
Notes
To make it easier to slice the beef in Step 2, you can put it in the freezer for about a couple hours before slicing.
Nutrition
Calories:
121
kcal
|
Carbohydrates:
18
g
|
Protein:
3
g
|
Fat:
4
g
|
Saturated Fat:
1
g
|
Trans Fat:
1
g
|
Sodium:
669
mg
|
Potassium:
496
mg
|
Fiber:
4
g
|
Sugar:
7
g
|
Vitamin A:
2304
IU
|
Vitamin C:
73
mg
|
Calcium:
51
mg
|
Iron:
1
mg