This Vietnamese Macaroni Soup with Pork Ribs (Sup Nui Suon Heo) is light yet filling and flavorful. It is great for breakfast as well as lunch.
So first, what is this Vietnamese macaroni soup? It is a clear soup made from simmering pork ribs, carrots, and daikon radish. Macaroni is added to make it more filling. The broth is light but has a lot of natural sweet and savory flavors from the ribs and root vegetables.
The Vietnamese name of the dish is súp nui sườn heo. It is a popular breakfast in Saigon, which is in the South of the country. I also eat it as a light lunch during the weekend when I don't feel like spending a lot of time in the kitchen. I even think it is a great hangover soup :).
Watch How to Cook Vietnamese Macaroni Soup
Subscribe to our Youtube channel for more easy-to-follow cooking videos!
Ingredients
The main ingredients for the broth are meaty pork ribs, carrots, and daikon radish. If you see a Vietnamese dish with daikon radish as an ingredient, it is highly likely that dish is from Southern cuisine. During our 20 years growing up in the North, we never ate or cooked with daikon radish.
To make the broth more flavorful, some Viet cooks also add several dried shrimps and cilantro roots. They are totally optional, so don't worry if you don't have them. Dried shrimps are usually only available at Asian grocery stores.
The next main ingredient is macaroni (nui). In Vietnam, people often use Vietnamese macaroni (see photo below) which has rice flour as its main ingredient. Honestly, I'm not a fan of it since I find its texture rather weird.
Feel free use any kind of short pasta like fusilli or elbow macaroni. My most favorite is fusilli. Its spiral shape makes the dish more fun to eat. I also love to use fusilli in this nui xao bo recipe (Vietnamese beef pasta stir-fry).
Cooking Notes
This Vietnamese pork macaroni soup requires about 1.5 hours to cook, but the amount of prepping work is pretty light. And then we just leave the ingredients to simmer slowly without having to do much.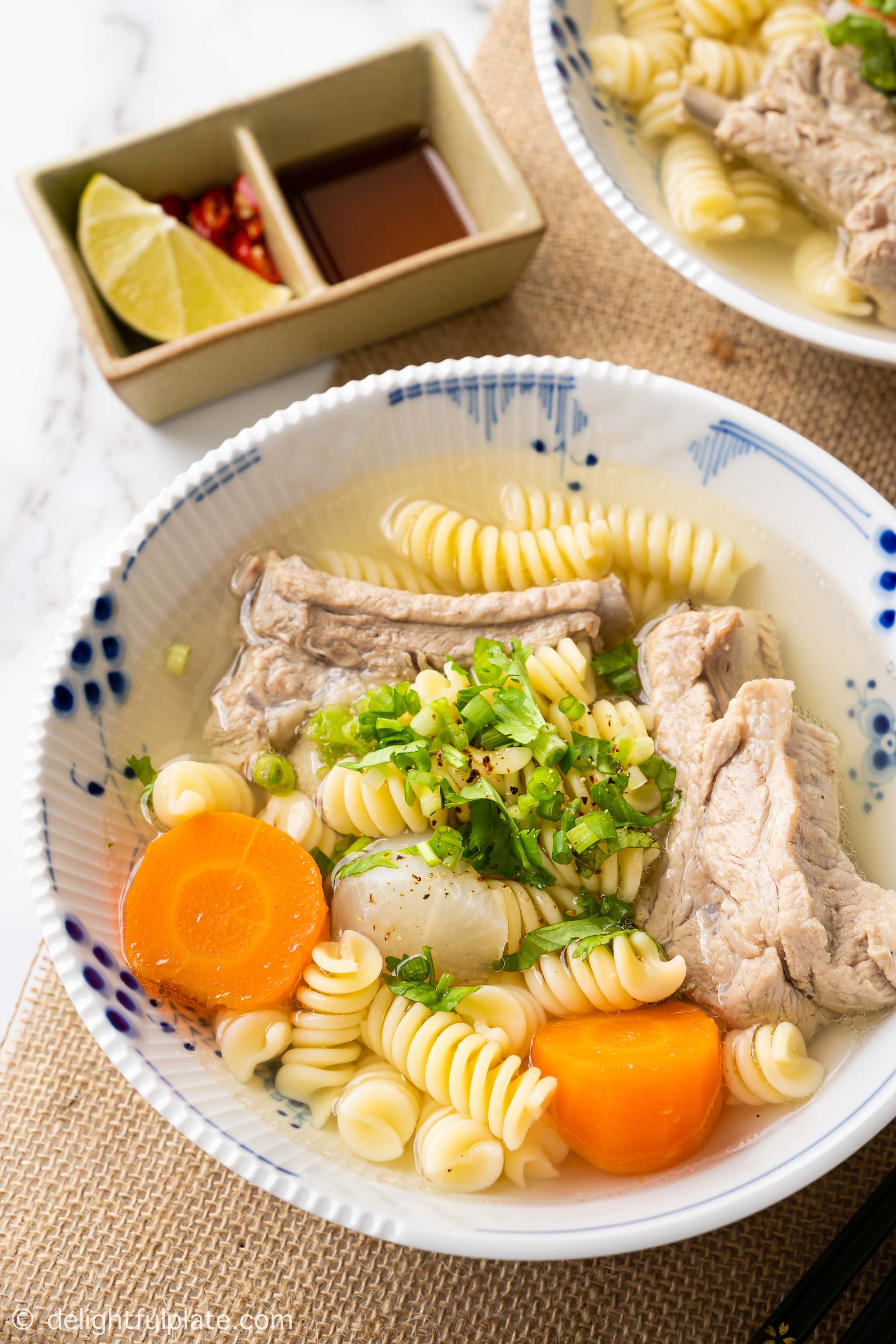 Here are some important points to pay attention to when you make this recipe:
(1) Parboil the ribs to get rid of impurities so that we can have a clear soup with no unpleasant smell. It is also the first step in my other soup recipes, such as bak kut teh, pork rib soup with potato and carrot or turmeric braised ribs with tofu.
(2) Simmer very gently and skim off foam frequently. If you have blanched the ribs and simmer gently, chances are you won't need to skim off a lot of foam.
(3) Divide the carrots and daikon radish in half. Simmer half of them right from the beginning with the ribs to extract all their sweetness. Remove them at the end of cooking because they will be too soft and flavorless to eat by that time. The other half will be cooked for only 10-15 minutes until they are tender to your liking, and then you can serve them in the soup.
Please find detailed list of ingredients and instructions in the recipe card below. I hope you will like it. We are so glad to discover this simple yet tasty soup while living in Saigon.
Related Recipes
I'd love to hear what you think about the dish, so please feel free to leave a comment and a rating if you have tried it. New recipes are added every week so let's connect on Facebook, Youtube, Pinterest and Instagram for the latest updates. You can find my collection of Vietnamese recipes here.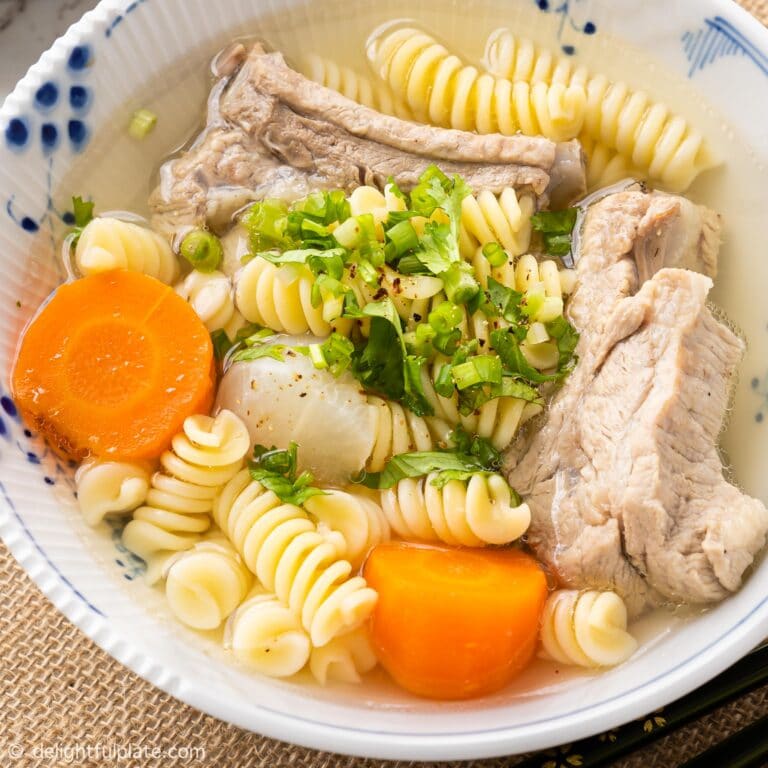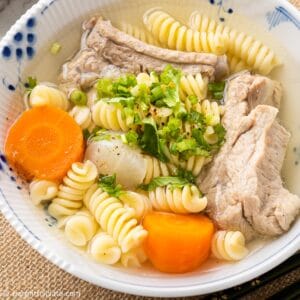 Vietnamese Macaroni Soup with Pork Ribs (Sup Nui Suon Heo)
This Vietnamese Macaroni Soup with Pork Ribs (Sup Nui Suon Heo) is light yet filling. It is great for breakfast as well as lunch.
Print
Pin
Rate
Ingredients
1.75

lbs

meaty pork ribs, separated into individual ribs

6

cups

hot water

(plus more to parboil the ribs and cook the pasta)

1 1/2

teaspoon

salt

a 1-inch piece of ginger

9-10

oz

carrots, peeled and divided

(about 2 medium to large carrots)

9-10

oz

daikon radish, peeled and divided

6-8

oz

your choice of short pasta

thinly sliced scallions

thinly sliced cilantro

fish sauce

(to serve on the side)

lime wedges

(to serve on the side)

bird's eye chili, thinly sliced

(optional, to serve on the side)
Instructions
Parboil pork ribs in plenty of boiling water for a minute. Remove the ribs and rinse under water. Discard the liquid.

To a clean pot, add

6

cups of water, ginger,

1½

teaspoon salt and the pork ribs. Bring to a boil then lower the heat to a simmer. Skim off any foam.

Cut half of the carrots and half of the daikon radish into large chunks (about 3-inch long) and add them to the broth. Adjust the heat to maintain a gentle simmer and skim off foam if needed. Then cover the pot with the lid slightly askew and simmer for 60-75 minutes or until the ribs are almost tender to your liking.

Cut the remaining carrot and daikon radish on a bias (roll-cut) or just cut them into thin slices or small pieces. Add them to the soup after ribs are almost tender to your liking. Cover the pot with the lid slightly askew and continue to simmer for another 10 minutes or so until the vegetables pieces you just add are cooked through and tender.

While waiting for the vegetables pieces you just add in Step 4 to cook, boil the pasta in plenty of salted water according to package instructions but undercook by 1-2 minutes.

When the pasta is ready, drain and set it aside for a minute. Open the soup pot and discard the large chunks of carrots and radish you added at the beginning in Step 3. Taste the broth and season with a bit more salt if needed, then add pasta and bring the soup to a rolling simmer.

Divide the soup with pork ribs, noodles, carrot and radish pieces among serving bowls. Sprinkle with scallion, cilantro and black pepper, then serve immediately with fish sauce, lime wedges and chilis on the side.
Video
Notes
To make the broth more flavorful, you can add 4-5 dried shrimps and a couple of cilantro roots in Step 2 if you have them on hand.
I like to use fusilli for this soup because its spiral shape makes the dish so fun to eat. You can use other types of short pasta such as elbow macaroni.
Nutrition
Calories:
633
kcal
|
Carbohydrates:
51
g
|
Protein:
30
g
|
Fat:
34
g
|
Saturated Fat:
11
g
|
Cholesterol:
111
mg
|
Sodium:
1063
mg
|
Potassium:
812
mg
|
Fiber:
5
g
|
Sugar:
6
g
|
Vitamin A:
10656
IU
|
Vitamin C:
18
mg
|
Calcium:
82
mg
|
Iron:
2
mg