Salted Egg Fried Rice (Com Chien Trung Muoi) is a quick and easy rice dish with mild saltiness and richness from salted egg yolk.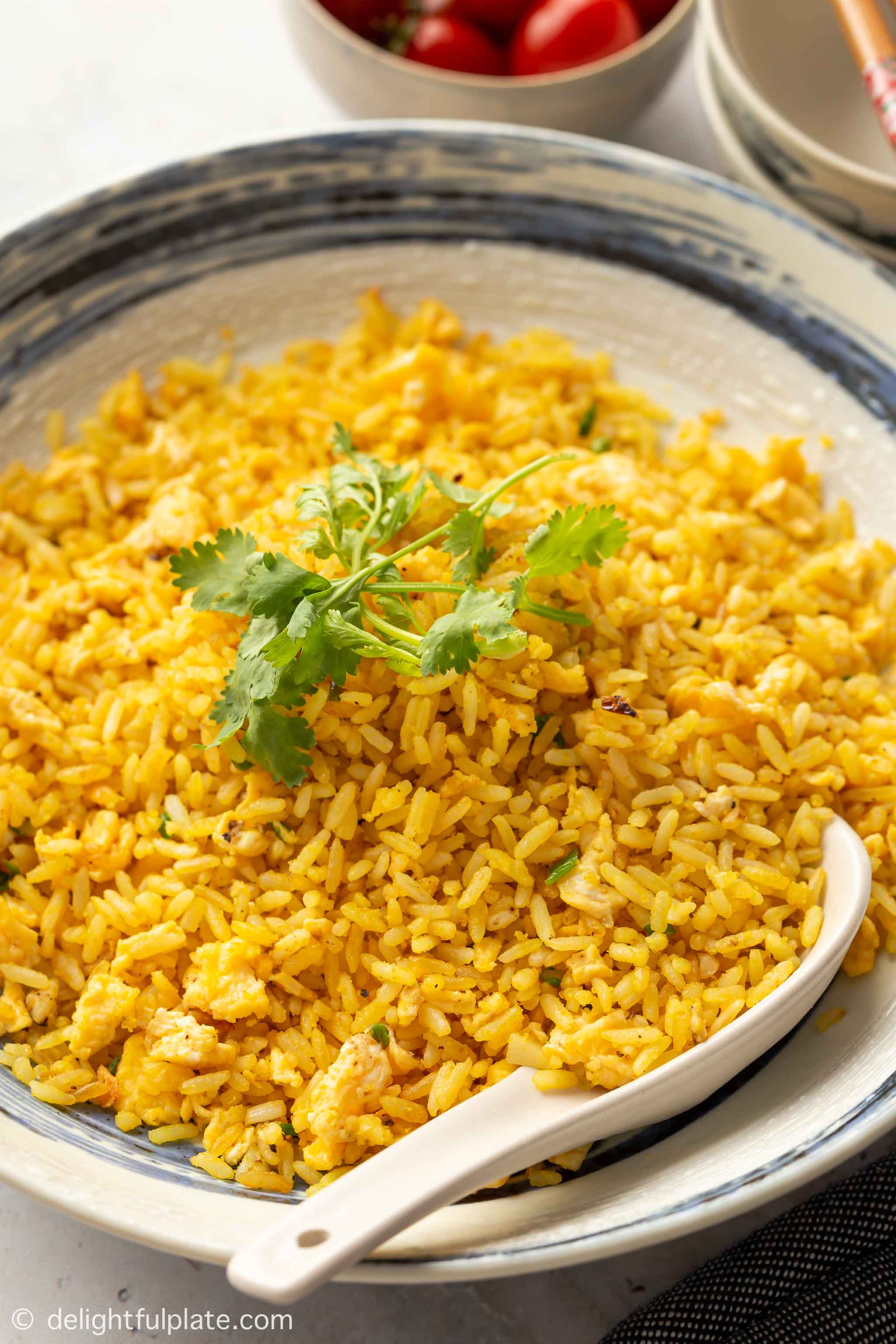 What is Salted Egg Yolk
Salted egg yolk is the yolk from the duck egg that has been preserved in a brine solution. You may have seen it as filling in mooncakes, but it can also be used in savory dishes.
I actually don't care for salted yolk in mooncakes, but I love it in savory dishes. It adds richness and mild saltiness, sometimes creaminess if made into a sauce as in this silken tofu with salted egg sauce and this crispy pumpkin fritters with salted egg sauce. To some people, it might be an acquired taste though :).
You can buy salted duck eggs at Asian grocery stores. It is also possible to make them at home and Marvellina at What to Cook Today has a detailed guide on homemade salted duck eggs.
Watch How to Make Salted Egg Fried Rice
Subscribe to our Youtube channel for more easy-to-follow cooking videos!
Ingredients
The two main ingredients for this dish are rice and salted yolks. I also like to add chicken eggs to this fried rice for the richness and softness of bits of cooked eggs.
In this recipe, the salted yolks will need to be cooked separately so that we can mash it finely and mix with the rice evenly. There are several ways to cook it:
boil the whole salted duck eggs and then discard the shells and the whites
get the yolks separated from the raw salted duck eggs, then steam them
The third way, which is actually the quickest way, is microwaving the raw yolks. However, it may make a mess in your microwave and the yolks may be cooked unevenly, so I don't recommend it.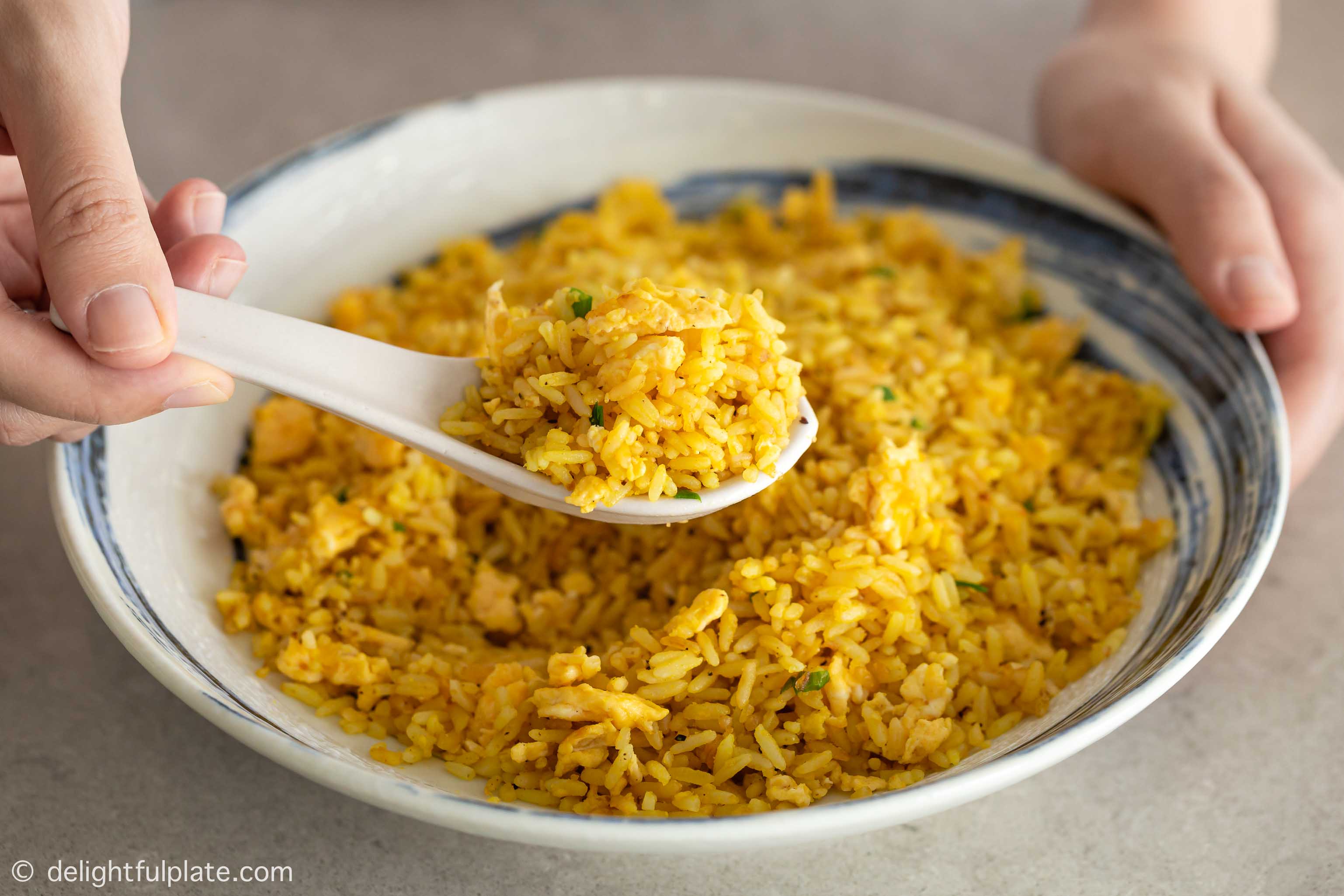 Cooking Notes
For this salted egg yolk fried rice to turn out delicious with a soft-chewy texture, here are some cooking tips:
It's best if you can use day-old refrigerated rice for the best texture. I usually prefer jasmine rice for fried rice dish. Another thing you can do is using less water when you cook the rice, like 10-20% less than what you often add to your rice cooker.
Have all ingredients ready before frying the rice.
Make sure your pan is hot and work quickly in a small batch.
Toss and stir constantly and quickly so that each grain of rice is coated with salted egg yolk, giving it a golden color.
Related Recipes
More tasty Asian rice recipes you may want to try:
I'd love to hear what you think about the dish, so please feel free to leave a comment and a rating if you have tried it. New recipes are added every week so let's connect on Facebook, Youtube, Pinterest and Instagram for the latest updates. You can find my collection of Vietnamese recipes here.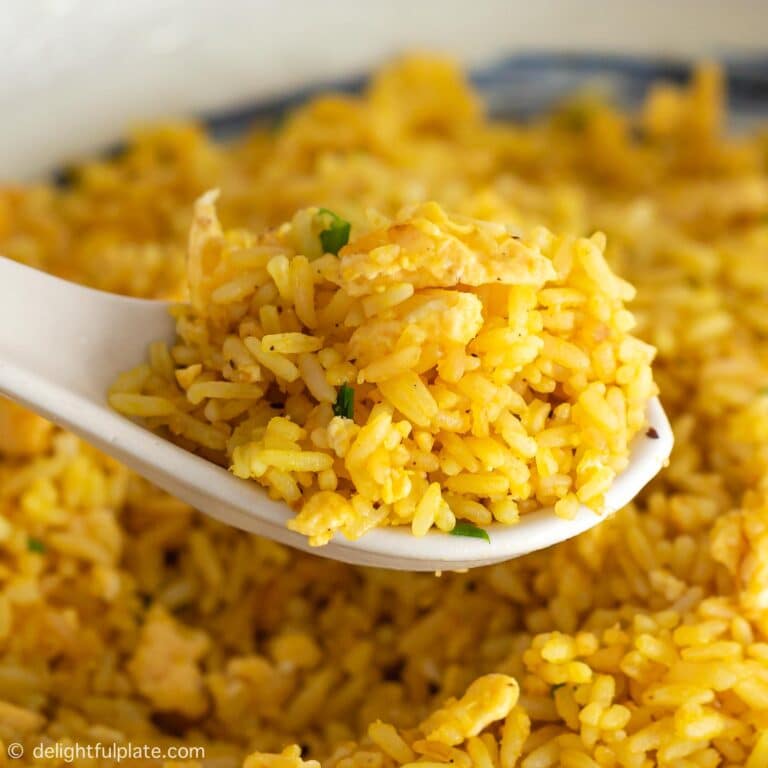 Salted Egg Fried Rice
Salted Egg Fried Rice (Com Chien Trung Muoi) is a quick and easy rice dish with mild saltiness and richness from salted egg yolk.
Print
Pin
Rate
Ingredients
4

raw salted duck eggs

2

cups

cooked rice

(preferably day-old, refrigerated)

1/4

teaspoon

salt

1

tablespoon

cooking oil, divided

2

chicken eggs, beatened

1

tablespoon

minced garlic

1

teaspoon

soy sauce

1-2

scallion stalks, thinly sliced
Instructions
Boil salted duck eggs for about 12 minutes, then peel and discard the whites. Alternatively, separate the yolks from raw eggs from the beginning and then steam them.

Use a fork to mash the salted egg yolks finely, or use a wooden spoon and press them against a sieve (mesh strainer). Set aside.

Mix rice with a pinch of turmeric powder, 1/4 teaspoon of salt and 1 teaspoon of oil. Separate the rice grains while mixing.

Add a small amount of oil (about 1/2 teaspoon) to a pan over medium heat. Then add the beatened eggs, swirl and scramble briefly and remove from the heat while the eggs are still runny. Set aside.

Add the remaining oil to the pan and increase the heat to medium high. Add garlic and sauté for a few seconds until fragrant, then add rice. Stir and toss constantly to break up the rice for about a minute.

Add mashed salted egg yolks and continue to stir and toss constantly for a minute to coat every rice grain with salted egg.

Add soy sauce and toss quickly to combine with the rice. Then add scrambled eggs, break up the eggs into small bits and toss quickly with the rice for a few seconds.

Sprinkle black pepper and scallions, give everything a stir to combine then transfer to serving plates immediately.
Video
Notes
I usually use jasmine rice for fried rice and when cooking it in the rice cooker, I often use less water. When cooking time is over, open the rice cooker to let the steam escape, then spread the rice on a plate and chill it in the refrigerator before frying it the next day.
The turmeric powder is optional. It doesn't affect the taste of the dish. Its role is to enhance the golden color for the rice.
Nutrition
Calories:
303
kcal
|
Carbohydrates:
32
g
|
Protein:
11
g
|
Fat:
14
g
|
Saturated Fat:
7
g
|
Cholesterol:
370
mg
|
Sodium:
361
mg
|
Potassium:
104
mg
|
Fiber:
1
g
|
Sugar:
1
g
|
Vitamin A:
544
IU
|
Vitamin C:
2
mg
|
Calcium:
63
mg
|
Iron:
1
mg