Quick, easy and tasty Bacon Fried Rice made with ingredients already available in your kitchen.
This bacon fried rice was my favorite fried rice dish at a local Asian restaurant when I was younger. I still enjoy making and eating it at home from time to time. The restaurant dish I had was probably more flavorful since it was cooked on a teppanyaki table, but the home kitchen version is still tasty, quick, and easy to cook.
In case you want more ideas for your fried rice rotation, check out these recipes:
Ingredients
Here are the main ingredients for this bacon fried rice:
cooked rice: I prefer long-grain rice (such as jasmine rice) that is day-old and refrigerated. When cooking the rice in your rice cooker, use 10-15% less water than you usually do. This will make it easier to achieve a soft-chewy texture for the fried rice later.
bacon: I like to use thin-cut bacon and slice into small pieces. Choose good quality bacon that is not overly salty.
other add-ins: eggs and carrots. You can also add green peas if you want.
aromatics: garlic, onions, scallions.
seasonings: salt, pepper and some soy sauce (I like Kikkoman soy sauce).
Cooking Steps and Tips
Fried rice is often straightforward to cook. Things to keep in mind here are making sure your pan is very hot and working quickly so that the rice can get a soft-chewy texture while not becoming too clumpy. Also, don't overfill the pan with rice, or it will be difficult to toss the rice.
This dish can be cooked with just one heavy-bottomed pan.
1️⃣ Cook the bacon: the first step will be cooking the bacon slowly to render the fat. We will use the fat to fried the rice and other ingredients. In this dish, I actually prefer the bacon not crispy.
2️⃣ Cook other add-ins: we will scramble the eggs and saute onion, garlic and carrot in some bacon fat.
3️⃣ Fried the rice: stir and toss the rice constantly, and be generous with using the rendered bacon fat if you don't mind.
4️⃣ Bring everything together: toss the rice with bacon and eggs briefly and the bacon fried rice is ready!
Please find the detailed measurements and instructions in the recipe card below.
Related Recipes
I'd love to hear what you think about the dish, so please feel free to leave a comment. New recipes are added every week so let's connect on Facebook, Youtube, Pinterest and Instagram for the latest updates. You can find my collection of Vietnamese recipes here.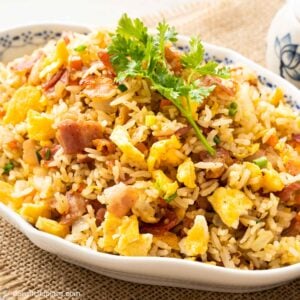 Bacon Fried Rice
Quick, easy and tasty Bacon Fried Rice made with ingredients already available in your kitchen. Great for everyday meals!
Print
Pin
Rate
Ingredients
2/3 – 3/4

cup

diced thin-cut bacon

(about 4-5oz)

2

medium to large eggs, beaten

1 1/2

cup

day-old, refrigerated cooked rice

(about 7.5oz, preferably long grain white rice)

1/4

cup

diced yellow onion

1/4

cup

finely diced carrots

1/4

teaspoon

salt

1

teaspoon

soy sauce

(to taste)

1/4

teaspoon

freshly-cracked black pepper

2

teaspoons

minced garlic

2

tablespoons

chopped scallions
Instructions
Place a heavy-bottomed pan over medium heat. Once the pan is hot, add diced bacon. Stir and cook slowly to render the fat, about 3-5 minutes. The bacon does not need to be crispy. Transfer bacon to a bowl and set aside.

Reserve 3-4 tablespoons of bacon fat and discard the rest. Add about ½ tablespoon of bacon fat back to the pan and once it is hot, pour the beaten egg into the pan. Scramble quickly and remove the eggs from the pan while it is still fairly runny.

Add another tablespoons of bacon fat to the pan, then add diced onion and carrots. Stir and cook for about 1-2 minutes. Then add minced garlic and cook for another 30 seconds until fragrant.

Add more bacon fat to the pan if needed. Increase the heat to medium-high and add the cooked rice. Stir and toss constantly to break up the rice for a minute. Add salt and soy sauce, then continue to toss and cook for another 1-2 minutes until the rice firms up.

Add bacon to the pan and stir to combine with the rice for 30-45 seconds. Then add beaten eggs and chopped scallions. Give everything a quick stir. Taste and adjust seasonings to your likings.

Transfer the fried rice to a serving plate and sprinkle black pepper on top. Serve hot.
Notes
I recommend using long-grain rice (such as jasmine rice) that is day-old and refrigerated.  When cooking the rice, use 10-15% less water than you usually use to get the best texture for the fried rice.
If you don't have leftover rice, cook some fresh rice. Once time is up, open the rice cooker and let all the steam evaporate. Spread the rice thinly on a plate or tray to cool them a little more, and then either chill in your refrigerator or in the freezer if you need to make the dish soon.
Nutrition
Calories:
407
kcal
|
Carbohydrates:
27
g
|
Protein:
14
g
|
Fat:
27
g
|
Saturated Fat:
9
g
|
Polyunsaturated Fat:
4
g
|
Monounsaturated Fat:
11
g
|
Trans Fat:
1
g
|
Cholesterol:
148
mg
|
Sodium:
748
mg
|
Potassium:
264
mg
|
Fiber:
1
g
|
Sugar:
1
g
|
Vitamin A:
2003
IU
|
Vitamin C:
3
mg
|
Calcium:
42
mg
|
Iron:
1
mg