This Chinese sausage and shrimp fried rice comes together in about 20 minutes. The main ingredients, as the name of the dish implies, are rice, shrimp, and Chinese sausage. You can add additional vegetables to make it healthier. I use green peas and zucchini here. This Shrimp Fried Rice dish was my favorite weekend breakfast when I was still in high school.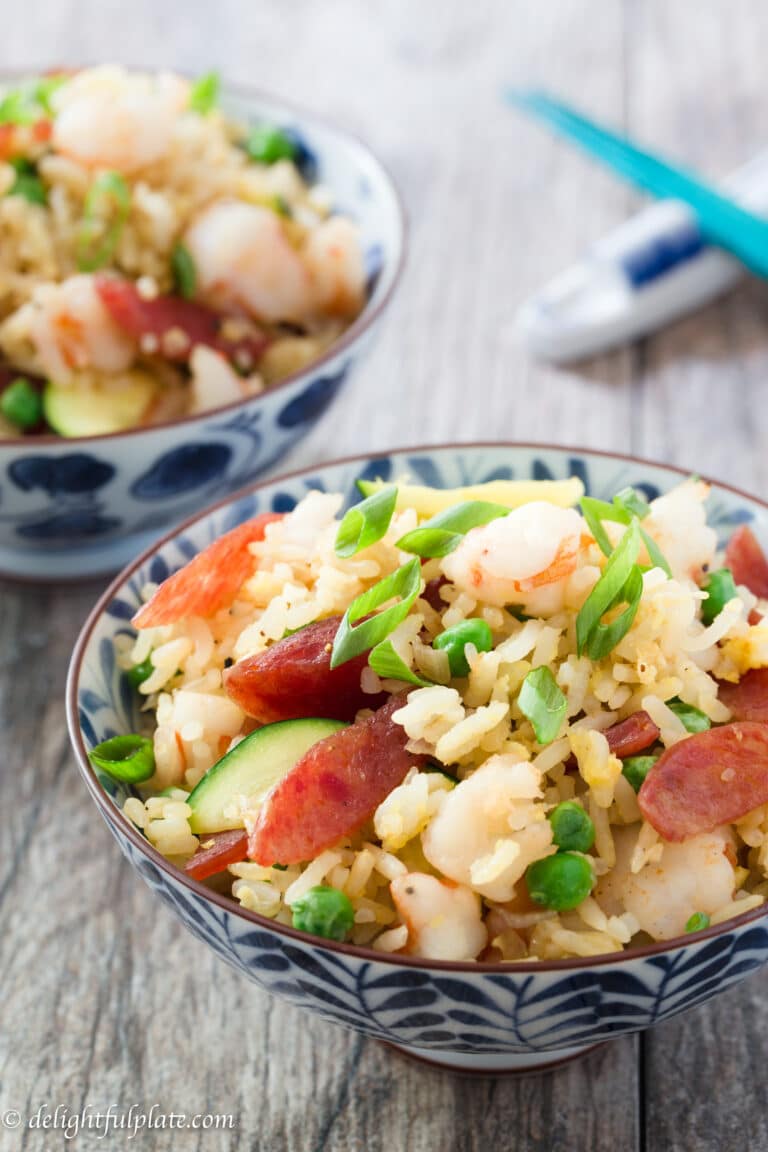 Fried rice is popular in many Asian countries. It is a versatile dish which allows you to use up leftover in your refrigerator. Each country has its own variations of fried rice and I notice a difference between Vietnamese and other countries' fried rice. I see that in Japanese and Chinese fried rice recipes, the egg is usually slightly scrambled/cooked before being mixed with rice. In Vietnam, we usually beat the egg, pour it over the rice, and then mix so that it coats all the rice grains and there shouldn't be many pieces of cooked egg in the fried rice. In fact, in the past, I often felt pretty terrible if my fried rice had small but visible bits of cooked egg.
Ingredients for Chinese sausage and Shrimp Fried Rice
Let's talk about the first component: rice. The consensus is that in a good fried rice dish, the grains should barely clump together while still retaining the shape and soft-chewy texture. If this is also your goal, it's easiest to use medium or long grain rice such as jasmine rice. Short grain rice is starchier and stickier so it may be tricky to use it in fried rice (but it is excellent for bibimbap!). For today's recipe, I use jasmine rice. More tips to achieve the goal will be explained later in this post.
I will tell you this secret. I don't mind eating fried rice with grains clumping together, as long as the rice is well-seasoned, soft-chewy and not mushy. Don't feel pressured that you must do everything in your power to separate the grains from each other.
Another ingredient in this Shrimp Fried Rice recipe is Chinese sweet sausage (lap xuong). It is sweet and turns red when cooked. In Vietnam, we usually use Chinese sausage in fried rice, eat it with sticky rice and bread. You can easily find it at Asian/Chinese grocery stores. If that's not an option, you can substitute with regular sausage or ham. Or if you are adventurous, you can try making Chinese sweet sausage yourself. Elaine at China Sichuan Food has a recipe with detailed instructions for Chinese Sausages.
A lot of types of vegetables work well in fried rice. You can try green peas, carrot, bean sprouts, mushroom, snow peas, zucchini or play with whatever you have in your refrigerator.
Tips for cooking fried rice
You may think you need day-old rice to make fried rice and freshly cooked rice won't work. Hmm, that's not quite true. You can use fresh rice to make fried rice after you let the rice cool for 10-15 minutes. Just take the rice out of your rice cooker, spread it on a plate and let it cool while you prepare other ingredients. The surface moisture will evaporate so you won't have big clumps of rice.
It's best to make fried rice in a wok. However, if the only thing you have in the house is non-stick cookware, go ahead and use it. Use a large skillet and fry the rice in small batches of 1-2 servings for the best result.
Even easier fried rice recipes you may want to try:
Ingredients
2

cups

cooked rice

0.5

lb

shrimp

(peeled, deveined)

1

Chinese pork sausage

(about 1/2 cup thinly sliced)

1

small zucchini

1

egg

1/3

cup

frozen green peas

1/2

tablespoon

finely chopped garlic

3

tablespoons

thinly sliced shallot

2

tablespoons

thinly sliced scallion

2

tablespoons

olive oil

1

tablespoon

soy sauce

1/2

tablespoon

fish sauce

1

teaspoon

sesame oil

salt and pepper
Instructions
If use freshly cooked rice, spread it on a plate to cool for 10-15 minutes.

Peel, devein and chop shrimp into small pieces.

Cut zucchini in half length-wise and slice thinly.

Slice Chinese sausage thinly.

Beat egg and set aside.

Place a wok/large skillet over medium-high (for non-stick skillet) or high heat (for wok). When it's hot, add Chinese sausage, stir and render fat for 1-2 minutes. Set aside.

Add garlic and stir until fragrant, add shrimp pieces and a pinch of salt. Stir and when shrimp is almost cooked through, transfer to a plate.

Add zucchini and quickly stir for 30 seconds to 1 minute. Set aside.

Add 2 tablespoons of olive oil. When oil is hot, add shallot, stir and cook for 1 minute until fragrant. Add rice, break up the chunks of rice, stir and toss until rice is coated with oil and turns pale brown, about 3-5 minutes.

Pour the beaten egg over the rice, quickly mix and stir so that the egg coats all the rice grains.

Add frozen peas, continue to toss and stir until peas are almost thawed. Add Chinese sausage, shrimp, zucchini, soy sauce and fish sauce, toss and stir well until all add-ins are cooked through and rice grains are separate. Turn off the heat, add scallion, pepper and sesame oil. Mix well and then serve immediately.