When we were little kids, the four seasons in Northern Vietnam were still very distinct. Spring and fall are much milder nowadays. In our memory, fall was one of the most beautiful seasons, and one could smell it in the air when September came. The weather change often brought a mixed feeling, a bit of blues because summer was over and a bit of joy because it was finally time to enjoy the tasty seasonal gifts of fall again.
Cốm – the Special Gift of the Season
Cốm, young green rice, is the most special and beloved gift of Northern fall. It is made from immature kernels of sticky rice. The rice kernels are roasted at low heat and then pounded, giving cốm its flat shape. Some other names you may come across are young green sticky rice or young green rice flakes.
The natural color of cốm is usually greenish-yellowish. To enhance its color, farmers sometimes dye it green with an extract from rice seedlings (lá mạ).
Fresh cốm is often wrapped in two layers of leaves. The inner layer is lá ráy (a green heart-shaped leaf) which is said to help maintaining the color of cốm. The outer layer is lá sen (lotus leaf) which has a light flowery fragrance.
Why is Cốm Special
Many traditional Vietnamese dishes reflect the importance of agriculture and rice culture in the history of the country. Cốm is one of those, so there's just no surprise that it is a special topic of interest in Vietnamese literature.
"Cốm is a unique gift of the country, a gift from the green rice paddy fields that stretch as far as the eyes can see, enclosing in its flavors the rustic, humble and ethereal beauty of Vietnam countryside."
(from "The 36 Guild Streets of Hanoi" – Thạch Lam)
Being a seasonal ingredient is one of the things that makes cốm special. Nowadays, people also produce dried cốm which has a longer shelf life to enjoy throughout the year. However, the taste and smell cannot compare to the fresh one, which is only available for one or two months of the year and needs to be enjoyed in a day or so.
It is truly the taste and smell of cốm that make so many generations of Northerners excited when fall comes. The flavor is so subtle but has so many dimensions. Cốm is mildly sweet with subtle milky, nutty and grassy notes that you can actually smell. The scent of pandan leaves is a close resemblance of cốm's aroma.
"…one can already scent the gentle fragrance of young rice plant just thinking of cốm."
(from "The Delicacies of Hanoi" – Vũ Bằng)
How Vietnamese People Eat Cốm
Cốm is quite a versatile ingredient due to the characteristics of its subtle flavor and soft-chewy texture. It can be eaten directly or added to both sweet and savory dishes.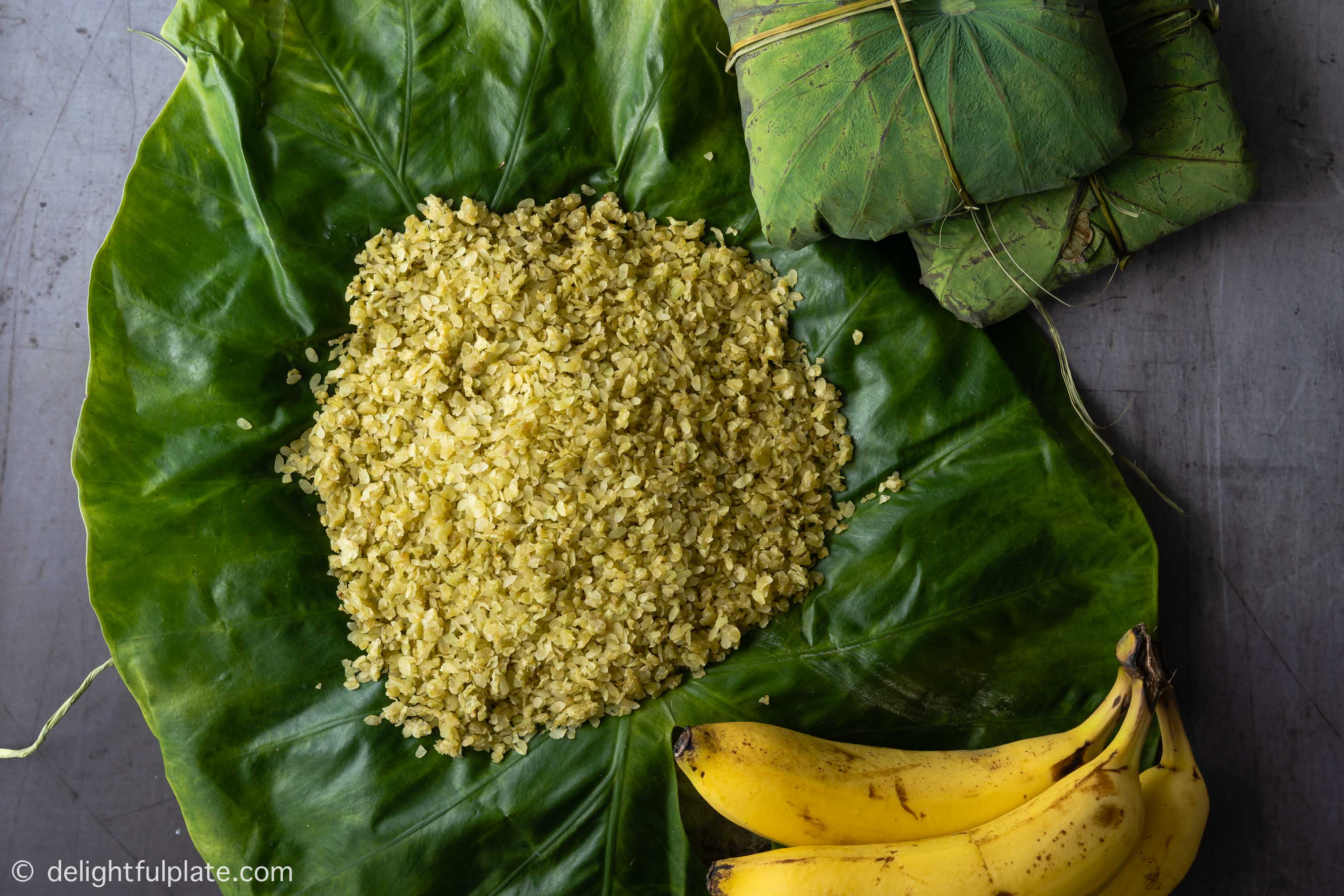 The most traditional and simple way to eat the rice flakes is enjoying directly as a snack. No, you don't just take a palmful amount and gobble up. Hanoians of the old days would only take a small amount at a time and chew slowly while noticing all the subtle flavors. It is also traditional to pair fresh cốm with ripe bananas and persimmons.
Since its flavors are subtle, Vietnamese people can have a good amount of liberation in combining it with other ingredients to make delicious sweet treats. Some of the popular ones are young green rice ice cream (kem cốm) or young green rice cake (bánh cốm).
Young green rice ice cream is a signature of Trang Tien ice cream shop (established in 1958) in Hanoi. This place may not have the best ice cream in the city, but it is an iconic landmark, a memory of not just Hanoians but anyone who has lived in Hanoi.
Cốm can also be added to sweet dessert soups (chè). We got to try some tasty young green rice mooncakes several years ago, although it is not a typical flavor for mooncakes. As a side note, you can find our traditional mooncake recipe here.
The texture is soft and chewy, however once moderate heat is used, cốm will puff up and become crispy. Think of it like rice krispies. When I was a kid, I loved eating cốm toasted with sugar (cốm rang), so crunchy and difficult to resist. This characteristic of cốm is also utilized in savory deep-fried dishes where people can use it instead of breadcrumbs.
Another famous savory dish with cốm of Hanoi cuisine is chả cốm (young green rice meat patties). The green rice flakes are mixed with pork paste, ground pork and seasonings, then formed into meat patties. They are fried until golden and usually served with rice vermicelli noodles, fried tofu, fresh herbs and dressing.
Although cốm is enjoyed in a number of places in Northern Vietnam, it is particularly treasured by Hanoians like my husband. If you find yourself in Hanoi during fall season, don't forget to give it a try. More than just food, it is a cultural symbol of the capital city.
Other Signature Dishes of Hanoi cuisine