Vietnamese Beef Potato Stir-fry (Thit bo xao khoai tay) is delicious, flavorful and filling. Add this quick and easy stir-fry to your family dinner rotation.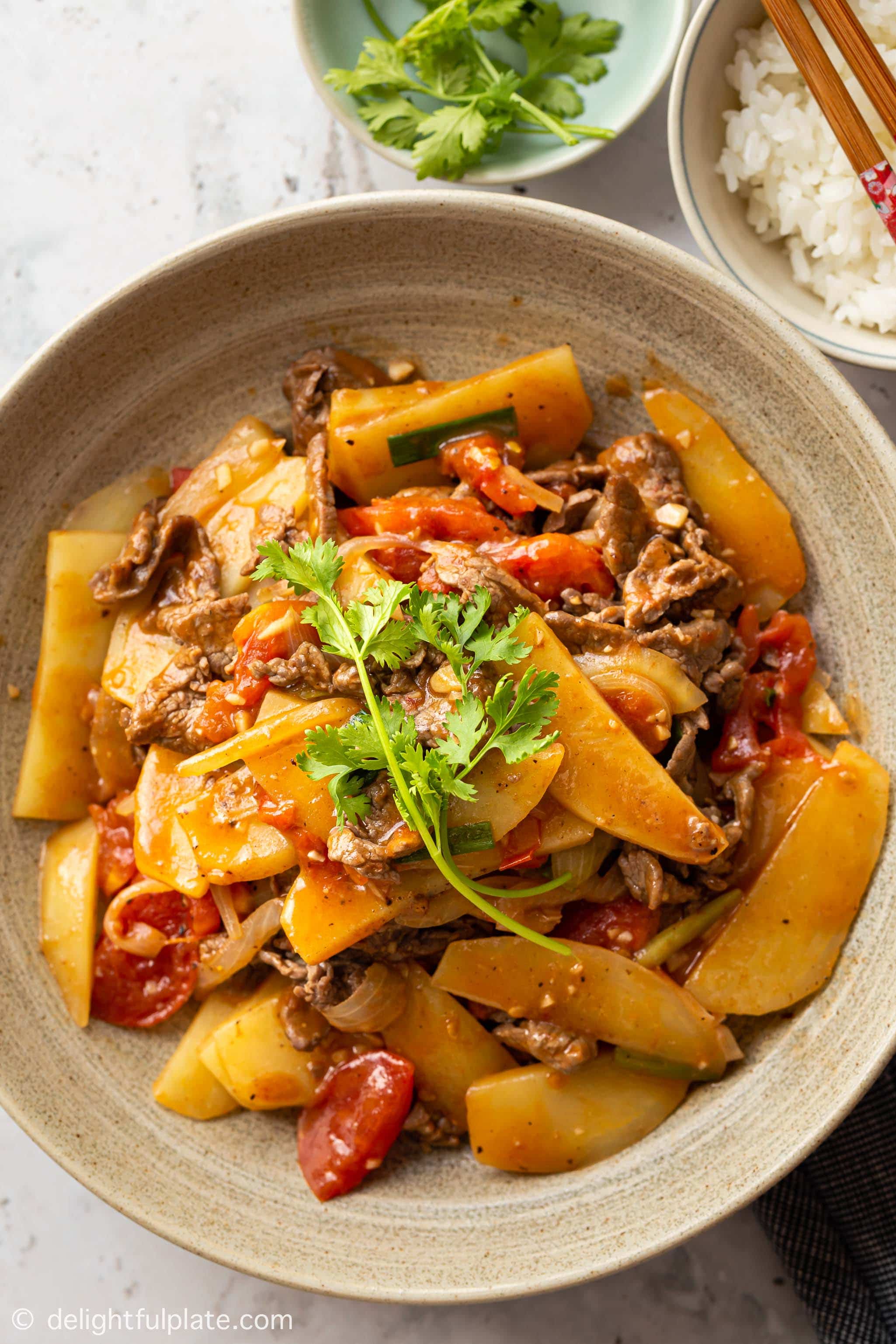 This beef and potato stir-fry is my childhood favorite. I remember asking my mom to make it for dinner every week, sometimes a few times a week, when I was a kid. The dish has a savory taste with flavorful beef and tender potato slices.
In Vietnam, we call it "thit bo xao khoai tay" or "khoai tay xao thit bo". The dish is usually served with steamed rice, and it is in the daily meal rotation of a lot of families since it is very quick and easy to make.
Related: another popular Vietnamese homestyle beef stir-fry is this stir-fried beef with bamboo shoots.
Watch How to Make Vietnamese Beef Potato Stir-fry
Subscribe to our Youtube channel for more easy-to-follow cooking videos!
Ingredients
There are several variations of beef and potato stir-fry in Northern Vietnam. One version uses Asian celery leaves and doesn't use tomato, and as a result, doesn't have much sauce. My favorite version, which I'm sharing today, contains tomato, and I find it more flavorful with a savory sauce to coat the beef and potato slices.
Below are the main ingredients for this recipe:
beef: my favorite cut for stir-fries is beef flank. It is beefy, flavorful, and easy to slice thinly against the grain.
potato
tomato, onion, and garlic
oyster sauce and fish sauce
Cooking Notes
1. The first thing to note here is this dish comes together fairly quickly. Therefore, have all ingredients prepared and lined up before turning on your stove. Asian stir-fries often require quite a bit of slicing. I find it very helpful to invest in high-quality sharp chef knives to make slicing ingredients easier and quicker.
2. Since beef and potato have different cooking time, you will need to stir-fry the ingredients separately. When stir-frying the beef, use medium-high heat and avoid crowding the pan for the best result. We don't want to steam the beef, which can happen if the heat isn't sufficient or there's too much beef in the pan.
3. Don't overcook the beef, or it will be tough and dry. For the potato, feel free to cook it to your desired doneness. Some like to cook the potato slices until just tender while some like them very soft, almost possible to fall apart.
Other Beef Recipes to Try
I'd love to hear what you think about the dish, so please feel free to leave a comment (and a rating if you have tried it). New recipes are added every week so let's connect on Facebook, Youtube, Pinterest and Instagram for the latest updates. You can find my collection of Vietnamese recipes here.
Vietnamese Beef Potato Stir-fry
Vietnamese Beef Potato Stir-fry (Thit bo xao khoai tay) is delicious, flavorful and filling. Add this quick and easy stir-fry to your family dinner rotation.
Print
Pin
Rate
Ingredients
9

oz

beef, thinly sliced against the grain

1

tablespoon

minced garlic, divided

1/4

teaspoon

salt

olive oil

1/2

teaspoon

cornstarch

10.5

oz

potatoes, peeled

(about 2 medium potatoes)

1

small

onion, thinly sliced

(or half a medium or large onion)

1

medium or large tomato

(about 6 oz, or 2 small tomatoes)

3-4

tablespoons

water

1

tablespoon

oyster sauce

(to taste)

1

teaspoon

fish sauce

(to taste)

2-3

scallion stalks, sliced into 2-inch long pieces

(optional)
Instructions
Place thinly sliced beef in a mixing bowl. Add 1 teaspoon of minced garlic, ¼ teaspoon salt, ⅛ teaspoon black pepper, 1 teaspoon oil and ½ teaspoon cornstarch. Mix well and set aside.

Slice potato in half lengthwise, then slice into thin slices (about ⅛ inch thick). If you are not cooking right away, cover potato slices with water to prevent them from turning brown/gray. Cut tomato in half, then cut into thin slices or thin wedges.

Place a pan over medium heat and add enough oil to cover the bottom. Once the oil is hot, add potato slices, stir and cook briefly for about 10 seconds. Add 1 teaspoon of minced garlic, stir and cook until garlic is fragrant.

Add about 3 tablespoons of water to the pan to cook the potato slices. Move them around to let them cook evenly. Cook for about 5 minutes until potato is softened and there is no water left in the pan. If potato is not softened enough, you can add another tablespoon of water and continue to cook.

Add onion slices to the pan, then stir and cook for 30 seconds. Add tomato slices and continue to stir and cook until onion and tomato slices are soft, about 2 minutes. Check if potato is almost tender to your liking, then add 1-1½ tablespoons oyster sauce. Stir quickly to combine thoroughly, then set the stir-fried potato aside.

You can continue cooking with the same pan or use a clean pan. Place it over medium-high heat and heat some oil. Add the remaining minced garlic and sauté briefly until fragrant. Then add beef slices, then toss and stir constantly to sear the beef.

Once the beef is about 80% cooked, add the stir-fried potato to the pan and toss everything together. Then add 1 teaspoon fish sauce and continue to toss and cook until the beef is just cooked through and potato is tender to your liking. Adjust seasonings to taste.

Sprinkle black pepper, add scallion pieces then give everything a final stir. Transfer to a serving plate and serve right away with rice.
Video
Notes
This recipe is enough to serve 2 people as the only main dish. It can serve 3-4 people as part of a meal with 1-2 additional dishes.
My favorite cut for beef stir-fry is flank steak. You can also use other cuts, just make sure you slice it thinly against the grain.
Nutrition
Calories:
338
kcal
|
Carbohydrates:
24
g
|
Protein:
19
g
|
Fat:
19
g
|
Saturated Fat:
8
g
|
Cholesterol:
60
mg
|
Sodium:
568
mg
|
Potassium:
830
mg
|
Fiber:
3
g
|
Sugar:
3
g
|
Vitamin A:
421
IU
|
Vitamin C:
29
mg
|
Calcium:
38
mg
|
Iron:
3
mg