This Vietnamese-style Steamed Squid highlights the natural flavors of squid. Quick and easy to prepare for daily meals.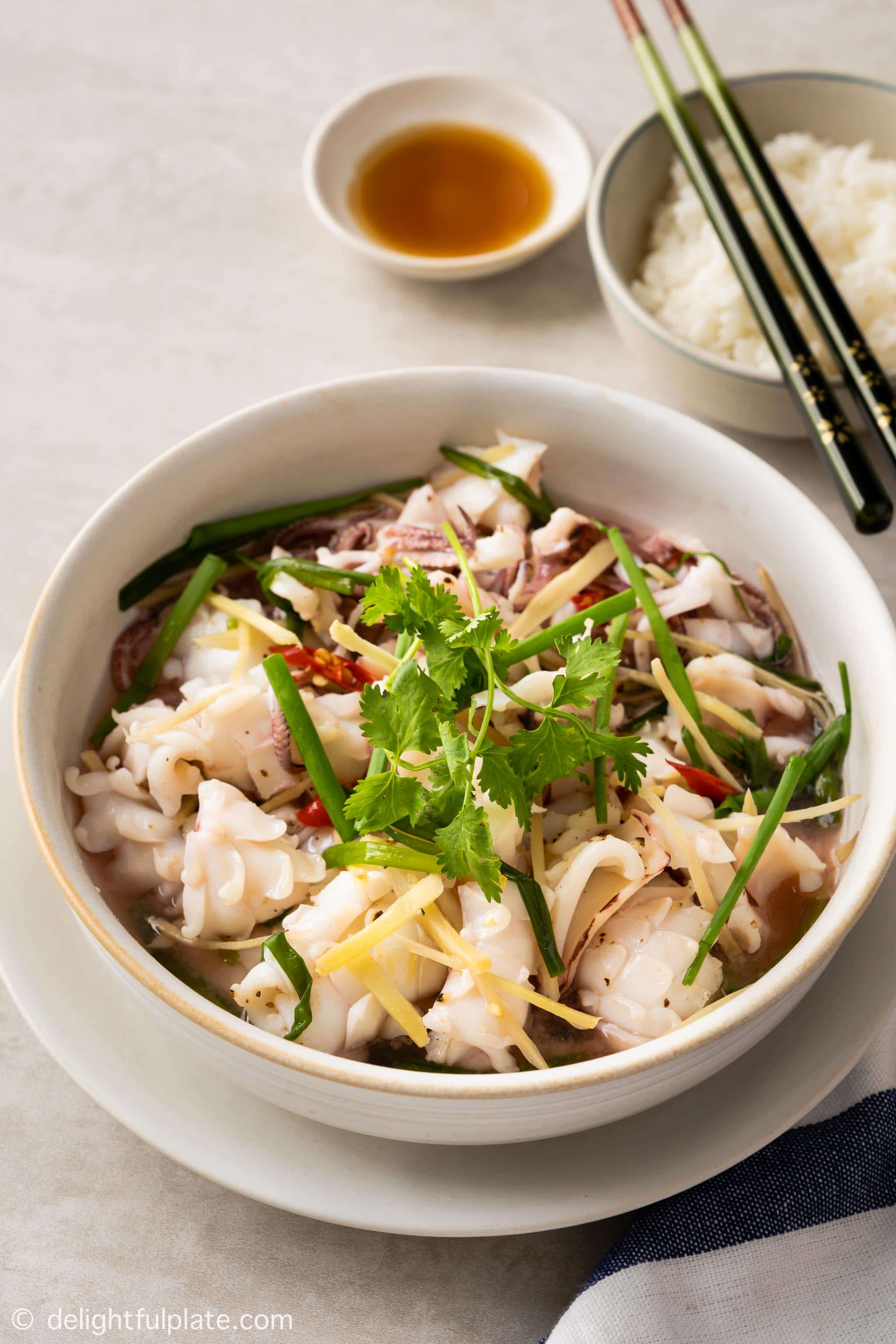 Steaming is a healthy cooking method that retains natural goodness of ingredients while not using a lot of oil or heavy seasonings. This method works great for seafood, including fish, clam and squid.
Many Vietnamese people love to start dinner with a lightly cooked seafood dish such as this steamed squid with scallion and ginger. The Vietnamese name of the dish is "mực hấp hành gừng". It is light and fragrant, and the squid is mildly sweet with a pleasant texture once you get the cooking time right.
Ingredients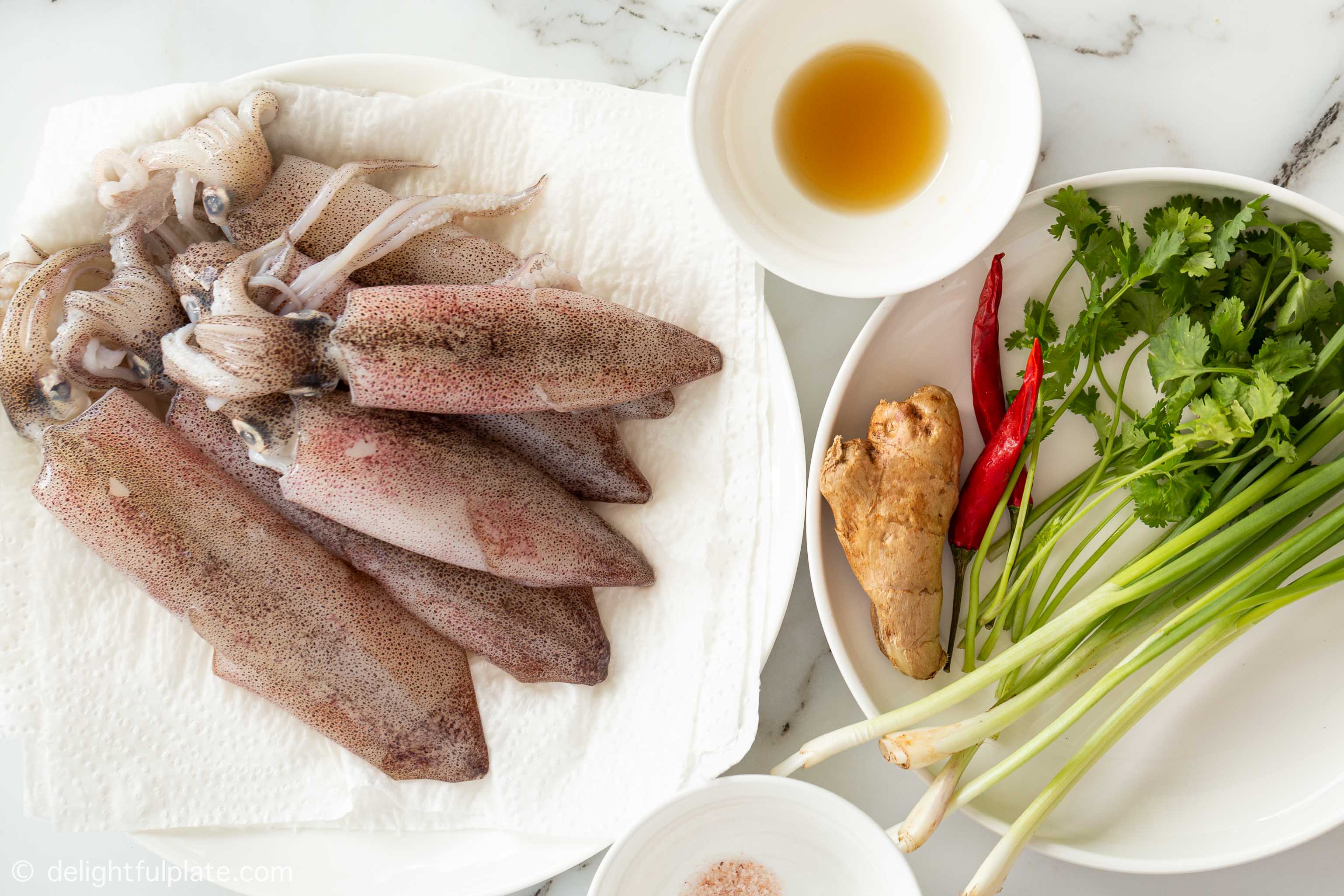 This recipe requires just a handful of ingredients:
squid (or calamari): it's best to use squids of small size, about 6-7 whole squids per pound, for the best taste and texture.
ginger and scallion. I also like to add several slices of bird's eye chili.
salt, pepper and sesame oil.
If possible, use squids that are very fresh. They shouldn't have unpleasant fishy smell. Frozen squids are fine and I recommend choosing the ones that are frozen right after being caught if you can.
How to Clean Squid
Cleaning whole squid may sound like an intimidating task, but it actually isn't. Here are the main steps:
Remove the head from its body.
Discard the cartilage in the body tube and peel away the skin membrane. The skin is edible, but we usually remove it for aesthetic reasons.
Discard the innards, head and beak. We just need the tentacles.
Clean squid body and tentacles thoroughly and pat dry before using.
You can watch the video below to see how to clean as well as how to steam squid.
Watch the Recipe Video
Subscribe to our Youtube channel for more easy-to-follow cooking videos!
For this recipe (as well as for this stir-fried squid recipe, grilled squid recipe and green mango salad with seafood recipe), I cut the squid into slices after scoring it. That way, it will look prettier in the final dish. Besides, when you slice squid like this, it will be easier for flavors to penetrate into the squid. It is also fine to use squid rings if you prefer.
Cooking Notes
It is very quick and easy to steam squid. The most important thing to avoid is overcooking it, which will make it rubbery and tasteless. For this dish, you will need a heat-proof bowl or shallow plate that will fit inside your steamer.
You can place the squid slices in two layers and steam for about 6-7 minutes. It's also possible to pile them in three layers and the cooking time will increase to about 8 minutes. Don't pile them more than that since it will lengthen the cooking time and some of them may be overcooked.
I like to serve it immediately with some fish sauce on the side. It is tasty on its own as an appetizer like that or you can also eat it with rice as a main dish.
Related Recipes
Other seafood recipes to try:
Other steaming recipes:
⭐️ I'd love to hear what you think about the dish, so please feel free to leave a comment and a rating if you have tried it. New recipes are added every week so let's connect on Facebook, Youtube, Pinterest and Instagram for the latest updates. You can find my collection of Vietnamese recipes here.
Steamed Squid (Mực Hấp Hành Gừng)
This Vietnamese-style Steamed Squid highlights the natural flavors of squid. Quick and easy to prepare for weeknight dinner.
Print
Pin
Rate
Ingredients
14-16

oz

whole squids

(or use 10oz/280g of cleaned squids)

1/4-1/2

teaspoon

salt

1/8

teaspoon

black pepper

1

teaspoon

sesame oil

3-4

scallion stalks

1

oz

ginger, peeled

1

bird's eye chili, optional
Instructions
Cut squid along the body tube, then grasp the head and pull away from the body. Remove the cartilage in the body and peel the skin membrane away.

Cut the tentacles from the head just below the eyes. Discard the innards, head and beak, reserve the tentacles.

Lay the squid body flat on a cutting board with the inside surface facing you. Use a sharp knife to score diagonal cuts in a crisscross pattern, about ½-¾ inch apart, on the inside surface. Do not cut all the way through. You can watch the video in the post to see how to clean and cut the squid.

After scoring, slice the squid body into smaller pieces. Also slice the tentacles into smaller pieces if needed. Mix the squid with salt, pepper and sesame oil and set aside for 5-10 minutes.

Slice scallion stalks into 2-inch long pieces. Cut ginger into thin slices and then julienne. Also cut chili into thin slices.

Arrange two thirds of the scallion and ginger in a large heat-proof shallow plate or bowl that can fit inside your steamer. Then pile the squid pieces on the aromatics. Scatter the remaining scallion, ginger and chili on top.

If using a bamboo steamer, no need to cover the plate. If not, cover the plate with foil. Steam for about 6-8 minutes or until the squid is just cooked through. Check the doneness after 5 minutes to avoid overcooking which will make the texture become rubbery.

Serve immediately with fish sauce on the side. You can also sprinkle more salt and pepper over the steamed squid.
Notes
I recommend using squids of small size for the best taste and texture. You can also cut the squids into rings, which is easier. Scoring then slicing will make it look prettier though.
Nutrition
Calories:
146
kcal
|
Carbohydrates:
7
g
|
Protein:
21
g
|
Fat:
3
g
|
Saturated Fat:
1
g
|
Cholesterol:
308
mg
|
Sodium:
255
mg
|
Potassium:
398
mg
|
Fiber:
1
g
|
Sugar:
1
g
|
Vitamin A:
163
IU
|
Vitamin C:
11
mg
|
Calcium:
51
mg
|
Iron:
1
mg