Phở Bò (Vietnamese Beef Pho Noodle Soup) is the national dish of Vietnam, a dish that many Vietnamese hold dear to their heart. Learn the authentic way to make beef pho and serve it like a true Vietnamese, as well as cooking tips you may not find elsewhere.
The beef pho broth recipe in this post leans toward Northern-style (since we're from Hanoi) with suggestions to tweak it to be more like Southern-style. You will also find instructions to serve the noodle soup in each style.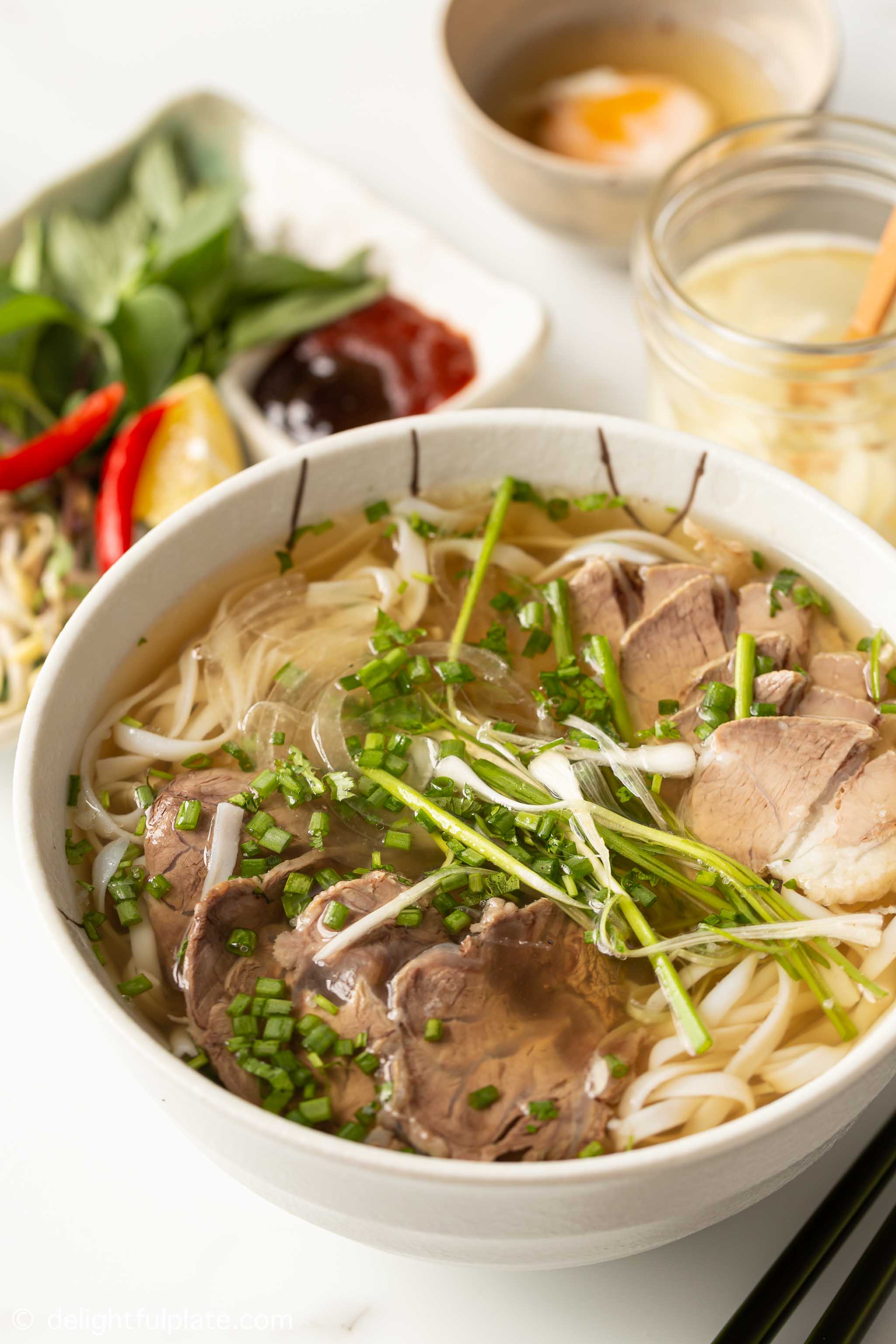 What is Phở Bò
"Phở" means rice noodles and "bò" means beef. A bowl of beef phở consists of soft slippery noodles in a hearty, beefy yet fragrant broth and beef slices of your choice. This dish is the most famous Vietnamese noodle soup without any doubts.
Some say pho bo originated in Hanoi while some firmly believe its origin was Nam Dinh, another Northern Vietnamese city a couple of hours away from the capital. Regardless, the dish was created in the North of Vietnam and traveled down South later.
In Vietnam, pho bo is well-loved as a breakfast. A lot of people also eat it as a quick lunch or late night supper. I'd say it's delicious any time of the day.
Watch How to Cook Beef Pho at Home
Types of Beef Pho Noodle Soup
When talking about types of beef pho soup, we usually think of two ways of classification, by type of beef toppings and by region.
By Type of Beef Toppings
Whenever you go to a pho joint in Vietnam, you will be presented with various meat topping options, and each option has its specific name. Some popular ones are:
Phở chín: beef noodle soup with well-done tender meat that can be brisket, flank or shank for example. It can also be called phở nạm. In English, it may be called well-done beef pho, beef brisket pho or beef flank pho.
Phở tái: beef noodle soup with thin slices of raw meat quickly poached in the broth. The English translation for it is rare beef pho.
Phở tái lăn: beef noodle soup with seared thin slices of beef which are very aromatic.
Phở bò sốt vang: beef stew pho noodle soup, which has a different taste than those above but very hearty and flavorful. You can find my beef stew pho recipe here.
And of course, diners can combine meat toppings for their bowl of pho however they want. Besides the options above, they can also add beef meatballs (mostly in the South), tendons or tripes. Below is a photo of phở tái chín (or phở tái nạm), consisting of both well-done and rare beef.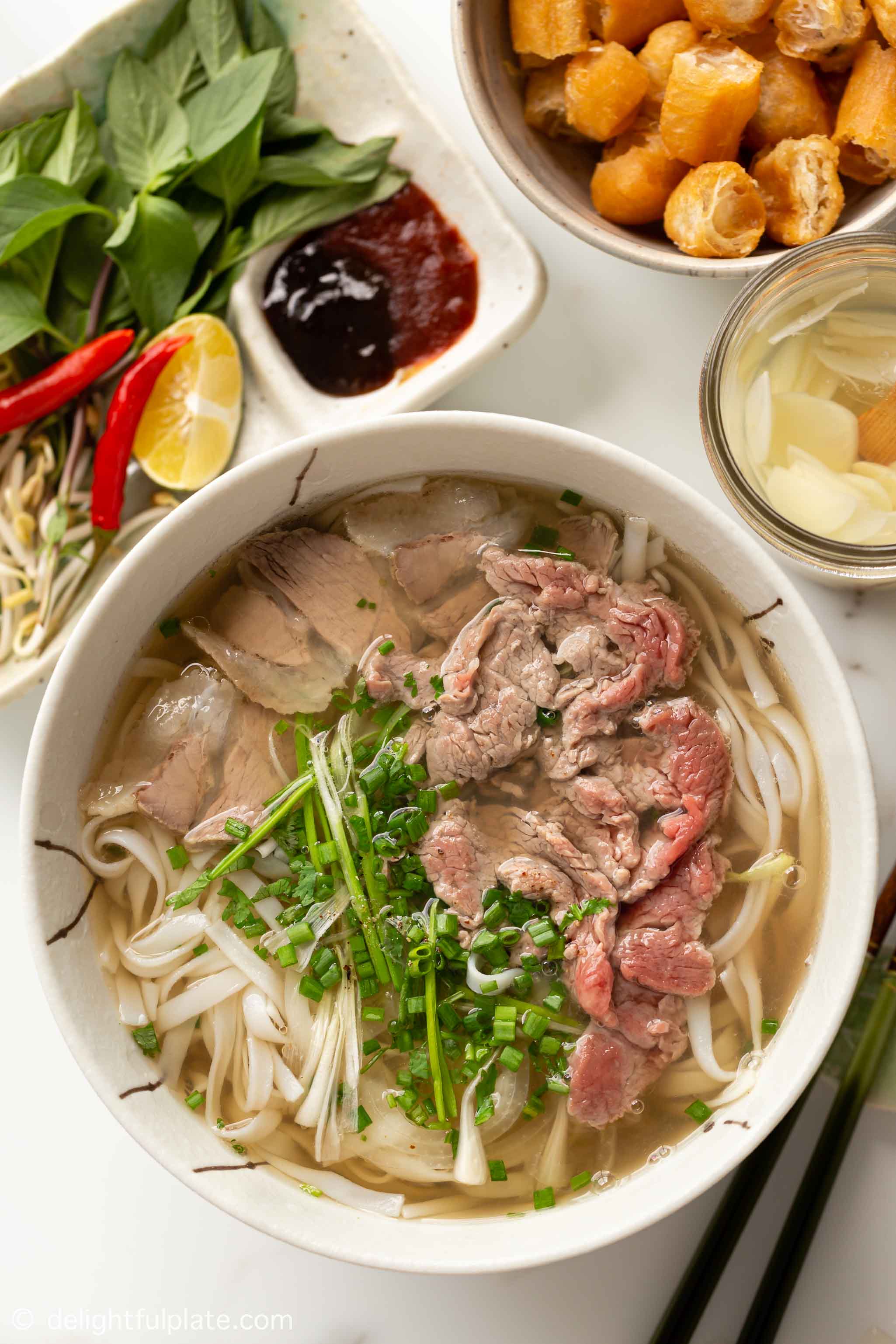 Besides being the national dish, pho bo is also a topic of interest in Vietnamese literature from a long time ago. Two famous Vietnamese writers, Thạch Lam (1910-1942) and Nguyễn Tuân (1910-1987), both praised that the most traditional and tastiest pho noodle soup is the version with well-done beef. It also happens to be my most favorite type of pho soup, but it's really a matter of personal preference. My dad, for example, prefers rare beef pho.
By Region
Now here's the bigger debate of what is more delicious, Northern pho or Southern pho? As I have explained in many of my posts before, Northern and Southern cuisines have similarities while being very different. In general, someone born in the North will vouch for Northern pho and can rarely get used to Southern pho flavors and vice versa.
Again, it's a matter of preference and here are some major differences.
Northern pho: savory broth with very mild sweetness. The broth is clear with a golden hue. Pho is never served with hoisin sauce nor a veggie platter like in the South. The rice noodles are usually wider and each bowl often has a lot of scallion.
Southern pho: sweet broth with a darker color. Pho is served with hoisin sauce and a veggie platter of bean sprouts, Thai basil and saw-tooth leaves. The rice noodles are not as wide, and there isn't as much scallion in each bowl as with Northern pho.
What do we prefer? Our favorite will always be pho bo Hanoi.
Why This Recipe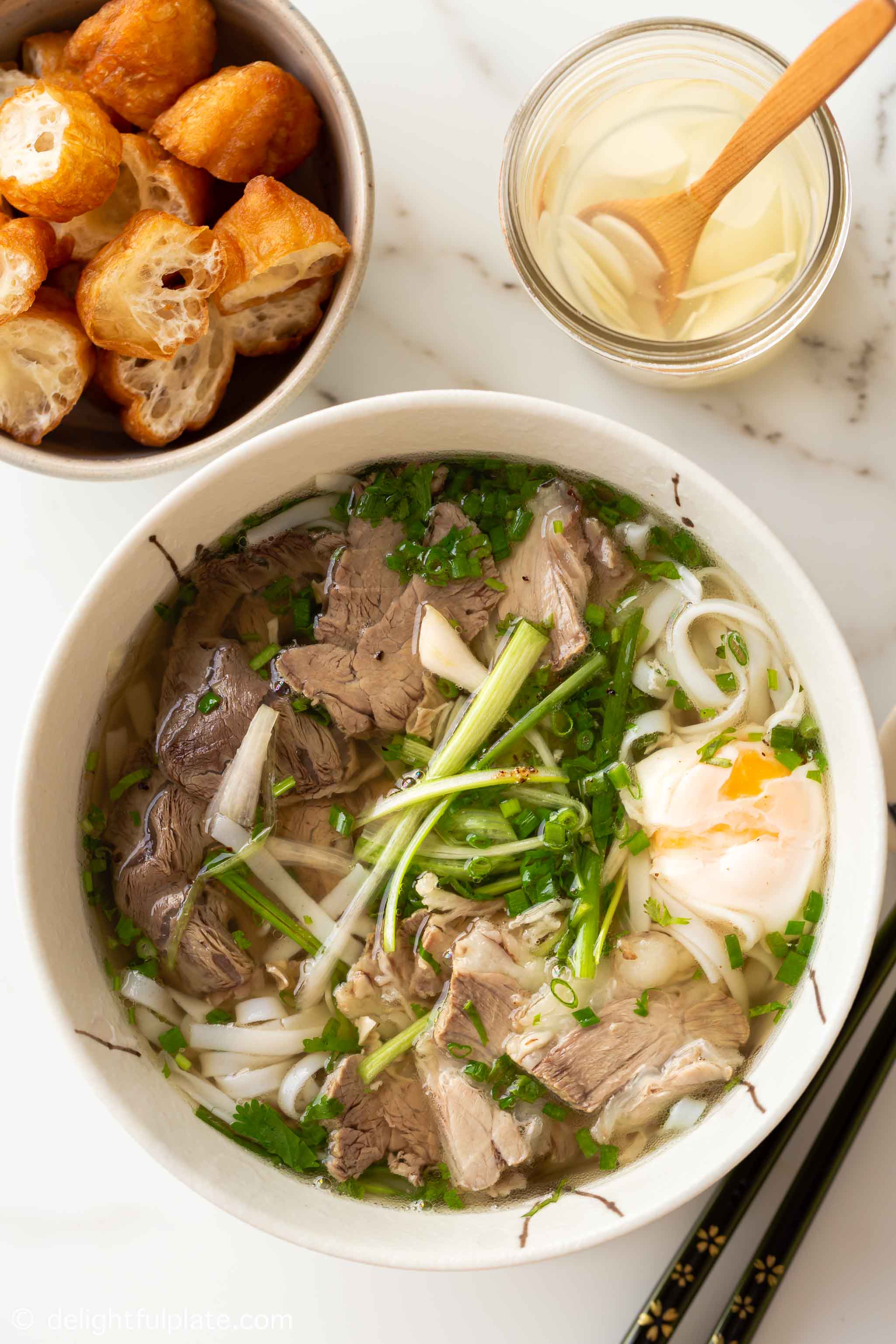 This beef pho recipe is authentic with all real, natural ingredients. It is the result of a number of experiments and discussions between us, native Vietnameses who grew up eating pho on a daily basis for over 20 years of our life in the North, and our Saigonese chef friend. The authentic flavors are deeply engrained in us, and this recipe contains tips and secrets you may not find anywhere else.
We also spent a few years living in the US, so we had tried pho in different parts of the US. I think it is not difficult to cook pho at home, and this recipe is very straightforward. It just requires a bit of patience, and the result is better than what you will get at most restaurants.
Master Beef Pho Broth
The hearty and complexed broth of pho noodle soup is the result of slowly and gently simmering beef bones, meat, aromatics, and spices.
Beef Bones and Meat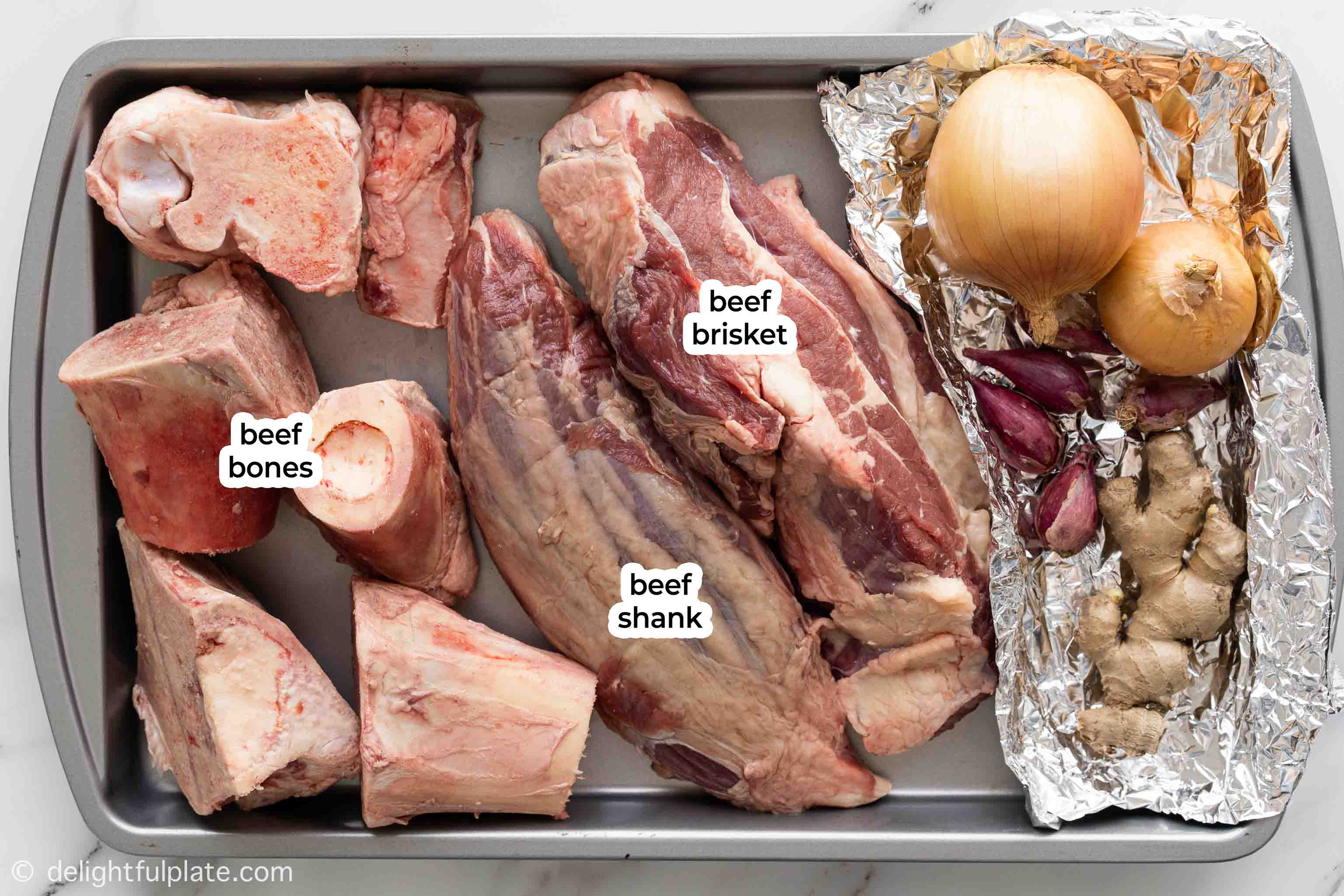 I recommend using marrow bones for a deep flavor. Oxtail is an option and we used it in the past. The thing is oxtails don't contain many bones, so the broth lacks depth even though it is beefy and that's why you should still add some beef bones. Some other options are knuckle bones and neck bones.
Even when using bones, I think it's still necessary to add a large boneless cut of beef like brisket and shank to the broth. They will make the broth more beefy and hearty. In addition, you can use them as well-done meat toppings for your pho bowls since they have a combination of meat and fat/muscle, resulting in a nice texture. Use kitchen twine to tie the meat before cooking to retain a nice shape.
Aromatics
Charred onions and ginger add another layer of depth to the broth. If you have shallots on hand, also char and add them for more complexity. You can char aromatics with a grill pan like I do in the video, or broil in the oven. It can take 10-15 minutes to do this, so be patient.
Spices
Beef pho spice blend consists of cassia bark/cinnamon (quế), star anise (đại hồi/hoa hồi), black cardamom pod (thảo quả), clove (đinh hương), coriander seed (hạt ngò), and fennel seed (tiểu hồi). Toast them in a skillet for several minutes until fragrant and place them in a spice bag for easy removal. In my opinion, the must-have spices are cinnamon, star anise, clove, and black cardamom pod.
Other Ingredients
Other ingredients you will need to flavor the broth are salt, fish sauce, and rock sugar. As a Northerner Vietnamese, I still think beef pho needs a small amount of rock sugar to round out the flavors. Chicken pho broth doesn't need sugar though.
My pho broth recipe leans toward Northern-style, but generally you can tweak the amount of fish sauce and rock sugar to make it more like Southern-style if you want.
The Do's and Don'ts that Make a Big Difference
Making pho at home isn't rocket science. It is actually intuitive and straightforward, but there are quite a bit of small details that make a difference. Therefore, please follow the recipe as closely as you can. Here are some important tips to keep in mind:
Do simmer gently and slowly with a lid slightly askew for a clear and complexed broth. I recommend simmering beef bones for at least 6 hours. Do 8 hours or more if you can since we notice a difference increasing to 8 hours.
Don't simmer the onions in the broth for too long or they will get slimy. 2 hours towards the end of cooking should be enough.
Don't add the spices right at the beginning. After 6-8 hours, your house will be filled with fragrances but not much is retained in the broth. Besides, simmering spices for an unnecessary long time will bring out its bitterness. So, add the spices in the last 1.5 – 2 hours of cooking.
Do skim off excess fat but don't discard all of it. We need some fat in the broth since some compounds that make our food flavorful are fat-soluble. It also gives you richness and a smooth mouthfeel.
Don't add fish sauce while simmering because the broth will turn sour. Wait until right before serving to season the broth with fish sauce and rock sugar.
Personally, I'm not a fan of using MSG. If you like to use it, don't add it while simmering. Add a small amount of it to your serving bowl right before pouring the hot broth.
Whether you prefer well-done, rare or seared beef, slice it thinly against the grain.
How to Serve and Eat Beef Pho like in Vietnam
So far, we haven't talked about pho, the rice noodles itself. You will want to use flat and fairly wide rice noodles. In Vietnam, people often use fresh rice noodles. You can use dried rice noodles which are more common outside of Vietnam.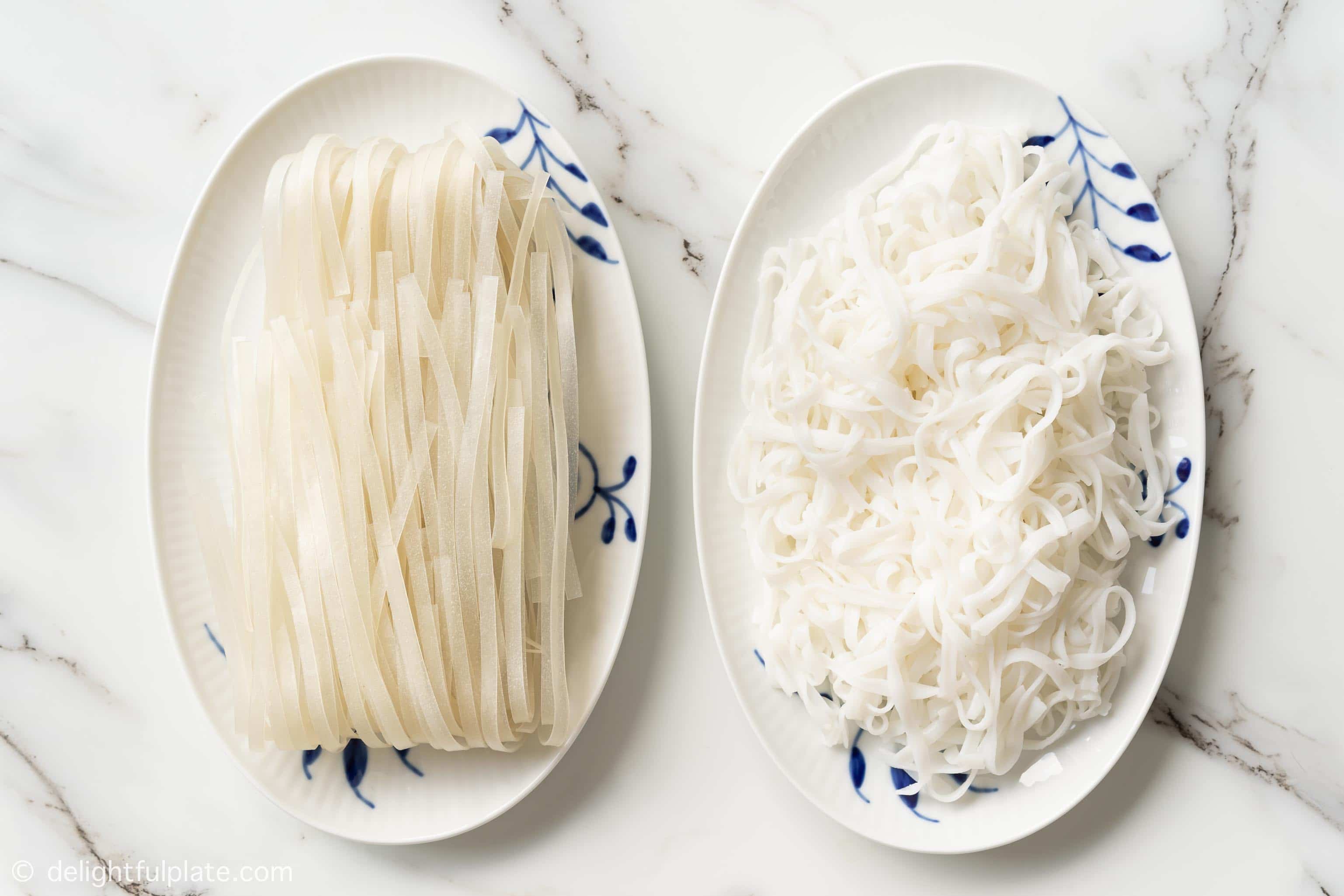 Beef pho is served with different condiments in the North and the South of Vietnam. I will list what is often served in each region and you can pick and choose what you prefer.
Serving beef pho in Northern-style with the following accompaniments:
paper-thin slices of onion
shredded white scallion part and a lot of thinly sliced green scallion part and cilantro
fried dough stick (quẩy): cut into short section and dip them in the broth. Personally, a pho experience is incomplete without these. I have a homemade fried dough sticks recipe here
poached egg: poach an egg in a separate pot and serve in a separate bowl with pho broth or directly in your pho bowl. Don't break the egg and eat it in one slurp if you can
garlic slices in vinegar: balance the heartiness of the noodle soup. Honestly I'm not a fan of it, but it is a traditional accompaniment
lime wedges and bird's eye chili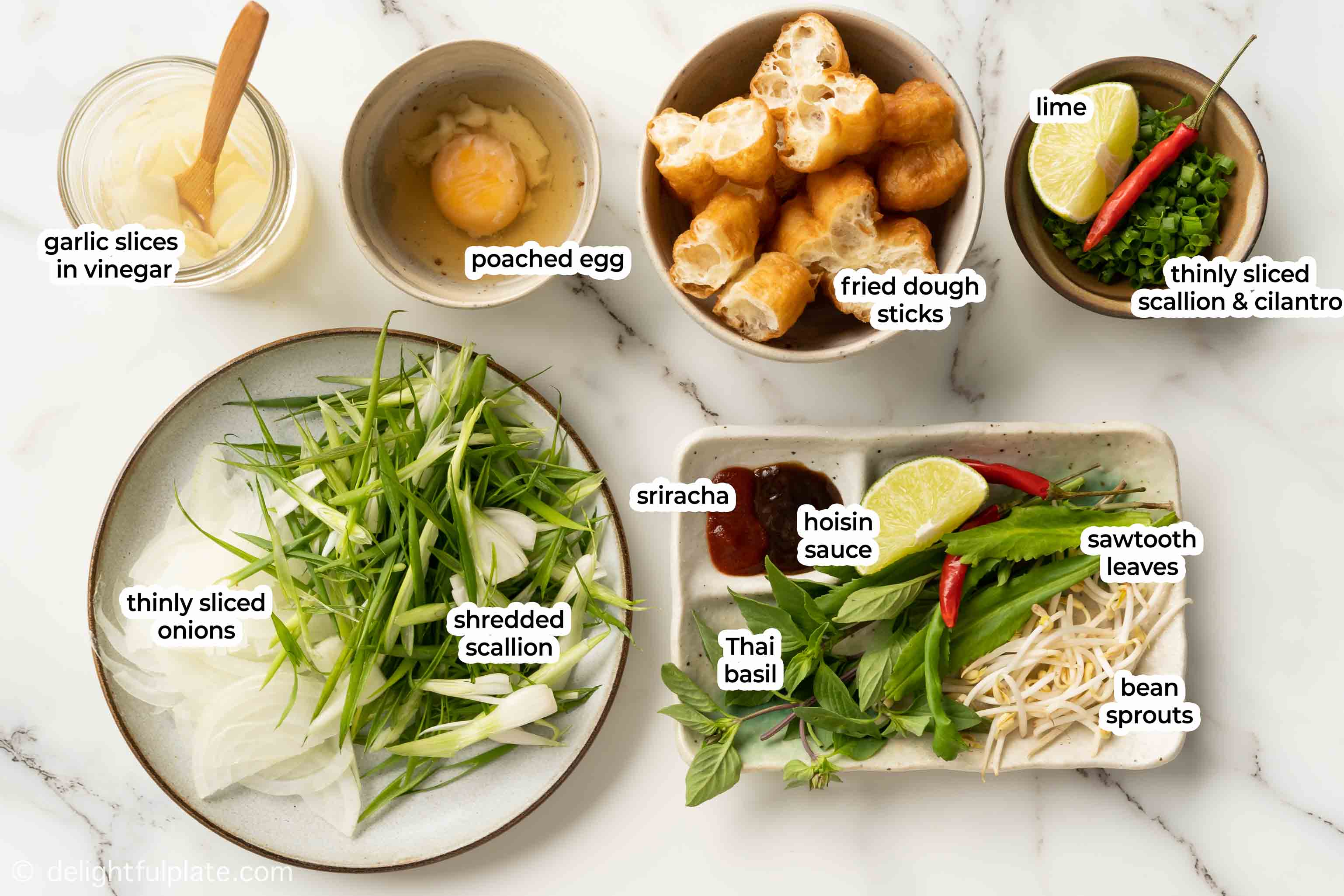 Serving beef pho in Southern-style with the following accompaniments:
thinly sliced scallions and cilantro
hoisin sauce and sriracha
a veggie platter with bean sprouts, Thai basil and saw-tooth leaves
lime wedges and bird's eye chili
I know there are a ton of pho recipes on the internet, but sadly many are not authentic or the cooking steps aren't accurate. Also, there aren't many recipes for Northern-style pho. I hope you will try my version and love it as much as we do. It is the flavor we grew up with in Hanoi, but of course you can tweak it to your liking. Please find detailed list of ingredients and instructions in the recipe card right below.
Related
More pho recipes to try:
I'd love to hear what you think about the dish, so please feel free to leave a comment and a rating if you have tried it. New recipes are added every week so let's connect on Facebook, Youtube, Pinterest and Instagram for the latest updates. You can find my collection of Vietnamese recipes here.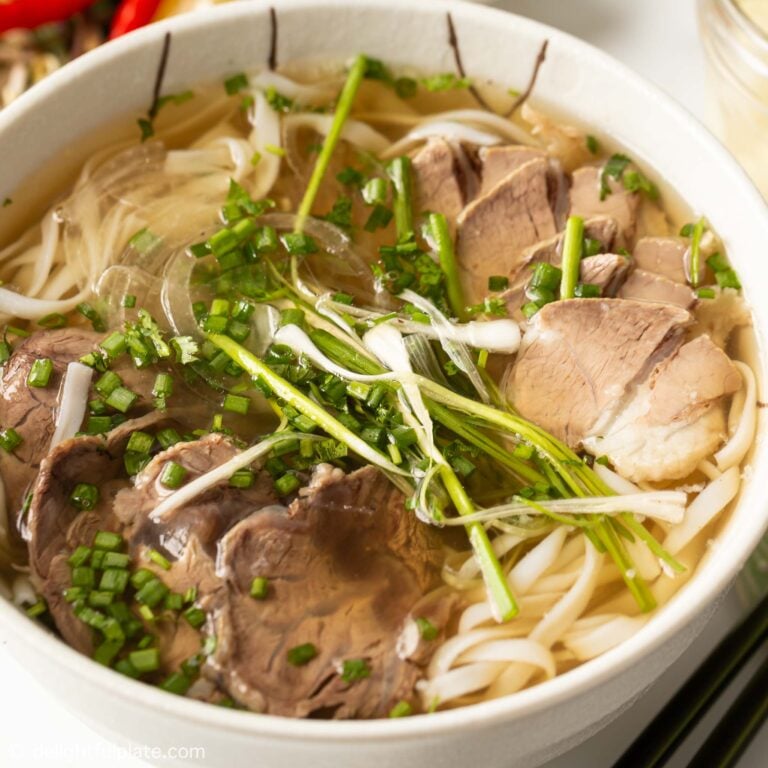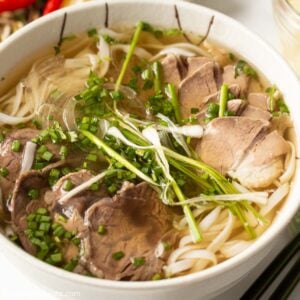 Authentic Vietnamese Beef Pho (Phở Bò)
Phở Bò (Vietnamese Beef Pho Noodle Soup) is the national dish of Vietnam, a dish that many Vietnamese hold dear to their heart. Learn the authentic way to make beef pho and serve it like a true Vietnamese.
Print
Pin
Rate
Ingredients
For the Broth
3

lbs

beef bones

1.25

lbs

beef brisket

1

lb

beef shank

14½

cups

water

(about 3.75 quarts)

1

tablespoon

salt

(and more for seasoning)
For the Aromatics
2

medium yellow onions, skin-on, slice in half

(about 12 oz)

2

big thumb-sized pieces of ginger, slice in half lengthwise plus 2 more slices

(about 2.5 oz)

4-5

shallots
For Seasonings
1

tablespoon

fish sauce

(to taste)

1

tablespoon

rock sugar
For the Bowls
1.5-2

lbs

cooked rice noodles

thinly sliced steak, such as tenderloin or sirloin

(optional, if you want to have rare beef pho)

1

medium yellow onion, thinly sliced into half moons

(try to make them paper-thin)

white scallion part, shredded

green scallion part, thinly sliced

cilantro, thinly sliced
Instructions
Prepare the Broth
Par-boil beef bones in plenty of boiling water for 10 minutes then transfer to a bowl of cold water and clean the bones. Bring a stock pot with 3.75 quarts of water to a simmer, then add the bones together with 1 tablespoon of salt and 2 slices of ginger (about 2-inch long).

Let everything come to a boil and skim off any foams, then reduce to a simmer. Cover with the lid askew and simmer very gently for 6-8 hours.

While simmering the bones, use kitchen twine to tie the beef brisket and shank. Par-boil them in boiling water for a couple of minutes. Rinse and add them to the stock pot. Adjust the heat to maintain a gentle simmer and skim off foams. Cover with the lid askew.

Cook the beef brisket and shank until tender to your liking. Beef brisket may take 2.5-3 hours and beef shank may take 1-1.5 hours. Once they are ready, remove them from the broth and add them to a bowl of iced water. Once cool, refrigerate them if the broth isn't ready yet.

About 2.5 hours before finishing simmering the broth, char onions, ginger and shallots (all with skin-on) on a grill pan or broil in the oven. It may take 10-15 minutes and you will see charred marks on their skin. The onions will feel softer with some juices bubbling. Peel off the skin and blackened part from the charred onions, ginger and shallots.

In a skillet over medium-low to medium heat, toast the spices for 2-3 minutes until fragrant. Be careful to avoid burning them (especially the cloves). Add them to a spice bag.

Skim off excess fat from the broth (note: leave some fat in the broth). Place the spice bag, onion, ginger and shallot in the stock pot and simmer them in the broth for about 2 hours prior to serving, then remove them.

Right before serving, season the broth with additional salt (I often add another teaspoon of salt), fish sauce and rock sugar to taste. Also check to see if too much water evaporates and you can add a splash of water to the broth if needed. Each bowl needs about 1½-2 cups (360-480ml) of broth depending on size (medium or large).
Assemble Beef Pho Bowls
Slice beef brisket and shank thinly against the grain.

Place rice noodles in serving bowls. Top with sliced cooked beef, raw beef slices (optional), thinly sliced onions, thinly sliced scallions, cilantro and freshly cracked black pepper.

Bring the broth back to a boil. Add the white parts of scallions to the broth to poach for several seconds, and then immediately ladle the soup into pho bowls. Serve right away with accompaniments of your choice. See list of accompaniments in the Notes below.
Notes
You can serve beef pho with accompaniments of your choice: fried dough sticks (quay), lime wedges and bird's eye chili, poached egg, hoisin sauce, sriracha, veggie platter with bean sprouts, Thai basil and saw-tooth leaves. Each region in Vietnam use different accompaniments and you can read more about that in the post.
The beef brisket and shank can be added any time while simmering the bones. Just make sure to leave enough time to simmer them with the bones since the bones take 6-8 hours while the brisket needs 2-3 hours and shank needs over an hour. The bones can even be simmered for 8-12 hours for stronger flavors. The onions, ginger, shallot and spice blend should be added during the last 2 hours of simmering the broth.
If you cannot find beef shank, you can use oxtails instead. Oxtails will need to be simmer slightly longer, around 3-4 hours until the meat is tender.
I use this recipe to serve 6 people. You can stretch it to serve 7-8 people by adding a bit more water, fish sauce and rock sugar. Just taste before adding water to avoid diluting the flavors too much
My pho broth recipe leans toward Northern-style, but generally you can add more fish sauce and rock sugar and simmer the spices a little longer to make it more like Southern-style if you want.
If you also want to serve the soup with rare beef topping in addition to well-cooked beef, I suggest 2 oz raw beef slices per serving.
To make ahead the day before and store pho: there are 2 options:
Stop when there are about 2.5 hours of simmering required for the bones (after Step 4 in the Prepare the Broth section). Refrigerate the broth. The next day, skim off excess fat that has solidified (note: leave some fat in the broth) and continue cooking from Step 5.
Stop after Step 7 in the Prepare the Broth section. Refrigerate the broth. The next day, heat the broth on the stove with a small piece of ginger and a small amount of spice (like a small piece of cinnamon, a star anise and a clove) for 20-30 minutes if you feel the spice fragrance is not as potent as the previous day.
To freeze: the broth can be kept frozen very well in a Ziploc bag. The cooked meat can also be frozen whole, and then when you want to eat it, let it thaw and slice.
Nutrition
Calories:
384
kcal
|
Carbohydrates:
41
g
|
Protein:
32
g
|
Fat:
10
g
|
Saturated Fat:
3
g
|
Cholesterol:
76
mg
|
Sodium:
1558
mg
|
Potassium:
678
mg
|
Fiber:
4
g
|
Sugar:
6
g
|
Vitamin C:
6
mg
|
Calcium:
82
mg
|
Iron:
4
mg