This tasty Strawberry Iced Tea can be prepared with minimal effort. No need to cook down the strawberries into a syrup or purée them!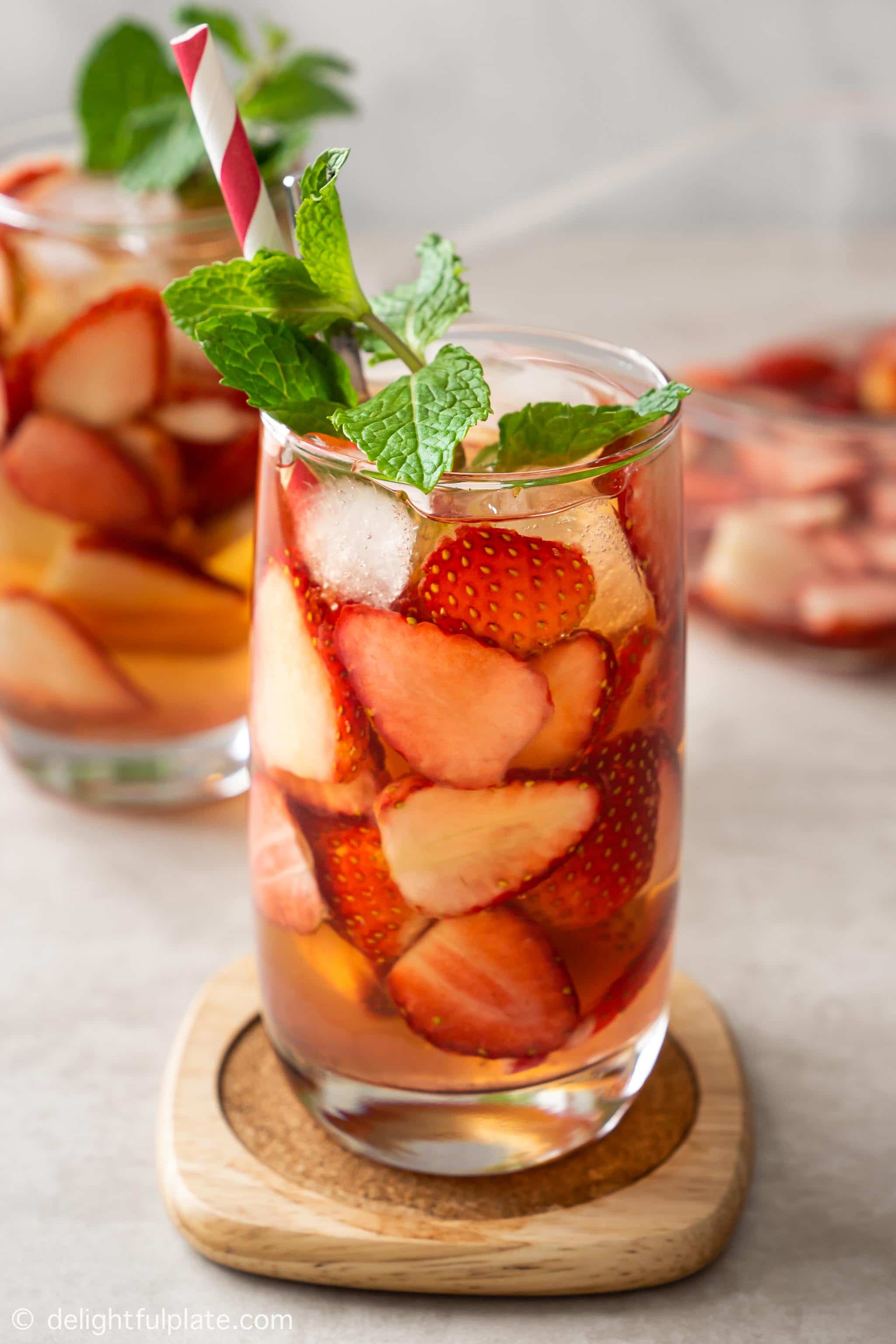 Since it's hot all year round in Saigon, sweet and fruity iced tea is available at every corner of the city. This strawberry tea is pretty popular here, and it is a little different from the Western version. Here, we serve the drink with plenty of juicy macerated strawberry slices which one will eat while drinking the tea.
The preparation method is also slightly different. I took a quick glance at some strawberry iced tea recipes on the internet, and they all require either cooking the fruits with sugar into a syrup/sauce or puréeing them. This Saigonese-style version uses a much more simple method, which is macerating strawberry slices in sugar overnight. We will talk more about it in the next section.
Ingredients
This drink requires just a few ingredients as below:
strawberry: you can use just ripe strawberries or even near ripe ones that are still a little sour. Thanks to the preparation method of this recipe, the near ripe strawberry slices will turn out juicy with a bit of texture and a sweet-tart flavor in your drink.
black tea: I recommend using loose leaf tea for the best taste. Don't use the ones with very strong distinguishing aromas. I often use whatever we have in the cupboard, and currently they are Kusmi Anastacia and Twinings Earl Grey.
other ingredients: water, sugar and ice. I like to add a sprig of mints to each glass for a relaxing effect.
How to Make Strawberry Tea
This iced tea is effortless to make because we can cold brew the tea and marinate the strawberry overnight. Cold-brewing results in a smoother and less bitter tasting tea. You can, of course, use hot brewed tea, but it will need time to chill in the refrigerator or require a lot more ice which will water down the drink.
I use my Hario cold brew pot to make the tea (photo above). It is very easy and convenient to use as well as very affordable. You can buy Hario cold brew pot from Amazon. The 600ml version is enough for me to prepare three glasses of this strawberry sweet tea. I usually cold brew the tea for at least 10-12 hours (it is still good after 12 hours).
That is about the same amount of time required to macerate the strawberry slices. After about 12 hours, all the sugar will fully dissolve, creating a syrup-like liquid infused with strawberry scents. The strawberry slices will become sweeter with a juicy texture. Over 24 hours, they are still good to eat but a little soft for my liking.
Please find the detailed instructions in the recipe card below. And don't forget to include a spoon when serving the drink :). I look forward to hearing what you think about this Vietnamese-style strawberry tea.
More Iced Tea Recipes
I'd love to hear what you think about the drink, so please feel free to leave a comment and a rating if you have tried it. New recipes are added every week so let's connect on Facebook, Youtube, Pinterest and Instagram for the latest updates. You can find my collection of Vietnamese recipes here.
Strawberry Iced Tea
This tasty Strawberry Iced Tea can be prepared with minimal effort. The preparation method in this recipe is how the drink is made in Vietnam.
Print
Pin
Rate
Ingredients
For the Strawberry
10.5

oz

near or just ripe fresh strawberries

2.5

oz

granulated sugar

(approximately 1/4 cup plus 2 tablespoons)
For the Tea
1 1/2

tablespoons

loose leaf black tea

3

cups

cold or room-temperature filtered water

ice cubes

a few sprigs of mints, for garnishing
Instructions
Trim off the leafy stems of strawberries and slice them into thin slices, about 1/8 – 3/16 inch thick. Place them in a clean container and add sugar. Toss the strawberry slices with sugar, and then cover the container and refrigerate overnight or for at least 10-12 hours.

Put the black tea in the cold brew pot, and then add filtered water. Place the pot in the refrigerator and steep overnight or for at least 12 hours.

When you want to serve the drink, divide the macerated strawberry slices along with the syrup-like liquid (which is the result of marinating the strawberries in sugar) among serving glasses, about 1/2 cup. Add ice cubes, about 1/2 – 2/3 cup of ice. Then add about 3/4 cup of the brewed black tea (180ml), more or less tea to taste. Place a sprig of mints in each glass and serve right away.
Notes
You may not use up all the brewed tea. Depending on your desired strength and sweetness of the drink, you can add more or less of the brewed tea. This recipe can even serve 4 people.
Both the brewed tea and macerated strawberries are still good after 2 days. However, I personally find that after 24 hours, the strawberries will become a bit soft for me.
If you make a big batch, you can stir the strawberry mixture after 4-5 hours, just to ensure all the sugar will fully dissolve by the time you need to put together the drink.
Products Used
Nutrition
Calories:
123
kcal
|
Carbohydrates:
31
g
|
Protein:
1
g
|
Fat:
1
g
|
Saturated Fat:
1
g
|
Sodium:
13
mg
|
Potassium:
155
mg
|
Fiber:
2
g
|
Sugar:
28
g
|
Vitamin A:
12
IU
|
Vitamin C:
58
mg
|
Calcium:
23
mg
|
Iron:
1
mg