Vietnamese Potato Salad is an easy side dish made with easy to find and affordable ingredients. You can make a large batch, refrigerate and enjoy it for 2-3 days.
What is Vietnamese Potato Salad
In Vietnam, we call this salad Russian salad (salad Nga) and it used to be extremely popular in restaurants 10 – 15 years ago. It is a colorful potato salad with the addition of carrots, pickled cucumbers, green peas, eggs and Vietnamese pork sausage. The dish is very flexible since the ratios of all the ingredients can be adjusted to however you like it.
Vietnamese pork sausage (gio lua) is made from pork (of course). Pork is pounded into a paste, then wrapped in banana leaves and steamed until cooked through.
In the U.S. and U.K., all Vietnamese grocery stores sell this sausage. In fact, one of the best ones I've had was bought from a Vietnamese grocery place in London.
We used the sausage widely in Vietnamese cuisine, for example, we can eat it with bread (banh mi), with noodles and with steamed sticky rice. If you don't like it or can't find it, you can use ham or regular Western sausage instead. This is how the sausage looks: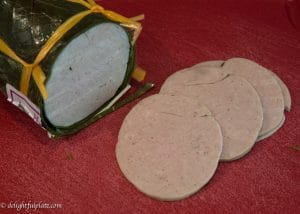 How to Make Vietnamese Potato Salad
I ate this Vietnamese potato salad a lot when I was in secondary school. My family had it at a restaurant, and I liked it so much that I asked my mom if she could make it. She said yes and bought all the ingredients and made it for me.
After a few times, she started showing me how to make this salad. She still boiled everything and then I diced and mixed all ingredients together. This salad was the first dish I made in the kitchen, even before learning how to cook rice properly in a rice cooker. It was also the only thing I could cook for the first 18 years of my life.
It is very easy to make the salad. Basically, you just need to cook potatoes and carrots, dice all ingredients and toss them together with mayonnaise. Please feel free to use more mayonnaise for a richer and creamier salad.
I haven't eaten Vietnamese potato salad for quite a while. The reason I want to share this recipe today is that this Sunday is Mother's Day. Since I now live halfway across the world from my mom, it's impossible for us to celebrate it. Making this salad again reminds me of many fond childhood memories with her.
You can certainly add eggs to this salad. However, if you want to eat it in more than one day, I think it's better to leave out the egg. I actually prefer it without eggs, but I still include a note about adding eggs at the end of the recipe. I hope you will like it and happy Mother's Day to all the moms in the world!
Some Vietnamese salad recipes you may be interested in: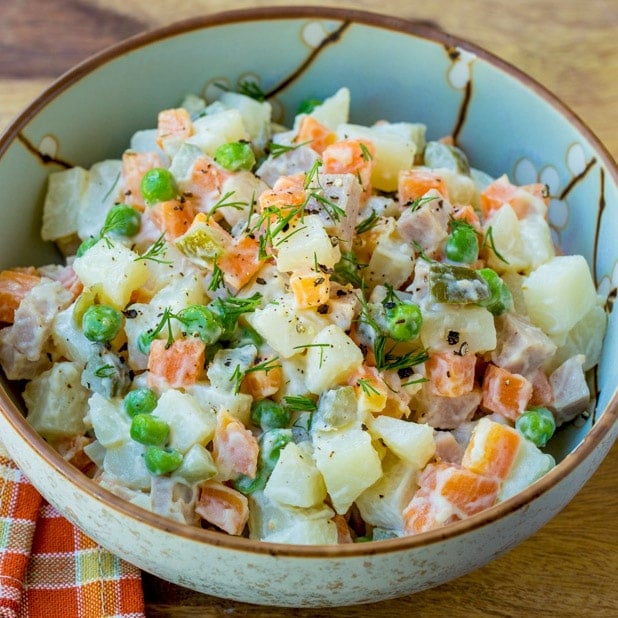 Vietnamese Potato Salad
A colorful Vietnamese potato salad with diced potatoes, carrots, green peas, ham and mayonnaise.
Print
Pin
Rate
Ingredients
2

medium potatoes

1

medium carrot

1/4

teaspoon

salt

1/4

cup

green peas

1/3

cup

diced Vietnamese pork sausage

(or ham, regular sausage)

1/3

cup

diced pickled cucumbers

3

tablespoons

mayonnaise

chopped dill for garnishing

(optional)
Instructions
Wash potatoes and carrot. Cut carrot in half crosswise.

Put potatoes and carrot into a pot, fill with enough cold water to cover them. Add salt, bring the pot to a boil and then reduce the heat to low. Cover the pot with a lid and boil potatoes and carrot in simmering water until they are tender, 10 - 20 minutes depending on the size of your potatoes and carrot. When they are tender, remove them from the pot, set aside and let cool a little bit.

Add green peas and just enough water to cover them in a small saucepan. Turn on the heat and after 3 - 5 minutes, when the peas are tender, remove them from the saucepan and let them cool.

When the potatoes and carrot are cool enough to handle, discard the skin and cube them. Place diced potatoes and carrots into a large bowl.

Add diced pickled cucumbers, diced Vietnamese sausage and green peas to the bowl.

Add 3 tablespoons of mayonnaise to the bowl and mix thoroughly to combine. Add salt and pepper to taste (I usually don't add any salt). If you want a more creamy salad, feel free to add more mayonnaise.

You can serve the salad immediately but it tastes much better after being refrigerated for 1 - 2 hours. You can sprinkle some chopped dill over the salad when serving it.
Notes
You can add eggs to this salad (though I prefer it without eggs). Instructions: while waiting for potatoes and carrots to cook in step 2, place an egg in a small saucepan, cover with enough water and place on the stove. Turn on the heat and when the water starts boiling, reduce heat to low and continue cooking for 10 - 12 minutes for hard-boiled eggs. When time's up, remove the egg from the saucepan, set aside and let cool. Peel and cut the egg in half lengthwise, scoop out the yolk and add it to the mixing bowl. Cut the cooked egg white into small pieces and add them to the bowl. Add all other ingredients and mix well.
Nutrition
Calories:
197
kcal
|
Carbohydrates:
22
g
|
Protein:
5
g
|
Fat:
10
g
|
Saturated Fat:
2
g
|
Cholesterol:
12
mg
|
Sodium:
368
mg
|
Potassium:
568
mg
|
Fiber:
3
g
|
Sugar:
2
g
|
Vitamin A:
2617
IU
|
Vitamin C:
26
mg
|
Calcium:
18
mg
|
Iron:
1
mg