Summer is when I seriously feel the need to eat more salad to beat the heat. This cabbage-based salad with mango, shredded chicken and herbs is so refreshing and crunchy. It is also beautiful to look at with all the vibrant colors.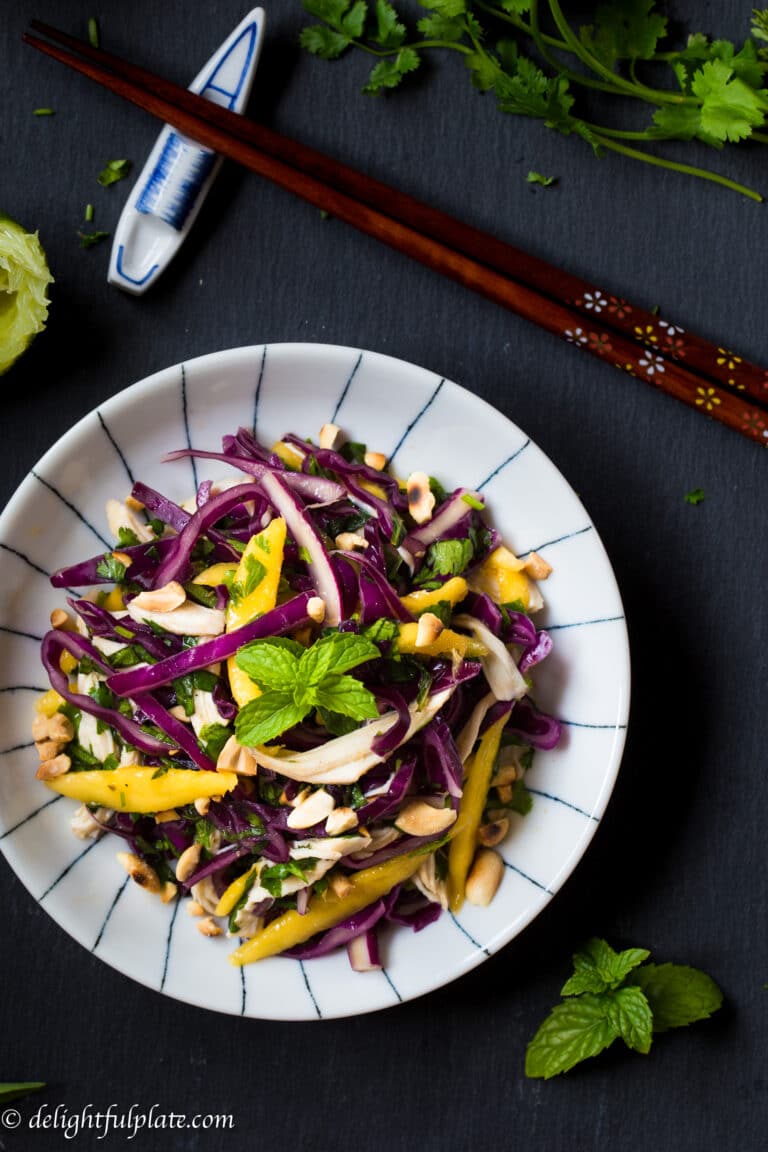 This chicken cabbage mango salad has all the features of typical Vietnamese salads. In Vietnam, we usually make tasty salads by bringing contrasting flavors and textures into balanced harmony. You can read more about them in this Vietnamese rare beef in lime juice salad post.
How to make chicken cabbage mango salad
I use chicken breast in this recipe, but please feel free to use thigh or drumstick. Chicken is poached with ginger, shallot and fish sauce to remove poultry odor as well as to make it more flavorful.
Red cabbage is crunchier than green cabbage. I choose to use red cabbage mainly because its dark purple color together with yellow (from mango) and green (from herbs) create such an eye-pleasing visual effect. I like to add some salt to shredded red cabbage before mixing it with other ingredients to remove some of its excess water. I somehow find the blue liquid from red cabbage looks a little weird and… disturbing.
If you don't like red cabbage, I think it's fine to use green cabbage. You will still need to salt the green cabbage, let it sit for 5-10 minutes and then squeeze out excess water.
Mango is another essential ingredient in this recipe. It is best to use unripe/near-ripe mangoes because they are firmer and not overly sweet. Some tartness from unripe mangoes also adds interesting tang to the dish. You may want to try this Vietnamese Fried Fish with Green Mango Salad recipe.
In Vietnam, the best herb to use in a chicken salad is Vietnamese coriander (rau ram). Its flavor/aroma is cilantro-like and more lemony and peppery than cilantro. I heard that this herb can cause some side effects if we eat it too frequently. I cannot find rau ram where I live, and I'm not sure about its availability in other places in the U.S. and other countries. However, cilantro, mint and Thai basil are more than capable of brightening this salad and making me happy.
Another Vietnamese salad you may want to try is Vietnamese Beef Noodle Salad (Bun Bo Xao). It is also very refreshing and healthy.
Chicken cabbage mango salad
Chicken cabbage mango salad is so refreshing and crunchy with contrasting flavors and textures. It is a beautiful salad with vibrant colors and it tastes as great as it looks.
Print
Pin
Rate
Ingredients
1

small piece of ginger

1

shallot

3/4

teaspoon

salt

(divided)

4

teaspoons

fish sauce

3

cups

finely shredded red cabbage

(about 1/4 of a cabbage)

1

mango

(unripe mango works best)

1/3

cup

roughly chopped mint

1/3

cup

roughly chopped cilantro

1/4

cup

roughly chopped Thai basil

3

tablespoons

lime juice

(juice of about one lime)

1/2

teaspoon

sugar

roasted peanuts, crushed

(unsalted)
Instructions
Place chicken breast in a pot and add enough water to cover it. Add ginger, shallot, 1/2 teaspoon of salt, 1/2 teaspoon of fish sauce. Bring to a boil, then reduce to low heat. Cover and simmer until chicken is cooked through, about 15 minutes. When chicken breast is fully cooked, transfer to an ice bath to stop cooking. Once it's cool, shred the chicken, put in a clean mixing bowl.

While chicken is being cooked, place shredded cabbage in a colander and add 1/4 teaspoon of salt. Let stand for 5-10 minutes then drain, put in the mixing bowl.

Peel and cut mango into thin strips. Place in the mixing bowl.

Add mint, cilantro and Thai basil to the mixing bowl.

Whisk together lime juice, sugar and the remaining fish sauce. Add the dressing and mix well to combine. It's best to taste as you add the dressing and adjust to taste.

Transfer to a serving plate, add crushed roasted peanuts and enjoy.
Notes
If you don't want the red cabbage to be too crunchy, you can add the dressing to the cabbage only, mix and let it sit for 5-10 minutes before adding remaining ingredients. It will become softer.