This delicious and luscious ground pork frittata features eggs, pork, onion, and basil with Vietnamese-inspired flavors. The minute it comes out of the oven, you will marvel at how good it smells.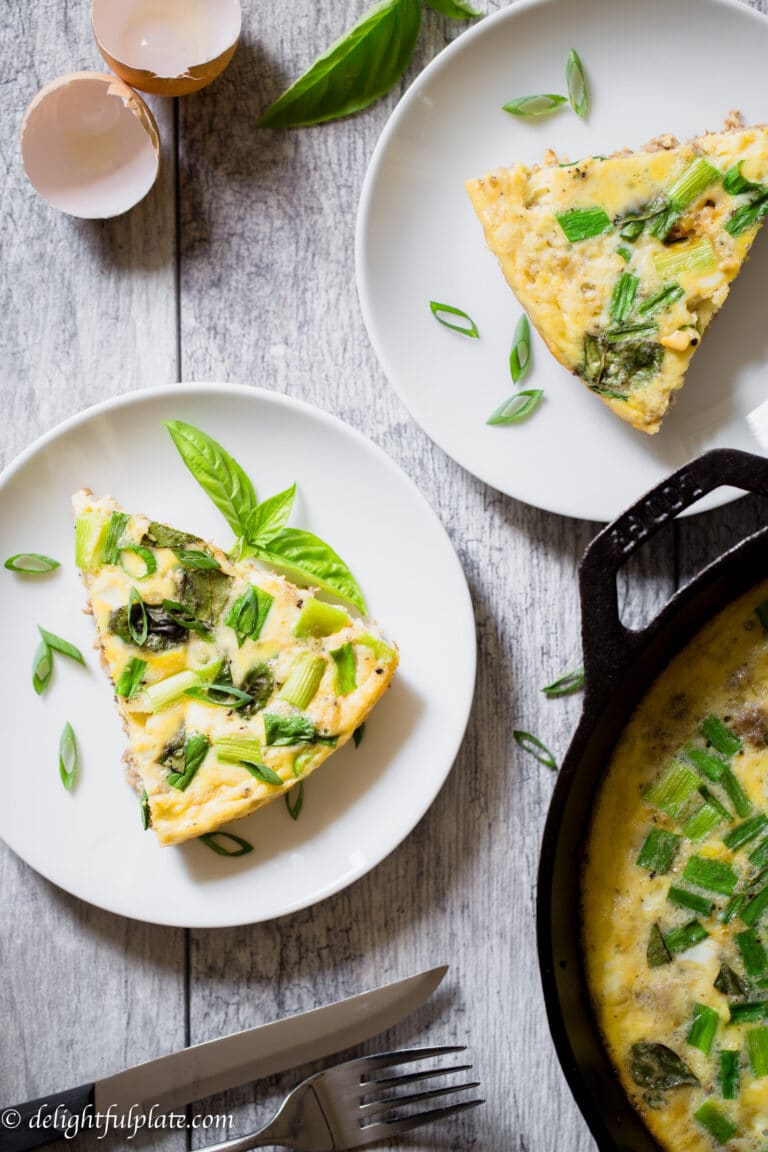 Traditional Vietnamese Frittata (Trung ran thit)
Almost every family in Vietnam eats frittata once a week. Traditional Vietnamese frittata usually contains eggs, ground pork, and aromatics such as shallots and scallions. We beat the eggs, then add all other ingredients and mix well. After that, we pour the egg mixture into a pan, cook until the bottom is golden brown and then flip it, cook the other side until golden brown and the meat inside is fully cooked. It only takes 5-10 minutes to cook depending on the thickness of the frittata and how much meat is in the dish.
What I'm introducing to you today is a modern version with my own twist. I absolutely love the traditional version, however, I find that the traditional method can result in a frittata with a somewhat dry and dense texture. Besides, flipping the traditional frittata can be tricky, especially if there are a lot of add-ins. The question "how to improve and elevate it" keeps lingering in my head.
A Ground Pork Frittata with Vietnamese Flavors
I recently watched a Japanese cooking animation (anime), and one of the characters made a salad dish containing frittata during an exam at his cooking school. I know this may sound silly, but I had a light bulb moment when I watched it. The cooking method of Italian frittata could be the answer to my question!
I read this useful article "How to Make a Perfect Frittata" on bonappetit and tested out the new method. I am happy to report that the result is really delicious. Though I have made it for dinner multiple times now, I'm still amazed at its soft and luscious texture. Just a small twist can make a huge difference! Another thing I like about this method is since it takes longer to cook than the traditional method, the flavors from all the ingredients meld together much better.
Cooking Tips
You should fully cook the onion and ground pork to release excess moisture before adding the eggs. You will also render fat from the pork when doing this. I always transfer the cooked pork and onion mixture to a plate lined with paper towel and remove excess fat from my cast iron pan.
After beating the eggs, add chopped scallion and basil, mix to combine and then pour the mixture into the skillet. When the edge of the frittata starts to set, put the skillet into the oven at 400F and cook for 12-15 minutes, until the center sets.
You only need to use one pan in this pork frittata recipe, and the pan should be oven-safe. I always use my Lodge cast iron skillet
to cook this dish. Detailed list of ingredients and instructions are in the recipe card below.
Another tasty recipe that may help you use up eggs and ground pork in the refrigerator is this Egg Meatloaf (Cha Trung).
Vietnamese-inspired Frittata with Ground Pork, Onion and Basil
This Vietnamese-inspired frittata features eggs, ground pork, onion and basil. It is so luscious, tasty and easy to make.
Print
Pin
Rate
Ingredients
1

small to medium yellow onion, diced

3

tablespoons

finely chopped shallot

2/3

cup

1'' long scallion pieces

3

tablespoons

almond milk

(regular milk is fine)

3

tablespoons

coarsely chopped basil

3/8

teaspoon

salt

(divided)

3 1/2

teaspoons

fish sauce

(divided)

0.75

lb

ground pork
Instructions
Preheat oven to 400F.

Prep all the veggies and herbs: dice the onion, chop the shallot, cut scallion into 1'' long pieces and roughly chop basil.

Beat 8 eggs in a bowl, add milk, scallion, basil, ⅛ teaspoon of salt, 1½ teaspoon of fish sauce and black pepper. Mix to combine. Set aside.

Place a 9'' - 10'' cast iron skillet over medium high heat. Add olive oil, shallot and onion, sauté for about 2 minutes until fragrant.

Add ground pork to the skillet, break into small pieces. Add 2 teaspoons of fish sauce, 1/4 teaspoon of salt and black pepper. Cook and stir frequently for 4-5 minutes to render fat and cook off moisture.

Line a clean plate with paper towel and transfer the cooked pork and onion to the plate to absorb excess oil. If there is too much fat in the skillet, remove some of it. You need just enough oil/fat in the skillet to coat the bottom and all sides of the skillet.

Adjust the heat to medium. Add the pork and onion back to the skillet, spread into a thin and even layer. Pour the egg mixture into the skillet. Cook until the side of the frittata starts to set, remove the skillet from the stove and put it in the oven.

Cook the frittata in the oven for 12-15 minutes, depending on the thickness, until the center has just set. Remove from the oven, let it rest for 2-3 minutes, then cut into wedges and serve.