This Spicy Beef Soba Noodle Salad is not only easy to make but also healthy and filling. It features beef, soba noodle, lots of fresh and crisp vegetables and a spicy dressing inspired by Korean flavors.
What are Soba Noodles?
Soba noodles, also called buckwheat noodles, are thin noodles made from buckwheat flour, or a combination of buckwheat flour and wheat flour. It has a rich and nutty flavor, making it one my most favorite noodles. Soba noodles can be used in both noodle soups and salads. I personally prefer soba noodle salads over soba noodle soups because their nutty flavor shines more in salad dishes.
This Spicy Beef Soba Noodle Salad is inspired by the soba noodle salad served at our local Korean restaurant. I add beef to make it more substantial for a meal and you can enjoy it as a main dish. This delicious and flavorful salad is very filling while easy on the stomach. You won't feel heavy at all after eating it.
Ingredients
To cook this dish, you will need soba noodles, ground beef, vegetables, aromatics, and condiments to make the dressing.
Asian grocery stores carry dried soba noodles from many brands, and nowadays you can also find them in Western grocery stores. You can also find a variety of soba noodles
on Amazon.
I like to use ground beef with some fat (about 15%-20%) since the fat will make the dish more flavorful. It is totally fine if you want to use leaner ground beef and make the dish healthier :).
As for vegetables, I use a combination of green and red cabbage, carrot and cucumber. They add freshness, crunchiness and colors to the salad. You will need to shred/julienne all the veggies. Using a mandolin
will help you shred the cabbage very quickly. Mine is an OXO mandolin.
To make the spicy dressing, you will need a Korean fermented condiment called gochujang. If you have tried bibimbap, I'm sure you are already familiar with it. Gochujang is made from Korean chili powder, glutinous rice, fermented soybean powder and some other ingredients. It is spicy, savory, sweet and smoky – very complexed flavor profile. You can buy gochujang at Asian grocery stores or on Amazon
. You will mix gochujang, soy sauce, rice vinegar and honey to make the dressing.
How to Make Spicy Beef Soba Noodle Salad
All the cooking steps are easy and straightforward. You need 30 minutes at most to make it.
First, you will need to boil soba noodles which doesn't take long, then rinse them under cold water thoroughly to get rid of the sliminess. Then stir fry the ground beef with aromatics and seasoning until cooked through and flavorful. Add soba noodles, shredded vegetables, cooked beef to serving bowls and then mix with the spicy dressing, and it's ready to serve. Please find step-by-step instructions and photos in the recipe card below.
You may also want to try this Pan-Seared Salmon Soba Noodle Salad with Ginger Dressing.
I'd love to hear what you think about this dish, so please feel free to leave a comment. You may also want to check out my other beef noodle salad with Vietnamese flavors. New recipes are added every week so let's connect on Facebook, Pinterest and Instagram for the latest updates.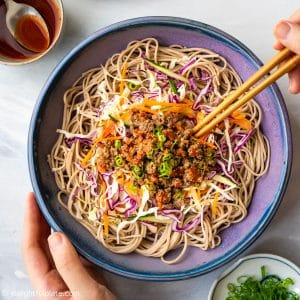 Spicy Beef Soba Noodle Salad
This Spicy Beef Soba Noodle Salad is not only easy to make but also healthy and fulfilling. It features beef, soba noodle, lots of fresh and crisp vegetables and a spicy dressing inspired by Korean flavors.
Print
Pin
Rate
Ingredients
2-3

cups

thinly shredded cabbage

(green or red cabbage or a mix of both)

1

large carrot, julienned

1

cucumber, julienned

dried soba noodles

(3 servings)

1

lb

ground beef

4

tablespoons

soy sauce

1

tablespoon

honey

2

teaspoon

mirin

1/8

teaspoon

salt

3-4

garlic cloves, minced

1-inch piece of ginger, grated

2

stalks of scallions, thinly sliced
Instructions
Shred cabbage and julienne carrot and cucumber. Set aside.

Whisk together all ingredients to make the dressing. Adjust it to your liking. Set aside.

Bring a large pot of water to a boil, then add dried soba noodles and cook according to package instructions. Drain and rinse under cold water thoroughly to remove sliminess. Set aside.

Place a pan over medium high heat. Add some olive oil and then add ground beef. Break up the meat, stir fry and cook until the outside is no longer pink. Add ginger, garlic, soy sauce, honey, mirin, salt and black pepper. Lower the heat to medium, continue to stir and cook until the beef is fully cooked and has absorbed the flavors. Taste and adjust seasoning to your liking. Don't overcook or the meat will be dry.

Add soba noodles to serving bowls, top with vegetables, beef and dressing. Garnish with scallions. Mix well before eating.
Nutrition
Calories:
496
kcal
|
Carbohydrates:
25
g
|
Protein:
31
g
|
Fat:
31
g
|
Saturated Fat:
12
g
|
Cholesterol:
107
mg
|
Sodium:
1816
mg
|
Potassium:
798
mg
|
Fiber:
3
g
|
Sugar:
17
g
|
Vitamin A:
3594
IU
|
Vitamin C:
25
mg
|
Calcium:
83
mg
|
Iron:
4
mg