Vietnamese Iced Coffee (Cafe Sua Da) can be surprisingly intense and aromatic with the right brewing method. After numerous experiments, I am going to share with you how to make this tasty drink at home.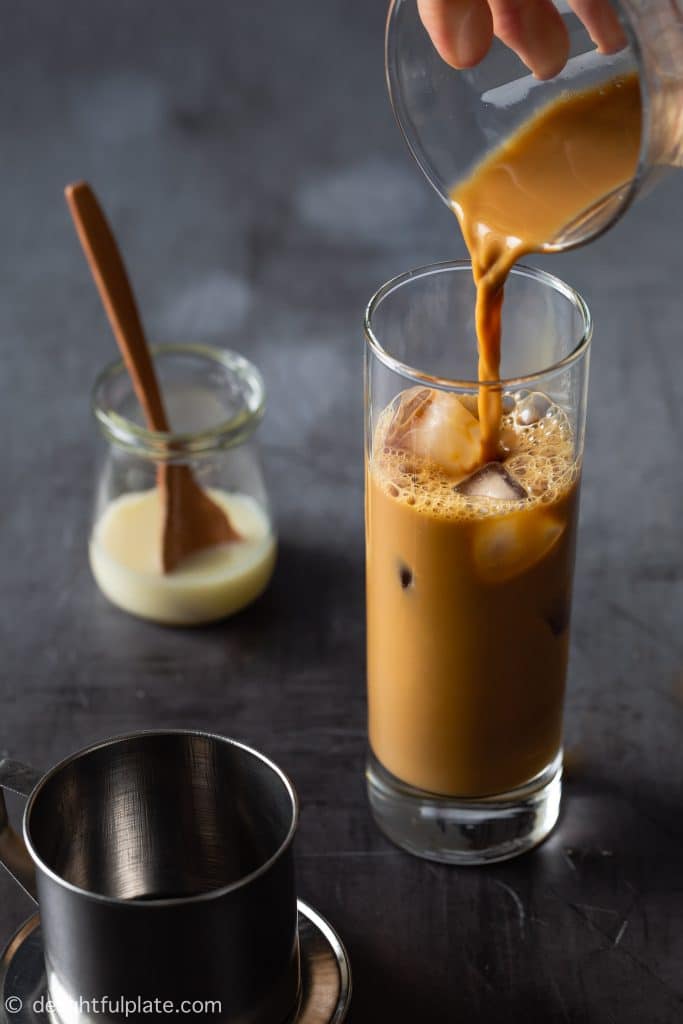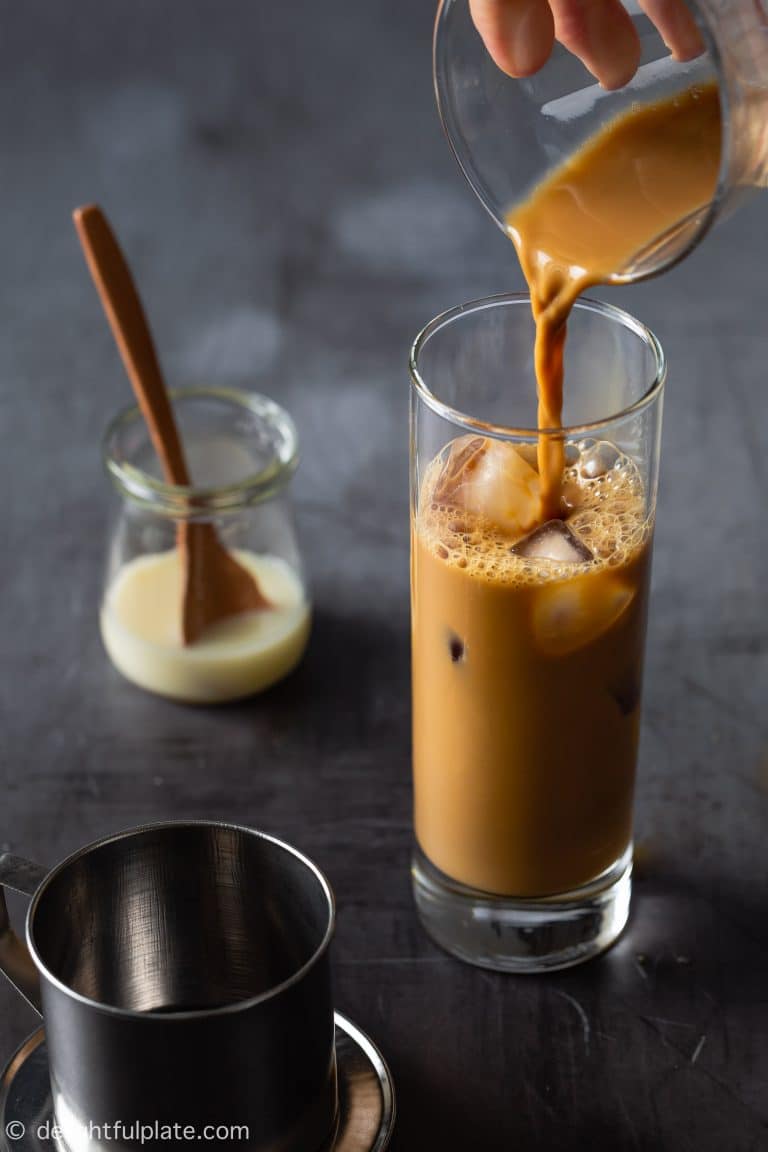 What is Vietnamese Iced Coffee
Vietnamese Iced Coffee is a cold coffee drink made from brewing Vietnamese medium-ground dark roast coffee. When sweetened condensed milk is added, it is called ca phe sua da (or cafe sua da). The version without milk is called ca phe den da.
I have been avoiding iced coffee at Vietnamese coffee shops for a long time because it never tastes good. Some places make super weak, diluted iced coffee which tastes like iced water flavored with coffee. Some places try to fix that by making stronger coffee with more ground coffee. The result of that is too much caffeine which gives me a few hours of anxiety and dizziness.
As far as I know, the regular method people often use to make the drink is hot brewing with a phin coffee filter. The coffee is then slowly cooled/chilled and after that ice will be added. This is actually not a good way to make Vietnamese iced coffee (or any iced coffee).
The flash-chilling method I recently came across produces a glass of Vietnamese iced coffee with a much more superior taste in just 5-6 minutes.
Ingredients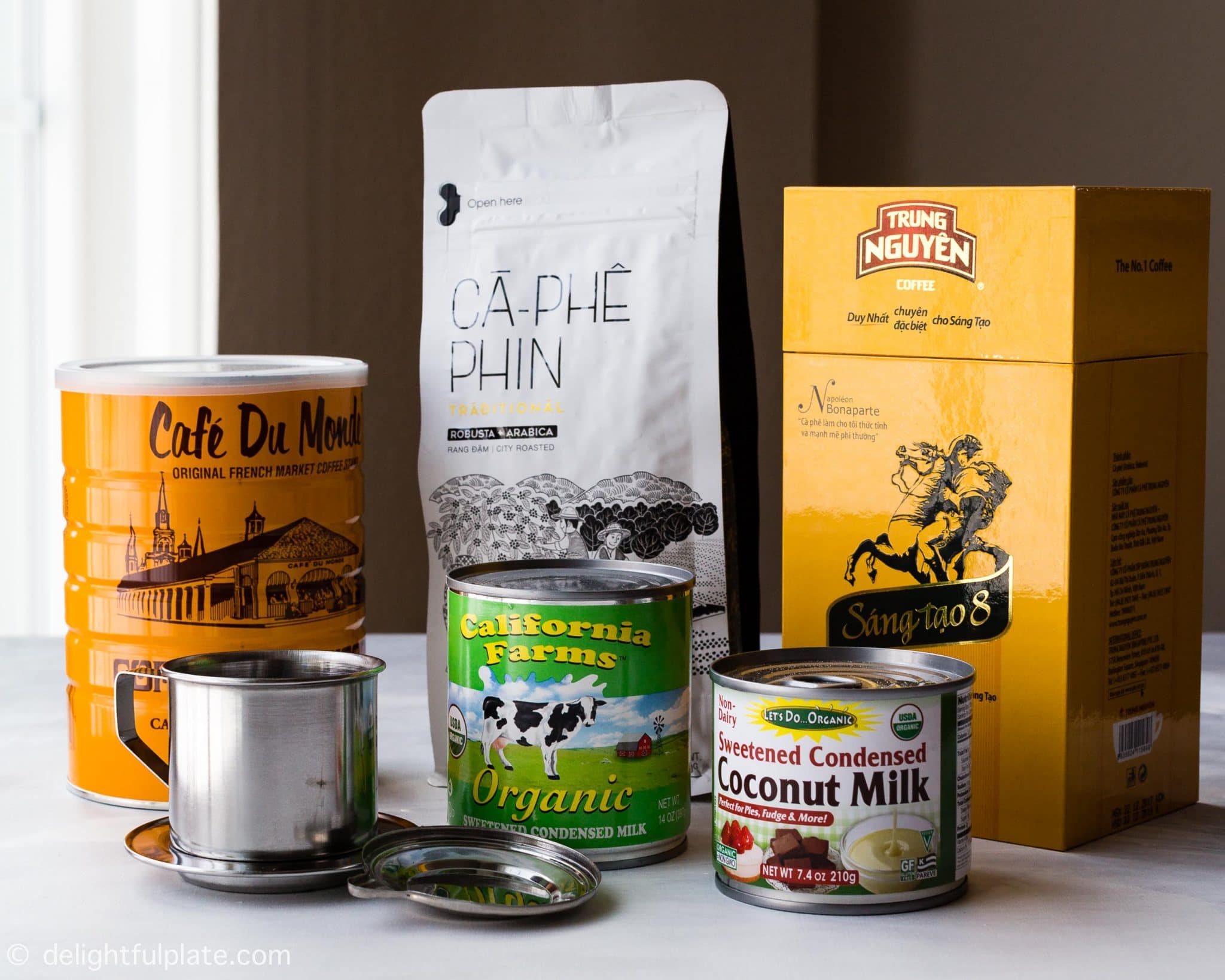 To make ca phe sua da, you will need Vietnamese ground coffee, sweetened condensed milk, hot water and ice. You will also need a Vietnamese phin coffee filter. If you have never made Vietnamese coffee before, you may want to read my previous post about how to use phin filter.
I personally prefer coffee blends with Arabica over those with 100% Robusta. Robusta is often harsher and more bitter with a higher level of caffeine than Arabica.
In the US, Cafe Du Monde and Trung Nguyen are two popular brands. If you visit Vietnam, I recommend coffee from Cau Dat Farm brand. Phin filter can be found at Asian grocery stores or on Amazon.
How to Make Vietnamese Iced Coffee
This drink can be tricky to make. It should be strong, but we also don't want caffeine overdose. It should be cold, but we don't want to add too much ice which will dilute the flavors. I think my Vietnamese iced coffee recipe will surprise you with addictive coffee aroma and intensity.
Best Method for An Aromatic and Intense Cup of Ca Phe Sua Da
My current most favorite method to make cafe sua da is hot brewing coffee directly over ice, thus flash chilling the concentrated coffee. It results in a glass of cold, bright, aromatic, intense and refreshing glass of coffee in just 5-6 minutes. There is no need to wait for the coffee to cool down and no more weak, watery iced coffee!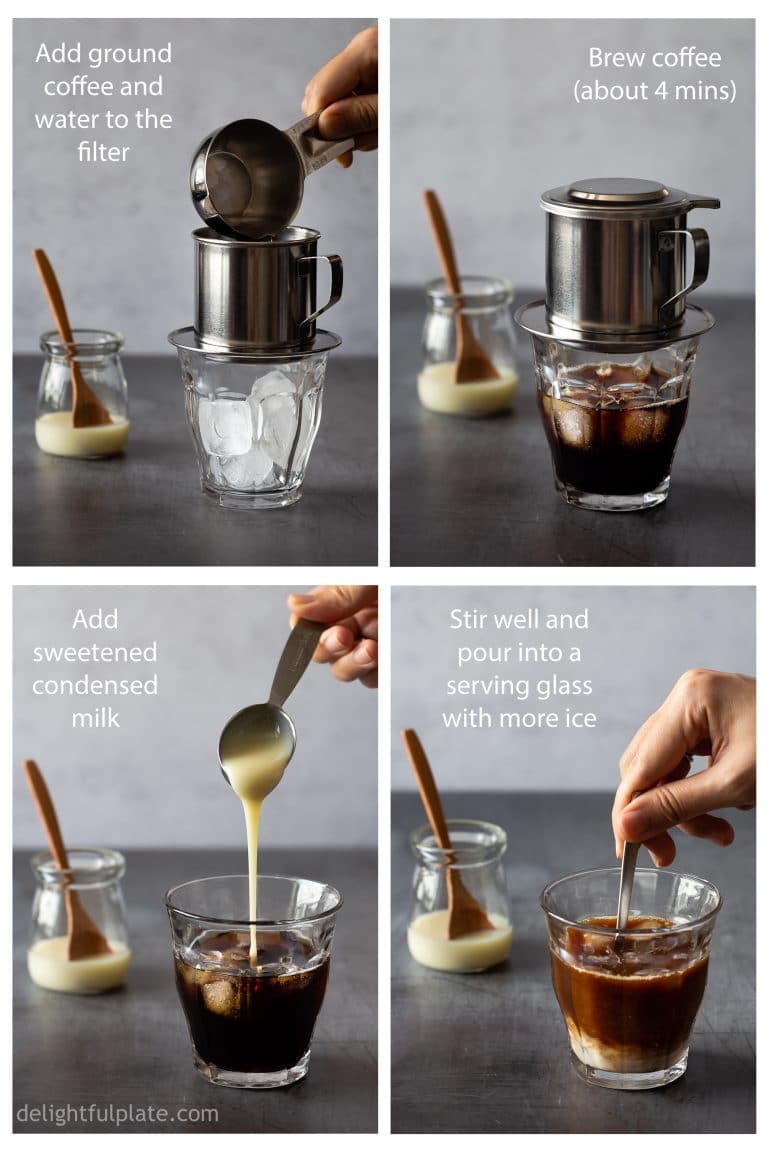 I came across this method when reading about Japanese iced coffee. Hot brewing extracts all the acidity and flavors from the ground coffee. The freshly-brewed coffee then lands directly on ice drop by drop and is cooled instantly, locking in all the intense flavors. I admit I was a little skeptical at first, but after doing experiments, this method really blew me away.
You can then add sweetened condensed milk and adjust the amount to your liking. I often add just enough to offset some of the bitterness from the coffee.
Detailed measurements and instructions are in the recipe card below. I hope you will give this method a try and let me know what you think.
More tasty recipes with Vietnamese coffee you may like: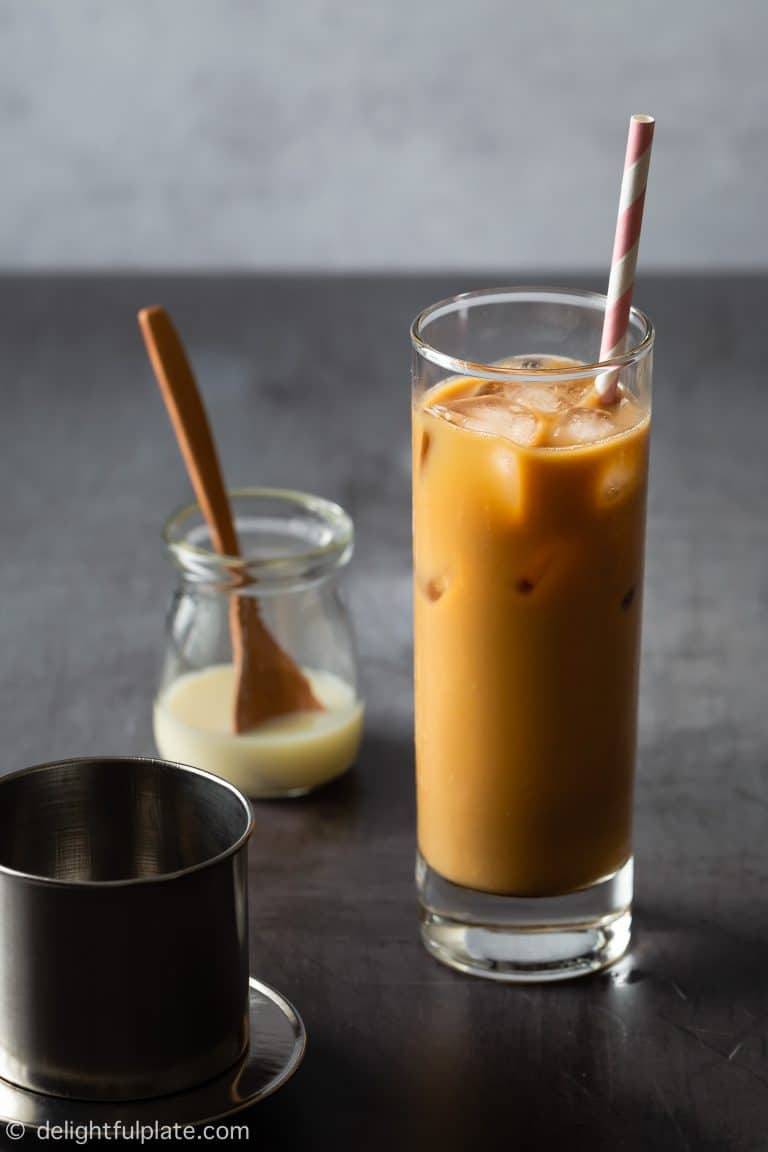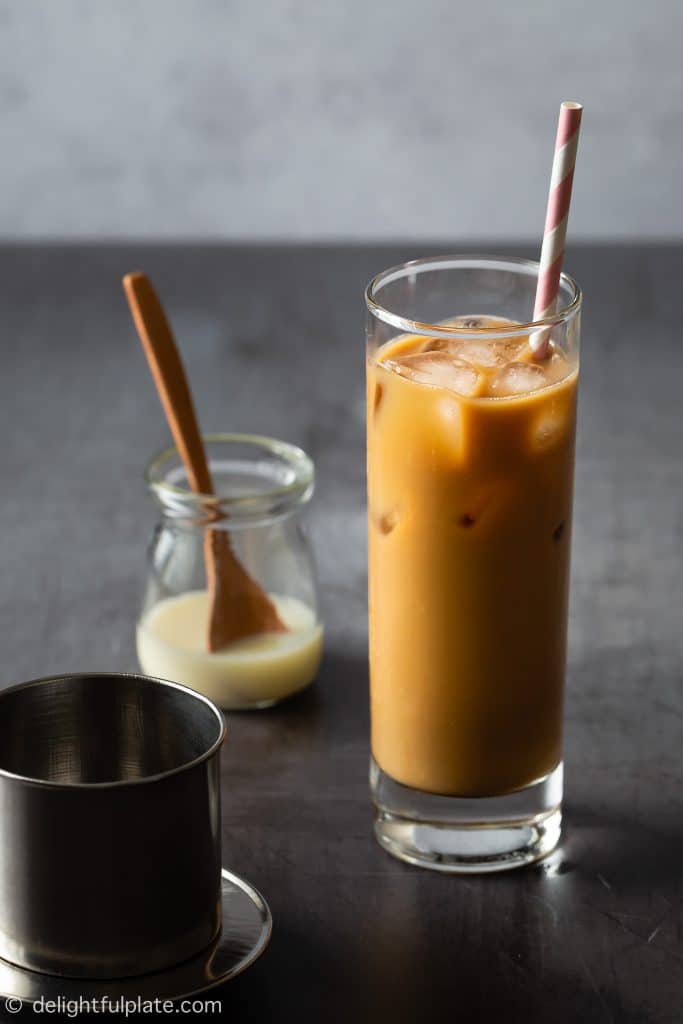 I'd love to hear what you think about this dish, so please feel free to leave a comment. New recipes are added every week so let's connect on Facebook, Pinterest and Instagram for the latest updates. You can find my collection of Vietnamese recipes here.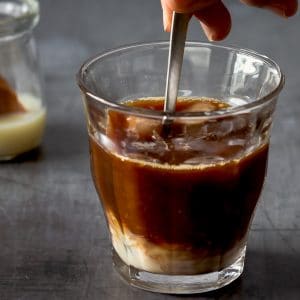 Vietnamese Iced Coffee (Cafe Sua Da)
Vietnamese Iced Coffee is a tasty and refreshing coffee beverage to start your day with. It can be surprisingly intense and aromatic with the right brewing method.
Print
Pin
Rate
Ingredients
2

tablespoons

Vietnamese ground coffee

1

cup

ice, divided

1/3

cup

plus 2 tablespoons hot water, divided

1-2

tablespoons

sweetened condensed milk

(to taste)
Instructions
Add 1/2 cup of ice (about 6-7 medium ice cubes) to your brewing glass. Place the cup spanner of the phin filter over the glass. Add ground coffee to the filter chamber, try to spread them evenly inside the chamber. Then gently place the filter chamber over the cup spanner.

Place the filter press on top of the coffee inside the chamber and press gently. Add 1 tablespoon of hot water to the chamber and wait for about 20-30 seconds to let the coffee bloom.

Add the remaining hot water and cover the chamber with the filter cap. Wait for the coffee liquid to drip directly onto the ice in the glass through the holes at the bottom of the filter chamber and cup spanner.

Once the filter chamber is empty, remove the filter from the glass. Add 1 tablespoon of sweetened condensed milk (or more to taste) to the glass and stir well to combine.

Add about 1/3-1/2 cup of ice (5-6 medium ice cubes) to your serving glass. Pour the coffee from the brewing glass to your serving glass. Enjoy immediately.
Nutrition
Calories:
64
kcal
|
Carbohydrates:
10
g
|
Protein:
1
g
|
Fat:
1
g
|
Saturated Fat:
1
g
|
Cholesterol:
6
mg
|
Sodium:
30
mg
|
Potassium:
74
mg
|
Sugar:
10
g
|
Vitamin A:
55
IU
|
Calcium:
57
mg