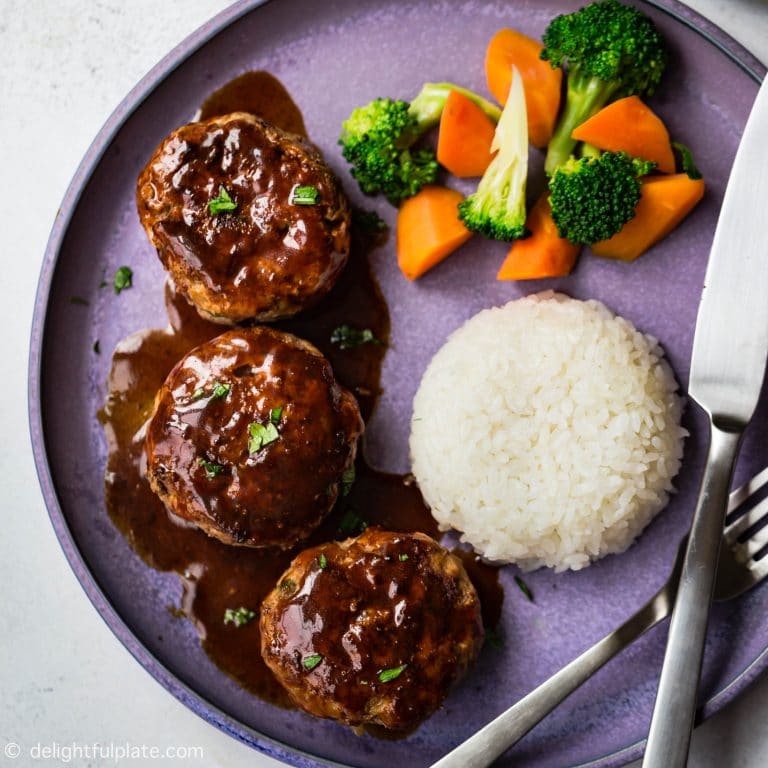 Print Recipe
Japanese Hamburg Steak
Japanese Hamburg Steak is moist, juicy and served with a sweet tangy ketchup-based sauce. It is perfect for dinner, lunch box and also child-friendly.
For the meat patties
1/2

lb

ground beef

1/2

lb

ground pork

1

small onion, finely diced

(or half of a large onion)

3

garlic cloves, minced

1/2

cup

panko breadcrumbs

1/3

cup plus 1 tablespoon

almond milk

(or regular milk)

1

egg

2

tablespoons

finely chopped parsley

(and more for garnishing)

3/4

teaspoon

salt

2

teaspoons

soy sauce

1

tablespoon

ketchup

black pepper

olive oil
For the sauce
1/4

cup

sake

(or white or red wine)

1/4

cup

Worcestershire sauce

1/4

cup

ketchup

3-4

tablespoons

water
Place a pan over medium heat. Add olive oil, and then add garlic and onion. Sauté for about 4-5 minutes until translucent to develop sweetness. Do not let them burn. Set aside to cool down. We need about 1/2 cup of cooked onions.

In a mixing bowl, add ground beef and pork, cooked onions and all other ingredients to make the patties. Mix thoroughly for 2-3 minutes until the mixture is well combined and sticky.

Divide the meat mixture into 6 or 8 equal parts, and form into patties. Slightly press down to create an indentation in the center, because the center will rise up slightly when we cook them.

Heat a heavy bottom frying pan over medium heat. Add olive oil, and add the patties to the pan. Cook for about 8-12 minutes depending on how big and thick they are, flip once until they are all cooked through. If they are brown but not cooked through, you can cover the pan for 1-2 minutes to cook the inside thoroughly. Transfer them to serving plates.

To the same pan, immediately add sake and stir and deglaze the pan for 10-15 seconds. Then add the remaining ingredients for the sauce. Stir to combine, simmer to desire thickness, a minute or less. Taste and adjust to your liking.

Spoon sauce over the meatballs. Serve hot with rice and steamed/boiled vegetables.