This Vietnamese Steamed Peanut Sticky Rice with Coconut Milk (Xoi lac or Xoi dau phong) is a popular to-go breakfast in Vietnam. Made from humble ingredients, this dish is delicious and filling. It is naturally vegan and gluten-free.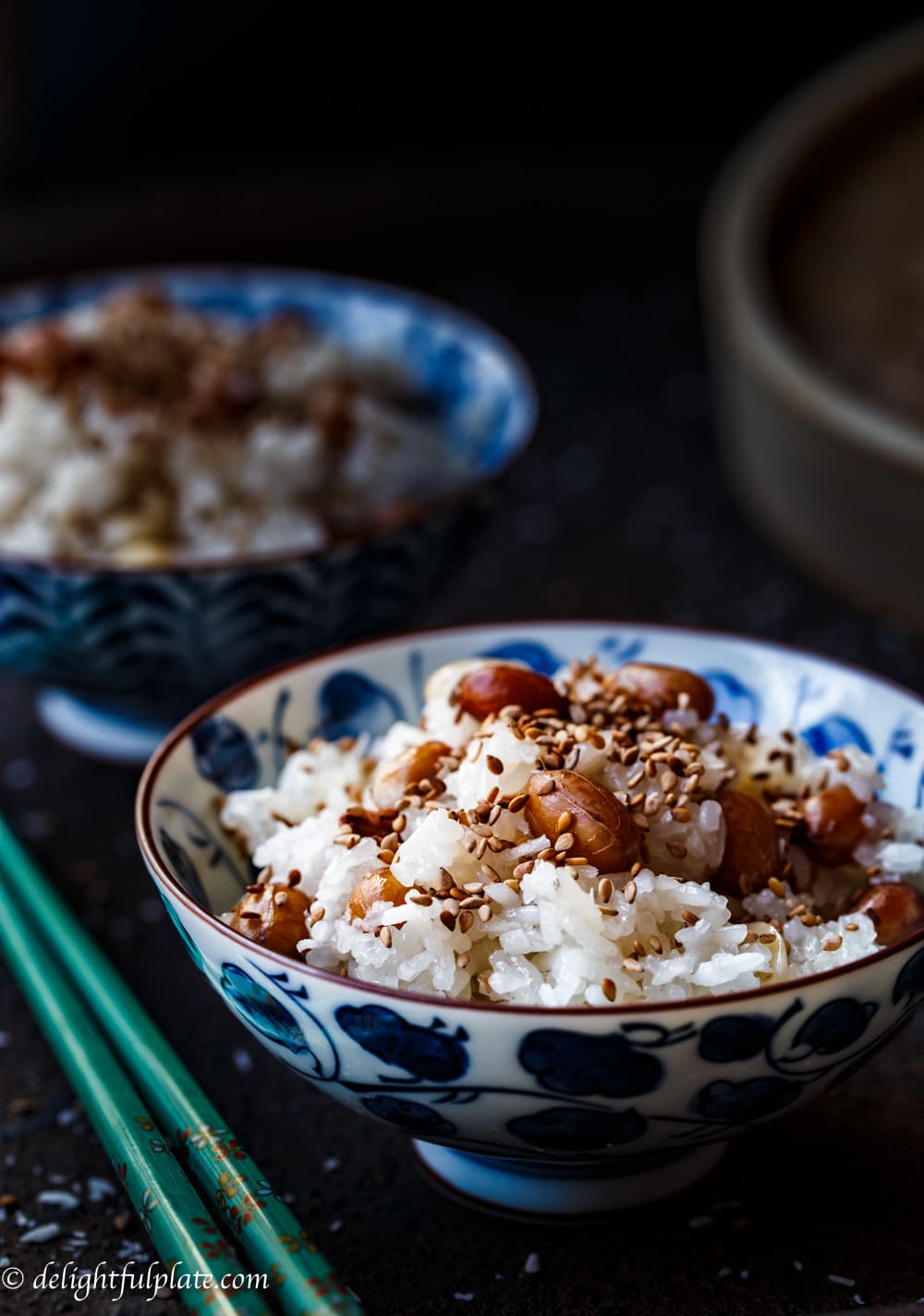 Sticky rice (or glutinous rice) is one of the major crops in Vietnam. It is opaque and will turn transparent once cooked. It doesn't contain gluten and the name just means that the rice becomes sticky when cooked.
Sticky rice is such an important part of Vietnamese cuisine. Our traditional cake, banh chung, is also made from this grain and this square-shaped cake is an essential element of the ancestral altar of each family on special occasions such as Lunar New Year.
Steamed sticky rice (xôi)
We can make both savory and sweet dishes from sticky rice. One of the common Vietnamese dishes made from this grain is xôi. Vietnamese people cook xoi for both special occasions and casual meals. To be honest, I don't know how many different kinds of xoi we have in Vietnam because there are so many variants.
We usually cook xoi by soaking sticky rice overnight and then steaming it by itself or with other ingredients such as mung bean, peanut, and corn. Near the end of the cooking process, we add some fats, such as oil, chicken fat or coconut milk, to make xoi soft and fragrant.
Toppings for xoi are just as diverse as xoi variants. We enjoy eating xoi with pork floss (ruoc), braised pork belly, pate, chicken and sausages or even ice cream.
How to make peanut sticky rice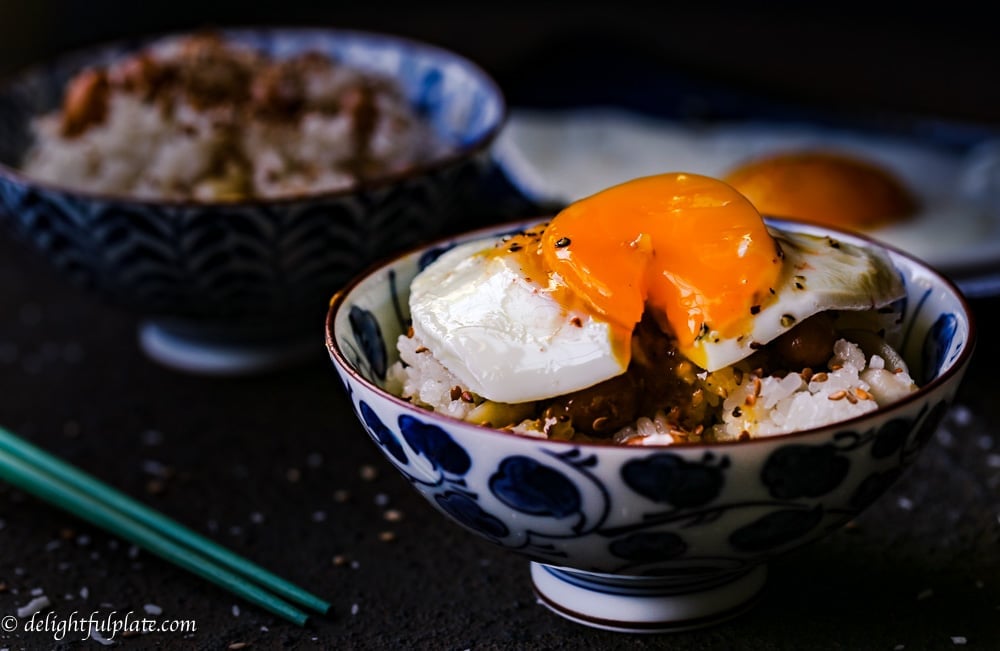 Steamed peanut sticky rice (called xôi lạc or xôi đậu phộng in Vietnamese) is one of the favorite to-go breakfast items of many people. The combination of sticky rice, peanut, coconut milk and sesame seed creates amazing flavor and fragrance. It may look humble but this dish is delicious and satisfying because of:
Soft, moist and slightly sweet sticky rice
Buttery boiled peanuts
Creaminess and fragrance of coconut milk
Aroma and richness of toasted sesame seeds
It's best to soak the rice and peanuts in water for several hours (or overnight) so that they expand and get soft faster when we cook. We need to boil peanuts first until almost tender, then mix rice with peanuts and shredded coconut. Steam until rice is soft and peanuts are tender, then add coconut milk. Steam for a few more minutes to let all flavors come together.
It's possible to cook this dish in a rice cooker, using the Sticky Rice (or Sweet Rice) function. I think it doesn't taste as good as the steamed version, but the advantage is there is no need to presoak the rice or peanuts.
When eating xoi dau phong, sprinkle toasted sesame seeds over it. You can top it with a sunny side up egg if you like. I also like to eat it with thit kho trung (Vietnamese braised pork belly & eggs).
I can't remember where I read this, but the tip for boiling peanuts is to boil it in plain water. If we don't add salt to the water, peanuts will be tender faster. I use a bamboo steamer to steam sticky rice, but a steamer basket like this one will do the job just fine.
You may also want to try this Vietnamese Sticky Rice with Mung Bean (Xoi Xeo) recipe.
Steamed peanut sticky rice (Xoi dau phong/Xoi lac)
This steamed peanut sticky rice is so flavorful and satisfying. It is one of the best vegan breakfast foods. All components complement each other so well: soft sticky rice, buttery boiled peanuts, creamy coconut milk and nutty and aromatic toasted sesame seeds.
Print
Pin
Rate
Instructions
Soak sticky rice and peanuts in cold water individually for at least 2-4 hours or overnight.

After soaking them overnight, wash and drain before cooking.

Place peanuts in a small pot, add water to cover and bring to a boil. After it has reached a boil, reduce heat to low and simmer until peanuts are almost tender, about 15-20 minutes depending on your peanuts.

Drain peanuts and mix sticky rice, peanuts, shredded coconut and salt together.

Transfer everything to a bamboo steamer or a steamer basket. Steam for 15-20 minutes until rice is cooked and peanuts are soft.

Add coconut milk and mix well. Steam for another 5 minutes to let all flavors come together.

Transfer steamed sticky rice to serving bowls and sprinkle toasted sesame seeds.
Notes
You can add less than 6 tablespoons of coconut milk, depending on your liking.
Leftover steamed peanut sticky rice can be refrigerated and reheated in the microwave next day, or warm it up in your rice cooker.
Nutrition
Calories:
325
kcal
|
Carbohydrates:
43
g
|
Protein:
8
g
|
Fat:
14
g
|
Saturated Fat:
7
g
|
Sodium:
455
mg
|
Potassium:
209
mg
|
Fiber:
3
g
|
Sugar:
2
g
|
Vitamin C:
1
mg
|
Calcium:
35
mg
|
Iron:
2
mg