With a long coastline from North to South, Vietnam doesn't lack nice beach resorts. Two of the most secluded high-end beach resorts in Vietnam are Six Senses Con Dao and Six Senses Ninh Van Bay.
We were able to stay at both resorts this summer, and though we enjoyed both greatly, we could see how each property could be more attractive to some people than the other. So here's a detailed comparison to help you decide whether to have a vacation at Six Senses Ninh Van Bay or Con Dao.
Accessibility
It is definitely quicker and more comfortable to travel from Con Dao airport to Six Senses Con Dao than from Cam Ranh airport to Ninh Van Bay. Six Senses Con Dao is just 15 minutes away from Con Dao airport on a pretty smooth road. On the contrary, to reach Ninh Van Bay from Cam Ranh airport, you will need to spend an hour in the car and then take a 20-minute speed boat ride which can be quite rough depending on the wind and the sea.
However, Cam Ranh airport in Nha Trang is much more accessible from other cities than Con Dao airport. You can fly to Cam Ranh airport from all major cities in Vietnam as well as some international airports. Con Dao airport can only be reached via Tan Son Nhat airport (in Ho Chi Minh city) and Can Tho airport (in Can Tho).
There are only a handful of flights departing for Con Dao every day, and the small planes used for this route are usually full. Therefore, if you want to visit Six Senses Con Dao, reserve your flight tickets far in advance or contact the resort to have them book the flight for you.
Setting
Both resorts are secluded, facing the sea with the mountains in the back. At both places, I enjoy the feeling of being able to reconnect with nature immensely.
From a visual standpoint, I find the setting at Six Senses Ninh Van Bay to be more dramatic. The resort is spread out along the bay's coast with interesting rock formations everywhere. Villas are set on the hilltop, beachfront, over water or on the rocks with an architectural style that blends better with the island setting than at Six Senses Con Dao.
The setting at Six Senses Con Dao can feel a bit flat with two rows of villas along the beach. The paths inside the resort are quite linear, so we didn't feel like walking around to explore as when we stayed at Six Senses Ninh Van.
However, the beach at Con Dao property is way more beautiful than at Ninh Van Bay. The water is crystal clear and the waves will pamper your feet. The sand is also finer and softer while the sand at Ninh Van Bay has a lot of tiny broken seashells which make it quite painful to walk on with bare feet. The water at Ninh Van Bay is so calm that swimming there just felt like swimming in a huge pool.
So if a beautiful beach for swimming is what you are looking for, Six Senses Con Dao is the better choice here. I personally rank it as one of the best beaches for swimming in Vietnam. At Ninh Van Bay, we just swam in our villa pool, enjoying the stunning scenery.
Weather and Atmosphere
We stayed at Six Senses Ninh Van Bay at the end of April. It was very hot, humid with almost no wind at the resort although it was quite windy in Nha Trang city. There was very little wind even at night. I think the mountains surrounding the bay probably prevent the sea breezes from penetrating inland.
Our stay at Six Senses Con Dao was in the middle of August, and the weather was quite pleasant with a lot of sea breezes. Besides a quick shower on one day, it was sunny the rest of our stay. The staff told us that the weather on the island could sometimes be unpredictable. So I think it's best to inquire about the weather at both places before you pick the dates for your trip.
We encountered quite a bit of bugs and mosquitoes in our villa at Con Dao while having no issues at Ninh Van Bay. It was kinda annoying, but the resort provides mosquito coils and repellants to help with that.
One thing I like about Six Senses Con Dao is the sky here is very dark at night while Ninh Van Bay still gets some light pollution from Nha Trang city. We stayed at Con Dao during a full moon but could see many bright stars in the sky. It is definitely the better place for star-gazing.
Resort Villas
Both resorts have about 50 villas, all with private pools. The villas are designed with an eco-friendly approach in mind. Some people are wary of how rustic these Six Senses properties look on the websites. I personally don't think so and I actually find the architecture at Ninh Van Bay sophisticated with quality construction materials.
Six Senses Ninh Van Bay has more villa layouts and locations to choose from than its sister property in Con Dao. Villas at Ninh Van Bay are also more charming with better layouts.
I find the duplex layout at Con Dao quite inconvenient. The materials are also not as high quality as at Ninh Van Bay. Besides, all villas at Ninh Van Bay provide a dramatic ocean view, from the bedroom, living room, bathroom as well as from the private pool. This isn't the case at Six Senses Con Dao.
If you want utmost privacy, the villas at Six Senses Ninh Van Bay will satisfy your needs better. No one could see or hear you. I find the villas at Con Dao quite close to each other, and we could hear the neighbors talk or play music.
Food
I will cast my vote for the food at Six Senses Con Dao with no hesitation, more delicious and reasonably priced. They use fresh seafood, fresh vegetables from their garden and mushrooms from their mushroom hut. We tried both onsite restaurants and were generally happy with our meals. Loved the mushroom pizza at their By The Beach restaurant.
The food at Six Senses Ninh Van Bay was quite lackluster. There were still some dishes we truly enjoyed such as grilled scallops with scallion oil and egg benedict. Often at night, you may have no choice but to opt for the dinner buffet at their dining venues.
Activities
We actually didn't take many activities at either resort. At Ninh Van Bay, it was because of the hot and humid weather. At Con Dao, we just loved spending most of our time on the beach.
If you are lucky, you may be able to join in sea turtle hatchling releases at Six Senses Con Dao. The resort has a safe incubation area for sea turtle eggs collected around the islands. Staff explained to us that after 30-35 years, the grown sea turtles will return to the place where they were released to lay eggs. However, only 1% of the released turtles can survive in the wild and reach this stage.
We were very lucky to be able to participate in a baby turtle release during our stay. Watching these tiny creatures crawling on the sand and making their ways to the ocean was a beautiful experience. If you want to witness the hatchling release, I think visiting between June and September is your best bet.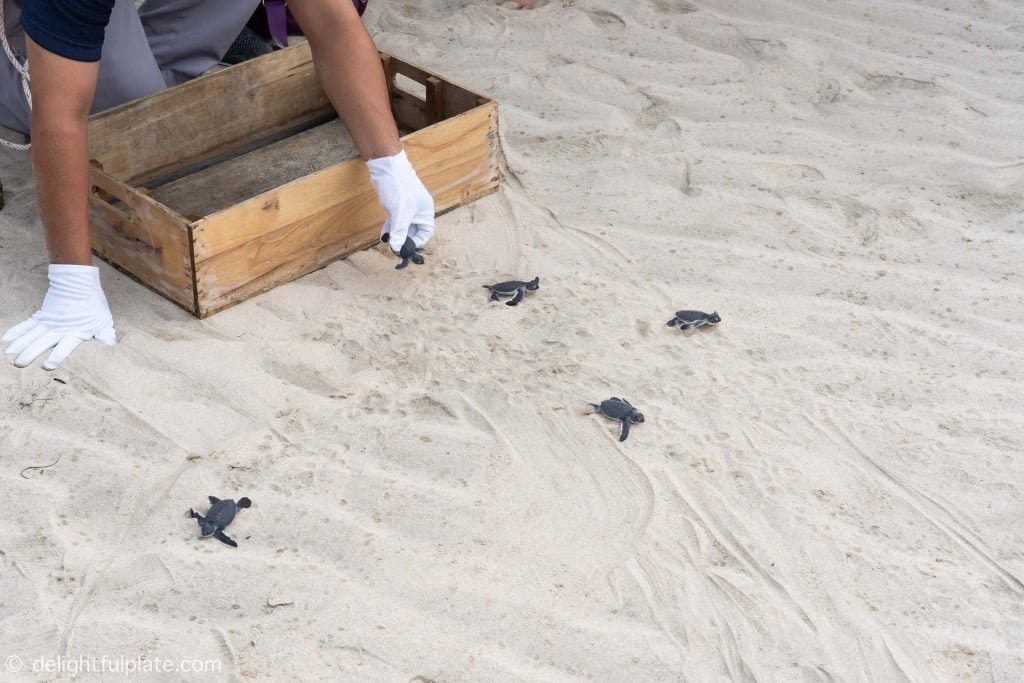 At Six Senses Ninh Van Bay, just wandering around to explore the resort is quite interesting. For example, visiting the hilltop gym requires a fair amount of climbing steps, a mini exercise in its own rights. The resort can organize guided tours to Nha Trang city but I don't recommend it. Nha Trang city is no longer what it once was thanks to mass tourism.
Service
Service is about the same at both places. Staff are polite and friendly in general. They are always eager to help with any requests, but I wouldn't say service is either personal or special.
Conclusion
It is a tough choice to choose between Six Senses Con Dao and Six Senses Ninh Van Bay. Both places will give you wonderful getaway vacations, far from the hustle and bustle of big cities. It is even difficult for me to decide which resort I will revisit first.
I think it is worth visiting both places if time permits since each place has its own uniqueness. They are among the best beach resorts in Vietnam. If you only have time for one and a lovely beach for swimming is a must, I would recommend Six Senses Con Dao. If complete privacy and beautiful architecture are important to you, Six Senses Ninh Van Bay has the edge here.