Easy Vietnamese noodle bowls and other Asian noodle bowl recipes you can put together and enjoy all year round.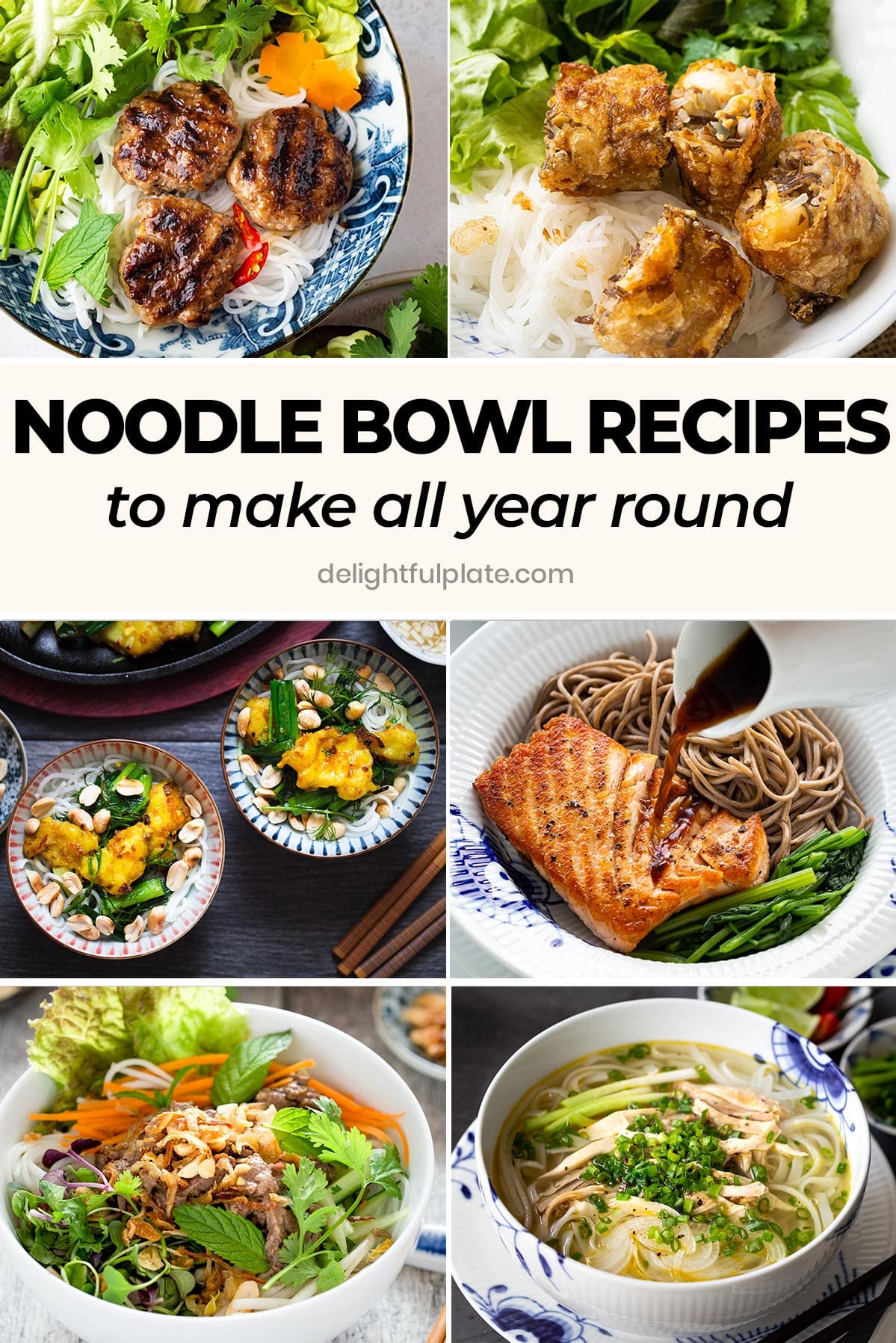 A bowl of noodles, whether a noodle salad or a noodle soup, always delivers so many flavors and textures. They are often beautiful to look at as well.
By now, Vietnamese cuisine is pretty well known for its vermicelli noodle salads. I'm sharing a list of my favorite Vietnamese vermicelli salads, soba noodle bowls, and easy noodle stir-fries. I also include some signature Vietnamese noodle soups you can try when you are in the mood for something more elaborated.
Bun cha is a dish many of Northern Vietnamese (including me) grew up eating. One can easily smell the irresistible aroma of grilling the meatballs from afar before actually arriving at a bun cha shop. The dish is not difficult to make at home and here's my authentic bun cha recipe.
This Vietnamese beef vermicelli noodle bowl is a very popular street food dish in Hanoi. Stir-fried beef, colorful vegetables, and refreshing herbs are placed on a bed of soft vermicelli noodles.
Cha ca is another iconic Vietnamese vermicelli noodle salad originating from Hanoi. Chunks of flavorful fish are plated on a bed of aromatic green scallions and dill. This dish is definitely a must-try!
This Southern Vietnamese pork noodle bowl features pork stir-fried with lemongrass and beansprouts, rice vermicelli noodles, cucumber, lettuce, and herbs. A light yet flavorful and filling noodle salad. In case you can't find beansprouts, you can substitute with sauteed onions.
Crispy fried spring rolls (nem ran/cha gio) are served with rice vermicelli noodles, soft lettuce, fresh herbs and nuoc cham dressing. The rolls can take some time to eat, but you can prepare a big batch and freeze for later.
One of the things that set mì Quảng apart from other Vietnamese noodle dishes is the broth. It is often very well-seasoned, and barely enough broth to coat the noodles is added to the bowl. As a result, the broth never covers the noodles. My recipe is a classic version with chicken, but you can also use shrimp or pork ribs.
This light yet satisfying noodle dish is in our breakfast rotation. We cook it the night before and reheat in the morning. You can also enjoy it for lunch or dinner.
This Vietnamese stir-fried beef and noodles tastes pretty similar to Chinese beef chow mein or beef lo mein. It takes just 30 minutes to cook and it will be as delicious as (and healthier than) what you get at the restaurants.
This Salmon Soba Noodle Salad features seared salmon fillets with crispy skin over soba noodles and green vegetables. It is served with a refreshing ginger citrus dressing.
This Spicy Beef Soba Noodle Salad features beef, soba noodles, lots of fresh and crisp vegetables, and a spicy gochujang dressing inspired by Korean flavors. You can put it together in just 30 minutes.
This Southern Vietnamese pasta dish is composed of pasta, beef and your choice of vegetables, all coated with a tasty savory sauce. You can use different kinds of vegetables for textures and colors.
Mien xao cua is a must-have dish in my family's traditional banquets for special occasions. Soft glass noodles are stir-fried with delicate crab meat and crunchy vegetables.
Now we talk about the national dish of Vietnam. You will find all the tips you need to make an authentic bowl of beef pho. The broth can be kept frozen very well, so make a big batch and freeze for busy days.
Pho ga is lighter and less labor-intensive to make than pho bo. That doesn't mean it is less delicious. I also have a chicken vermicelli noodle soup version besides chicken pho.
Mi vit tiem is a special noodle soup of Saigon. What sets it apart from other noodle soups in Vietnamese cuisine is its dark broth and strong flavors. A bowl of mi vit tiem often consists of yellow noodles in a dark broth and a fall-off-the-bone duck leg.
New recipes are added every week so let's connect on Facebook, Youtube, Pinterest and Instagram for the latest updates. You can find my collection of Vietnamese recipes here.