The sun has finally returned after a miserable rainy week. It is May already and I could not believe it when the temperature dropped back to the 40s at the beginning of this week. Since it is finally sunny and warm again today, my partner and I decided to celebrate by firing up our grill.
We both love grilling when the weather is nice and doesn't everything taste good on the grill, whether it is meat, seafood or vegetables? Grilling also requires little preparation time as well as easy clean-up.
Tips for grilling fish
The trick for grilling fish is to make sure your grill is hot enough and the grates are well oiled.
Besides, you should flip the fish only when it has released itself from the grill, otherwise it will stick. This applies to both grilling fish fillets and whole fish.
What is opah?
I did not know there is such a thing until about a month ago when our fishmonger introduced it to us, saying it is his favorite fish for grilling.
Opah, also called moonfish, is very popular in Hawaii. It has translucent pinkish flesh, which turns white when fully cooked. I like both its flavor and texture and I think it is like a hybrid of tuna and Chilean sea bass.
Opah has high fat content and when fully cooked, it is still moist, firm but not dry, with mild and buttery flavor.
I used very simple seasoning in this recipe, mainly salt and pepper, because the fish itself is already buttery and delicious and the asparagus is so tender and sweet. Salt and pepper help to enhance instead of masking their flavors.
Here's the fun fact: opah is the first warm-blooded fish ever found. This fish is rich in omega-3 fatty acids, niacin, selenium and phosphorus.
However, some articles say it also has a moderate to high level of mercury, so opah should be eaten in limited amount and pregnant ladies may want to avoid it.
Some great grilling recipes you may want to try are: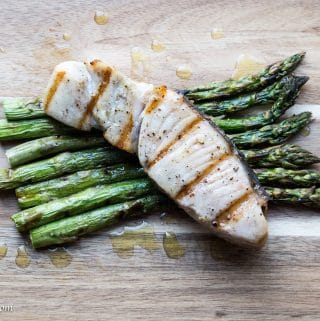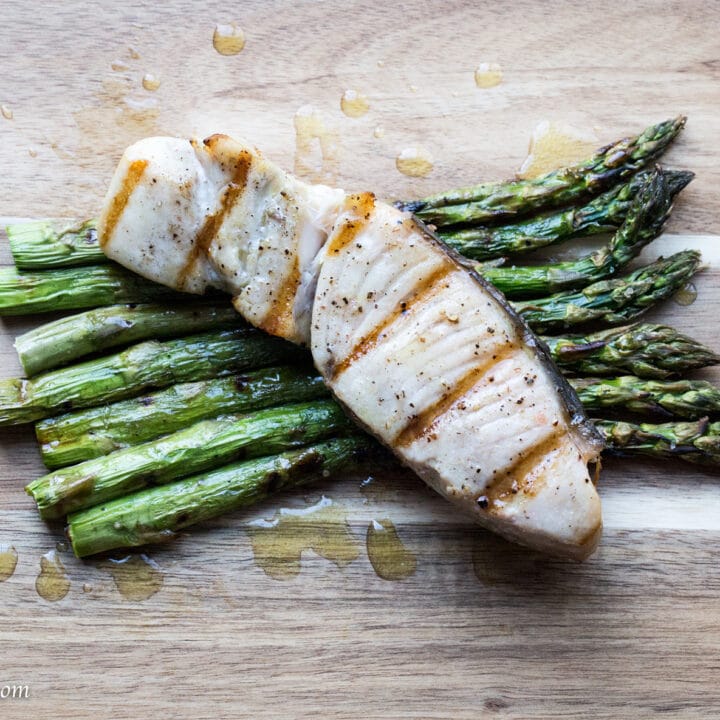 Grilled opah and asparagus with lemon sauce
Grilled opah has a mild and buttery flavor. It takes only 20 minutes to have this grilled fish and vegetables plate ready for dinner.
Print
Pin
Rate
Instructions
Preheat your grill and oil the grates.

Use 1/2 teaspoon of olive oil and salt and pepper to season the fillets on both sides.

Coat the asparagus with 2 teaspoons of olive oil, and season with garlic powder, salt and pepper.

Set up the grill for direct cooking and place asparagus directly on the grill over medium heat, let it cook for 4 - 5 minutes.

After asparagus has been cooked for 4 - 5 minutes, turn the asparagus to cook the other side. Place the opah fillets on the other side of the grill over medium high heat. Let the fillets cook for 2 - 3 minutes.

After the opah has been cooked for 2 - 3 minutes or until it releases itself easily from the grill, flip and cook the other side for another 2 minutes.

Remove both opah and asparagus from the grill, drizzle the lemon sauce all over and enjoy.
Prepare the lemon sauce
Mixed juice of 1/4 of a small lemon with 1 tablespoon of olive oil with a tiny bit of salt thoroughly to combine. Adjust with more salt and lemon juice to your liking.
Nutrition
Calories:
353
kcal
|
Carbohydrates:
9
g
|
Protein:
37
g
|
Fat:
14
g
|
Saturated Fat:
2
g
|
Cholesterol:
146
mg
|
Sodium:
181
mg
|
Potassium:
458
mg
|
Fiber:
5
g
|
Sugar:
4
g
|
Vitamin A:
1715
IU
|
Vitamin C:
13
mg
|
Calcium:
54
mg
|
Iron:
5
mg