Braised Glass Noodles with Pork and Napa Cabbage is an easy one pot dinner. It is light yet filling, tasty and nutritious.
This dish features soft and slippery glass noodles, tender pork slices and juicy napa cabbage. Mushrooms are also added for additional textures and flavors.
---
Main ingredients
Glass noodles: these are transparent noodles which are made from starch. They can also be called cellophane noodles, and we call it miến in Vietnamese. We like to use them to make crab glass noodles stir-fry, seafood glass noodles stir-fry, chicken glass noodles soup, or in fillings for Vietnamese fried spring rolls. These noodles need to be soaked in water before we can use them in any recipes.
Pork: it is best to use pork cuts that have some fat, such as pork shoulder. The meat may be a bit dry once cooked if it's too lean. I also don't recommend using fatty cuts like pork belly which will make the dish too greasy.
Napa cabbage: it is mildly sweet and aromatic with a crisp texture. Both napa cabbage and glass noodles absorb flavors from the food it's cooked with well. This vegetable is also a great addition to stir-fried noodles.
Other ingredients
You will also need some garlic, onion and carrot to provide a flavorful base for the dish. I recommend adding mushrooms for extra textures. Choose any mushrooms you like or use mixed mushrooms such as beech, shiitake, abalone, maitake. I've tried adding fried tofu slices, but I personally like the dish with mushrooms more than with tofu.
This braised glass noodles dish doesn't need heavy seasoning since a lot of ingredients in the dish already have natural sweetness. You just need some salt, pepper and oyster sauce to season it.
---
Use a Suitable Cooking Vessel
Picking a suitable cooking vessel for this recipe will ensure the dish will turn out delicious. The cooking steps include searing the proteins and then braising all ingredients together with little liquid and with the lid on. Therefore, the cooking vessel should be thick and heavy to retain the heat well, and you need to have a lid that can cover it completely.
I use a Lodge 9 inch cast iron mini wok. If you don't have a wok, I think you may try a deep skillet.
How to Make Braised Glass Noodles with Napa Cabbage
1️⃣ Sear the proteins: brown the pork slices and mushrooms on both sides. Work in batches if needed to avoid overcrowding the wok. Set them aside.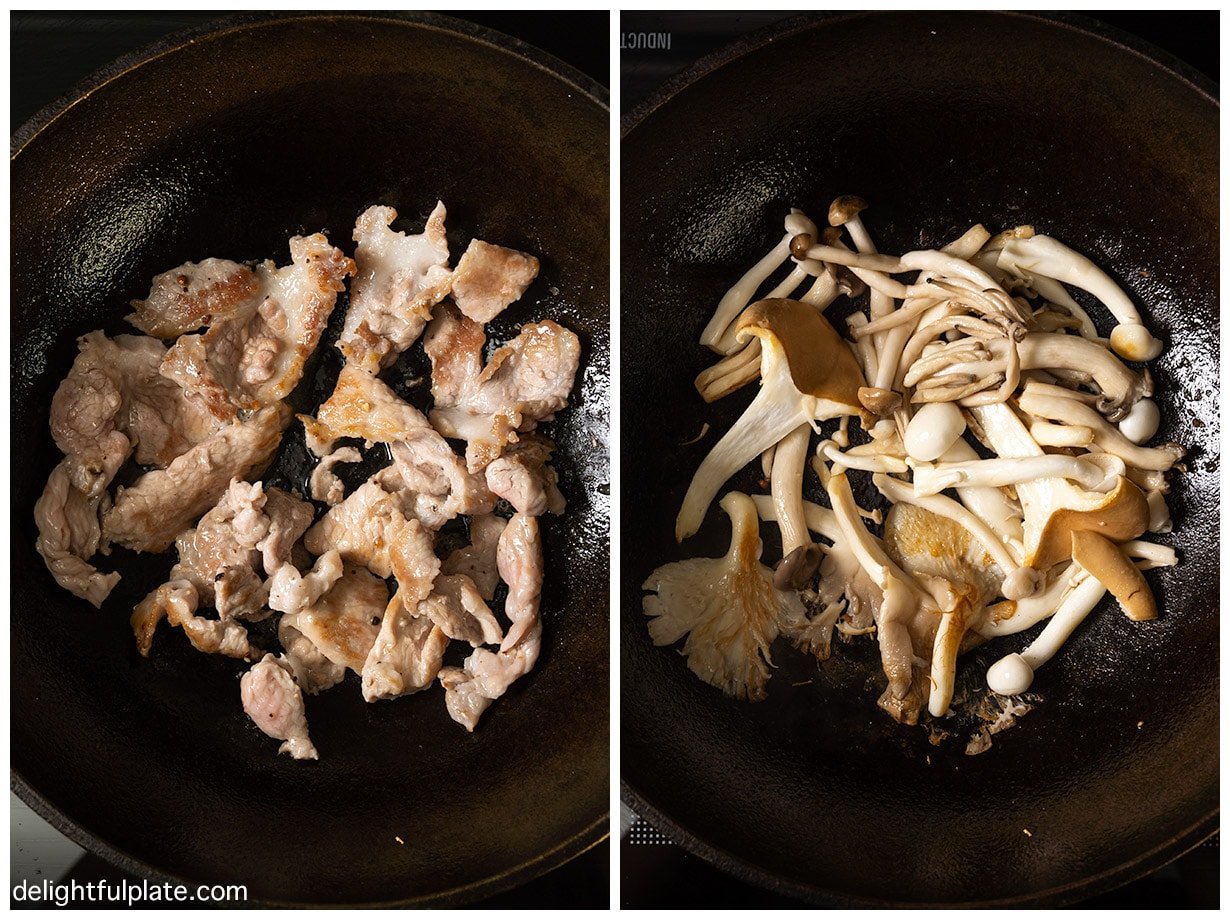 2️⃣ Make the sauce and layer the ingredients: sauté garlic and then add oyster sauce and water to make the sauce. We'll use a bit of cornstarch slurry to thicken the sauce slightly. Then place onions and carrots as the bottom layer that will add sweetness to the sauce.
Next will be the meat layer, followed by the mushroom layer. We'll put the napa cabbage and glass noodles as the top layer. Once we put the lid on, the ingredients in the top layer will be gradually cooked by the steams inside the wok. The meat and mushroom will also become more tender.
3️⃣ Braise everything undisturbed: I usually braise for about 20 minutes over medium heat. You may need to adjust the heat and cooking time as needed. When opening the lid, you may still see some liquid like in the photo below.
Now, use a pair of tongs to gently toss/mix everything together. The glass noodles will quickly absorb any remaining liquid as well as absorb flavors from other ingredients in the dish. 
You can divide the dish into serving bowls. I usually just serve it right in the Lodge mini wok, and each person can use the tongs and help themselves.
This braised glass noodles with pork and napa cabbage has been in our dinner rotation for a while now, and I hope you will enjoy it too. I like to eat it with a bowl of simple soup such as tomato egg drop soup.
---
Related Recipes
I'd love to hear what you think about the dish, so please feel free to leave a comment and a rating if you have tried it. New recipes are added every week so let's connect on Facebook, Youtube, Pinterest and Instagram for the latest updates. You can find my collection of Vietnamese recipes here.
---
Braised Glass Noodles with Pork and Napa Cabbage
Braised Glass Noodles with Pork and Napa Cabbage is an easy one pot dinner. It is light yet filling, tasty and nutritious.
Print
Pin
Rate
Ingredients
2.5

oz

dried glass noodles

7

oz

pork shoulder

(or pork cuts with similar amount of fat)

1/4

teaspoon

salt

1/8

teaspoon

black pepper

6-7

oz

mushrooms, trimmed and torn by hand or thinly sliced

(such as beech, shiitake, abalone, maitake)

2

large garlic cloves, minced

2

tablespoons

oyster sauce

1/2

cup

water, divided

1/3

cup

thinly sliced yellow onion

(about half a medium onion)

1/4-1/3

cup

thinly sliced carrot

(about half a medium carrot)

1/2

tablespoon

cornstarch

7

oz

napa cabbage, cut into big pieces
Instructions
Soak glass noodles in plenty of water. Thinly slice pork and mix with

1/4

teaspoon salt,

1/8

teaspoon black pepper and

1

teaspoon cooking oil. Set aside. Prepare all other ingredients.

Heat a wok (or a thick and heavy deep skillet) until it is very hot. Add some oil to lightly coat the bottom, then sear pork in a single layer over medium-high heat until both sides are browned (about a minute each side). Transfer pork to a plate and set aside.

Add mushrooms to the wok and also sear until both sides are browned. This may take 1½-2 minutes each side. Transfer mushrooms to a plate and set aside.

Lower the heat to medium. If there is a lot of oil in the wok, remove most of it and just leave enough to lightly coat the bottom. Add minced garlic and sauté for several seconds until fragrant. Then add oyster sauce and stir for a few seconds. Add about

⅓

cup (

80

ml) water and wait for it to start boiling.

Add onion and carrot to the wok and let it come back to a simmer. Dissolve cornstarch with

½

tablespoon of water and slowly pour the cornstarch slurry into the pan while stirring.

Place seared pork slices over the onion and carrot, followed by the mushrooms. Then place half of the napa cabbage and half of the glass noodles over the mushrooms. Top with the remaining cabbage and noodles, alternating them, with some cabbage at the very top layer.

Pour the remaining water over the ingredients in the wok. Cover and braise over medium heat for about 20 minutes. Adjust the heat and cooking time as needed. You can check the doneness of cabbage and noodles after 15-18 minutes and add more time as needed.

Open the lid and there may be a bit of liquid left in the wok. Use a pair of tongs to gently toss/mix the noodles with the pork and cabbage. They will soak up any remaining sauce and absorb the flavors. Also taste and adjust seasonings as needed. Remove from the heat.

Divide the dish into serving bowls and serve right away.
Notes
It is best to use Vietnamese or Chinese glass noodles for this recipe. Also, if you have chicken stock on hand, you can use it instead of water for additional flavors.
If you make the dish for the first time, please adjust the heat while braising as needed. Scorching is highly unlikely, but everyone's stove and pan may be different.
I use Lodge 9-inch mini cast iron wok to make this dish, and I serve the dish right in the wok.
Nutrition
Calories:
198
kcal
|
Carbohydrates:
32
g
|
Protein:
11
g
|
Fat:
3
g
|
Saturated Fat:
1
g
|
Polyunsaturated Fat:
1
g
|
Monounsaturated Fat:
1
g
|
Cholesterol:
27
mg
|
Sodium:
576
mg
|
Potassium:
546
mg
|
Fiber:
3
g
|
Sugar:
4
g
|
Vitamin A:
1996
IU
|
Vitamin C:
21
mg
|
Calcium:
80
mg
|
Iron:
2
mg